Razer Wolverine Ultimate Detailed: Xbox One/PC Elite Controller Competitor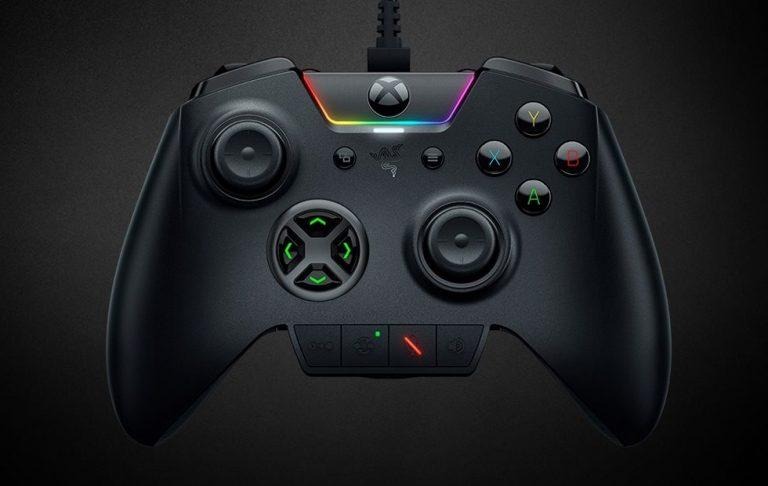 This morning Razer revealed the Razer Wolverine Ultimate, a customizable gaming controller for Xbox One and PC. This device is one of a collection of Xbox peripherals made by Razer on the market today, this set also including the Razer Thresher Ultimate wireless gaming headset and the Razer Atrox fight stick – another wacky controller made to push the boundaries of what input's possible on the console. The Razer Wolverine Ultimate works with interchangeable D-pads, interchangeable thumbsticks, and 6 remappable triggers and buttons.
If this set of customizable, interchangeable elements sounds familiar, it should – it's very similar to the Xbox One Elite Controller, AKA the most excellent controller for the console today. This controller won't be quite as heavy-duty as that – or at least I don't expect it'll be. The Razer Wolverine Ultimate will deliver an experience that's much more colorful than any other controller – what with its built-in LED action via Razer Chroma.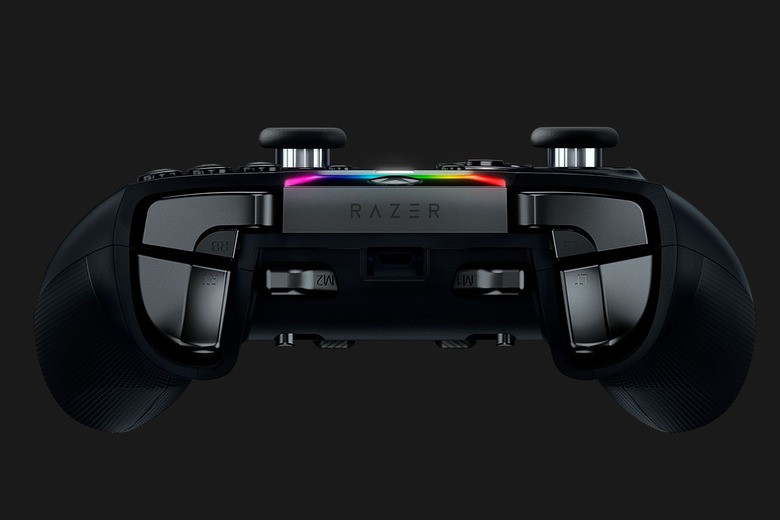 Razer Chroma provides a strip of color just below the Xbox logo home button on this controller. Like previous Razer Chroma devices, this set of colorful lights can be custom-set or set with lighting effects in a number of custom-integrated games.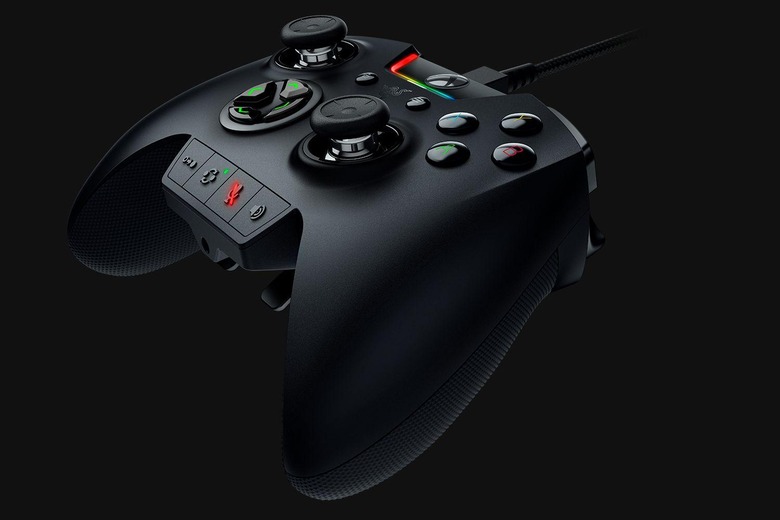 Up top is a set of interchangeable thumbsticks and d-pad that look exceedingly similar to those provided with the Xbox One Elite Controller. Unlike the Elite Controller, this Wolverine Ultimate was made to be played wired. Included in the box is an extra-long USB cord to plug in and tap with zero lag.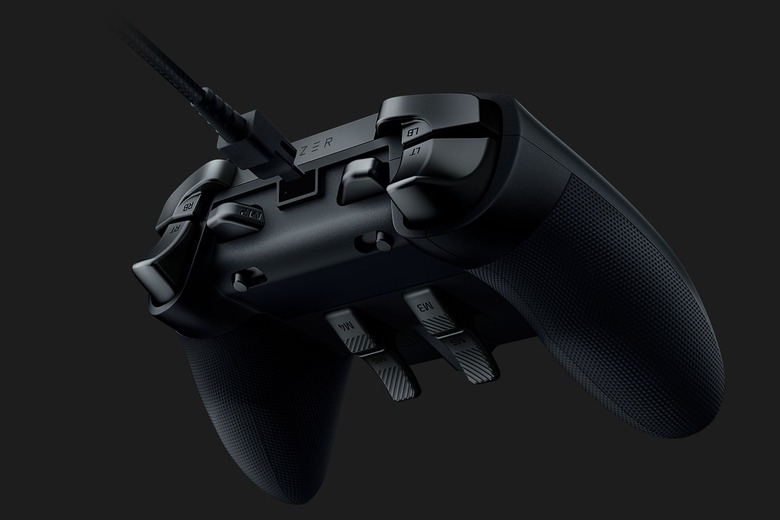 Underneath and around back, this controller has 2x remappable Multi-Function bumpers, 4x Multi-Function triggers and a Quick Control Panel. These buttons can be mapped on Xbox One with the app Razer Synapse for Xbox.
• 2 shoulder Hyperesponse Multi-Function Bumpers
• 4 Multi-Function Triggers
• 4 Tactile Switch ABXY action buttons
• 4 button Quick Control Panel
• Multi-Color Razer Chroma Lighting Strip
• Optional trigger stops for rapid-fire
• Zero slow-turn concave analog joysticks
• 3.5 mm audio port for stereo audio output and microphone input
• Quick-release cable feature
• Detachable 3 m / 10 ft lightweight braided fiber cable with Micro-USB connector
• Approximate size: 106 mm / 4.17 in (Length) x 156 mm / 6.14 in (Width) x 66 mm / 2.60 in (Height)
• Approximate weight (without cable): 260 g / 0.57 lbs
This controller works with Xbox One and PC and comes with its own carrying case. Included with purchase is a 12-month warranty – and pricing starts at U.S. $159.99 / EU €179.99 through Razerzone dot com. Availability begins in September of 2017 through Razerzone, and global availability starts in Q4 2017.