Razer unveils Mass Effect 3 accessories and iPhone case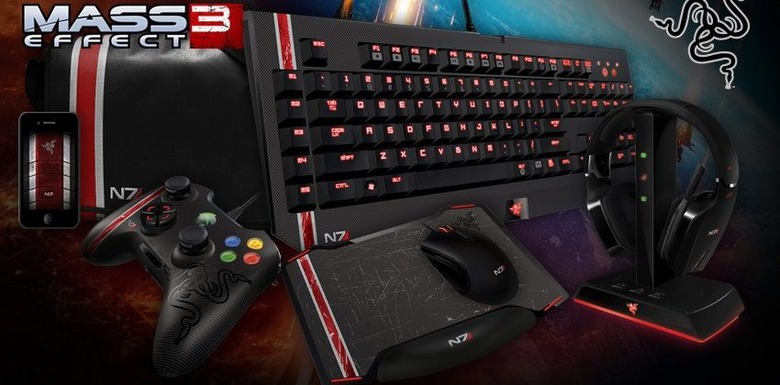 It's hard to make video game aesthetics work in the real world. Halo's segmented green and Starcraft's otherworldly blue end up looking like odd residents when saddled to desktop staples or game consoles. But Bioware's Mass Effect series seems to do well when translated into physical goods, mostly thanks to the subtle red-on-black racing stripe of Commander Shepard's N7 armor. If you feel like you need a little more intergalactic style in your life, Razer's introduced a collection of accessories (both gaming and fashion) to celebrate the upcoming release of Mass Effect 3.
There's a whopping five pieces of hardware in the full collection: themed versions if the BlackWidow Ultimate mechanical keyboard, Chimera 5.1 gaming headset (also works on Xbox), Imperator wired mouse and Vespula mouse pad for PC gamers, plus a special Onza Tournament Edition controller for Xbox 360 players. (Sorry, PS3 faithful – looks like you're out of luck.) In addition to the gaming goodies, they're also producing a laptop messenger bag with an N7 stripe, plus a silicone iPhone 4/4S case with the Commnadier's distinctive armor lines. You can't repel a Reaper attack with an exposed glass back, now can you?
All the accessories are at a pre-order stage in Razer's online store, and most go for the same price as their non-themed counterparts. The Chimera headset costs $209.99, and the Onza controller is $59.99, a full $20 more expensive than the basic model. The messenger bag goes for $79.99 and the iPhone 4 case will set you back $24.99 –  no word on how that translates from Citadel credits. Razer estimates that all the products will ship in March, sadly after the 3-6 release of Mass Effect 3 itself. All the ME3-themed goodies come with a free Collector Assault Rifle in-game item.