Razer unveils lineup of Battlefield 4 branded gaming peripherals and accessories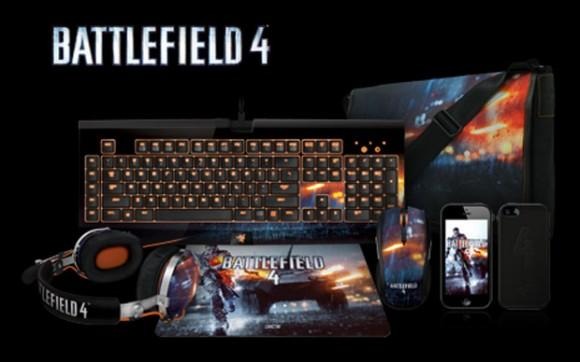 Razer has been making some very interesting gaming peripherals for a long time including a number of mice and keyboards designed specifically for gamers. We talked about the new Razer Tartarus gamepad in August. Razer has announced a new series of Battlefield 4 themed gaming peripherals and accessories designed for fans of the video game who also need high-quality products to game with. The series includes headphones, a keyboard, mouse pads, a mouse, and more.
The Battlefield 4 Razer BlackWidow Ultimate gaming keyboard features mechanical keys to provide crisp tactile feedback. The keyboard is also fully backlit and has Battlefield 4 graphics on the wrist rest and in the number pad area. Razer also has a Battlefield 4 version of its Taipan gaming mouse supporting up to 8200 dpi resolution.
The mouse is ambidextrous allowing right and left handed gamers to play and features Battlefield 4 graphics. Razer also offers a high-quality headset for gamers who want to hear every nuance of sound quality play. The headset is a Battlefield 4 version of the BlackShark.
That headset promises deep bass and the ability to hear the enemy before you see them. Rounding out the new Battlefield 4 accessories are themed versions of the Razer Destructor 2 mouse pad, a Battlefield 4 Messenger Bag, and a Battlefield 4 case for the iPhone 5. The keyboard will sell for $149.99, the mouse will sell for $89.99, the headset will cost $139.99, the mouse pad sells for $39.99, the messenger bag sells for $79.99, and the iPhone 5 case will sell for $19.99.
SOURCE: Razer