Razer Tartarus gaming keypad arrives for ergonomic PC gamers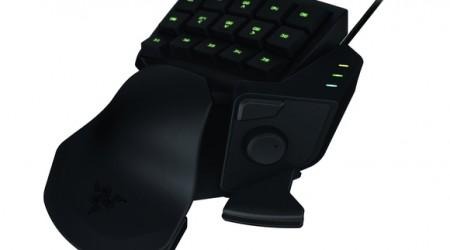 It's been awhile since we've seen a new gaming keypad, but Razer is insistent on keeping up with the fad. The company just announced the Tartarus, which looks to be the successor to the ever-popular Nostromo keypad, but comes with a few more keys and Razer says that you get a lot of bang for your buck with this new gaming keypad.
The Tartarus comes with 15 keys and 25 programmable buttons, as well as an eight-way directional thumb pad. Nothing too crazy different or original about the new product, but it aims to be a viable replacement for the keyboard, which can only get so comfortable before your carpal tunnel starts acting up again.
The Tartarus provides an ergonomic platform where gamers can have access to all the buttons and keys they could ever want, all at the tip of their fingers. With all the keys combined and the different ways that they can be modified, Razer says there are 128 different command options to choose from.
The Tartarus costs $79, which might be a bit on the pricy side for some budget gamers, but it certainly beats the price off of the $130 Razer Orbweaver, which includes an extra row of buttons that could be beneficial to some gamers. But if you're looking for a more compact design out of your keypad, the Tartarus may be the way to go.