Razer Tomahawk Elite hands-on: PC gaming, gull-wing doors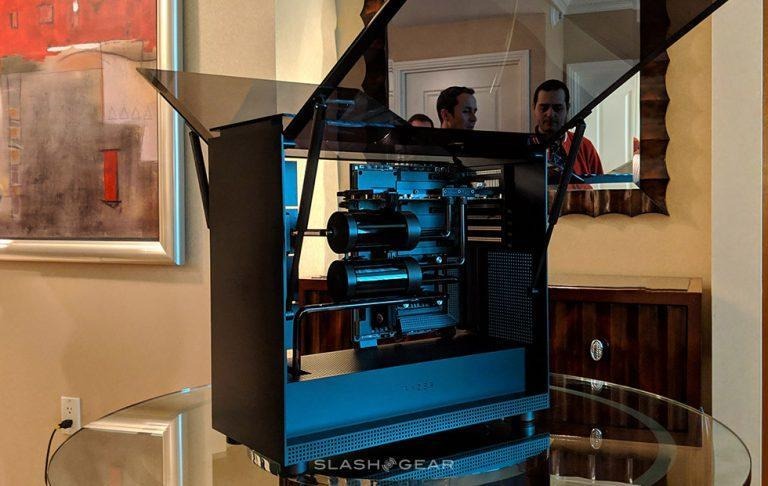 The Razer Tomahawk is an exercise in excess, and not truly meant for this world in its current form. Two versions of the PC case exist, both with their own level of wild and beautiful. There's also a third case that's new from Razer this week that we've not yet seen up close: the new Lian li O11 Dynamic Designed by Razer. The last of these will be the first of its kind to feature Chroma lighting with full customizability.
The basic Razer Tomahawk is subtly delightful enough that I now feel weird having used the word "basic" earlier in this sentence. The Razer Tomahawk is what Razer suggests is Razer's first PC gaming chassis that was developed in-house "in the form of a traditional mid-tower form factor." It's very squared-off – boxy and such – sharp, too.
This device has a relatively small footprint – with thin, but robust sidewalls and glass making up the most of the left side of the case. With this glass, the user can see inside – with a bit of a tiny to keep things mysterious. This case has a design which supports ATX motherboards "without sacrificing features that a PC chassis of this size would normally do."
Under the sides you'll find some lovely bright lights. These are powered by Razer Chroma, and support up to 16.8-million colors – very bright, much customization. This PC case includes "components from Razer's Chroma Connected devices program" – so you know it's good and versatile.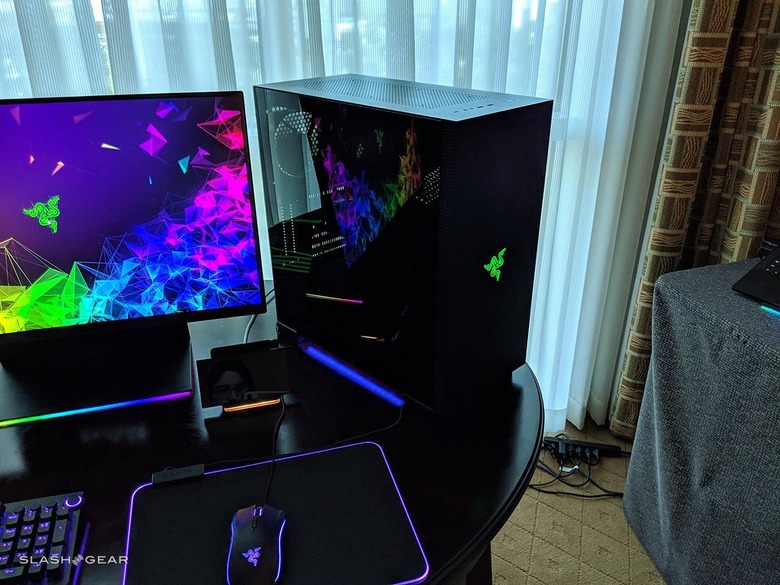 ABOVE: Razer Tomahawk. BELOW: Razer Tomahawk Elite.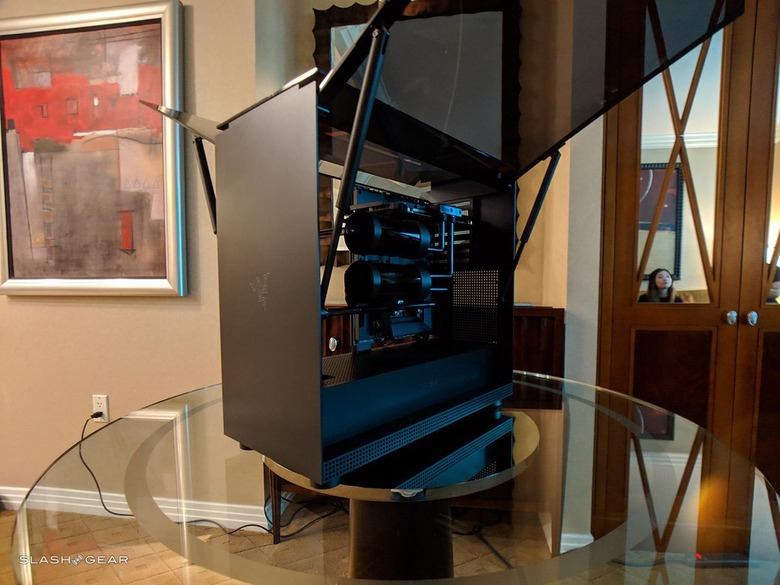 The Razer Tomahawk Elite is a creature not of this world. Not in the form it appears here, at least. Tempered glass panels that lift up like gull-wing doors are the same sort of tint given to the one side of the Tomahawk. Inside is a reverse-mounted ATX motherboard allowing "optimal placement of the GPU to disperse hot air outside the case via the hydraulic-powered top panel. This top panel activates automatically, lifting itself when a gaming session gets particularly heated.
The Tomahawk (basic version) requires some thumb-screw action to remove its glass side. Both the sides (the larger sides, not front and/or back, lift up like the PC is a Delorean. This system includes bespoke liquid cooler solutions such as EK Water Blocks – which you'll see more or less here, too.
Much like CES sessions of years past, we've got another set of items here that aren't exactly finalized products. Razer is, however, giving us some general release dates this time – so cross your fingers!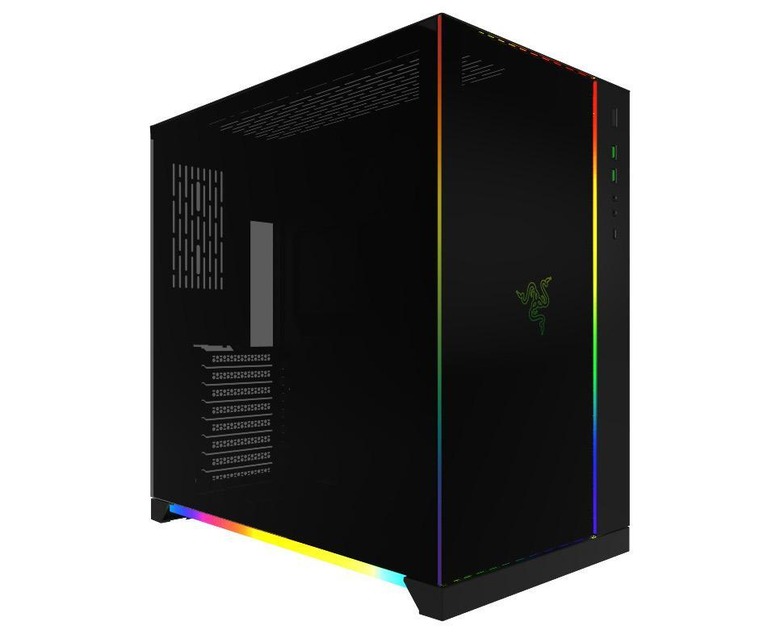 The Lian Li O11 Dynamic Designed by Razer unit (shown just above this paragraph) has an MSRP right around $170 USD, and it'll be available at major retailers on the 1st quarter of the year 2019 (this year). Razer also suggested that the Razer Tomahawk and Tomahawk Elite will be released between Q2 and Q3 of this year, with pricing not yet shared publicly.