Razer Power Bank equips Qualcomm Quick Charge 3.0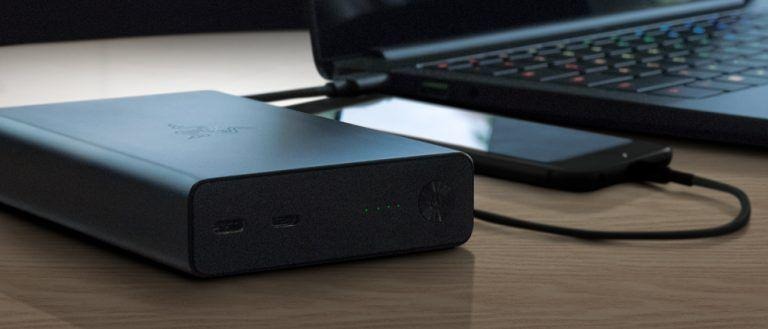 Razer has revealed a Power Bank charging device to take control of their own laptop charging destiny. To make this happen, the Razer Power Bank rolls with several USB ports to charge not only a laptop, but smartphones and tablets as well. Inside this power bank is a massive 12,800 mAh capacity battery, made for long rides on airplanes and in the back seats of cars.
"High-performance mobile laptops like the Razer Blade Stealth are more a part of daily life than ever before," said Min-Liang Tan, Razer co-founder and CEO. "Keeping them charged and ready is a high priority" Fast-charge technology in this device allows the Razer Blade Stealth to be powered with up to six hours of battery life in less than two hours of charging.
"The Razer Power Bank enables true mobility for users who can now quickly and smartly charge their laptop, phone, and tablet at the same time when an outlet isn't an option," added Tan. Compatible mobile devices will be able to charge quickly with this device with Qualcomm Quick Charge 3.0.
This device has USB-C compatible laptop charging abilities, and is marketed toward Razer Blade Stealth users. Users will also find 2x USB-A ports for mobile device charging. This device works with Intelligent Device Detection so that no power is depleted without need.
The Razer Power Bank will be available in any color the user likes, just so long as it's black. The exterior of this device is a black CNC aluminum casing, and this one color will be available in March. Available only through the Razer Store, this device will cost $150 USD. Users will find this device in the United States, Canada, the UK, Germany, and France.