Razer Mamba TE Review: 2015's gaming master mouse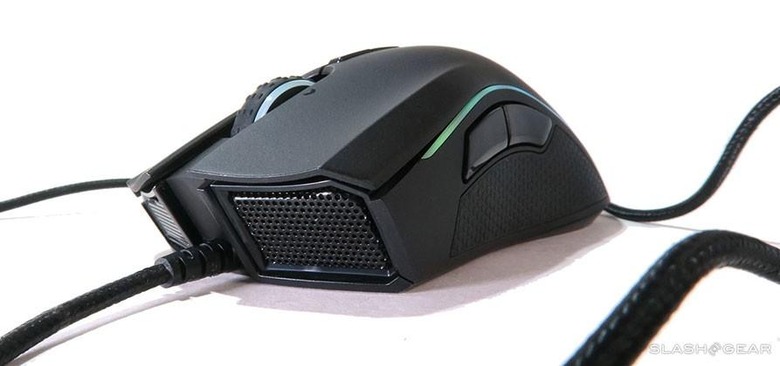 The Razer Mamba TE is a Tournament Edition mouse made to compete with the highest-grade gaming mice in the world. This device continues the Razer tradition of making high-end super-sensitive mice by bringing a 16,000 DPI 5G laser sensor with 1,000 Hz Ultrapolling and 1 ms response time. That's no joke. This mouse runs a max of 210 inches per second and 50 G acceleration (if your arm can move that fast.) It also has lots of pretty colors.
This device comes with a right-handed design (for now) with textured rubber grips at its sides. Both the left and the right side have just the right amount of grip so that your grippy fingers can grip comfortably and your clicker fingers can click without worry of stick.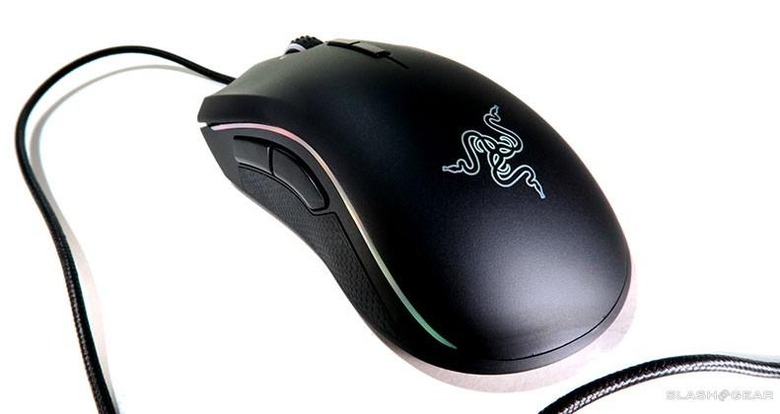 Between the main right and left click buttons you'll find a couple of slightly harder-press DPI buttons. These buttons sit in the center of the mouse where your fingers generally do no tread, so as to remain out of the way while accessible should you want to change your mouse movement on-the-fly.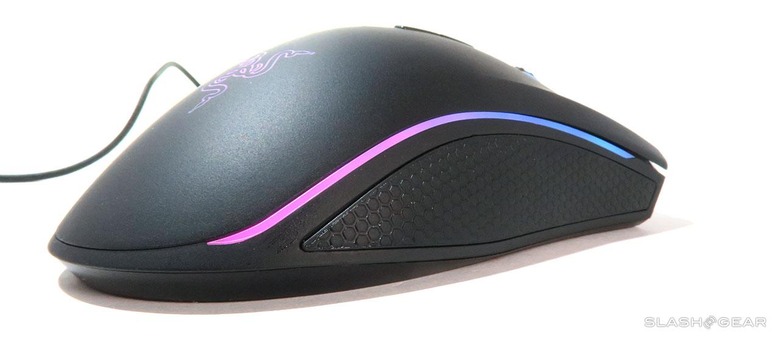 Above you'll see the right side of the mouse, below you'll see the left.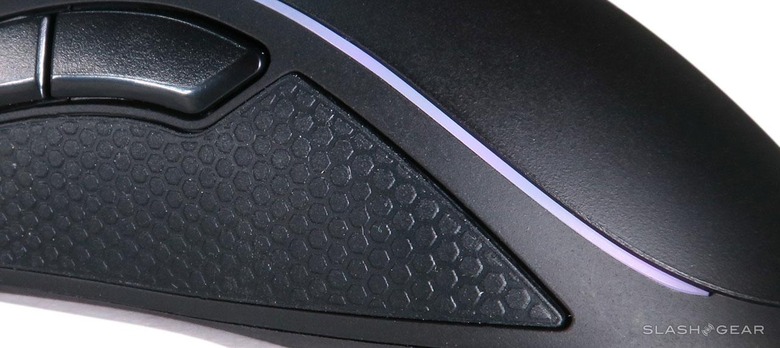 NOTE: While you can switch between DPI increments of 50, you can also adjust this mouse in increments of 1 DPI. If you're super insane about getting your mouse to the perfect sensitivity, Razer is the way to go right here. Sensitivity of this degree is done in the Razer Synapse app.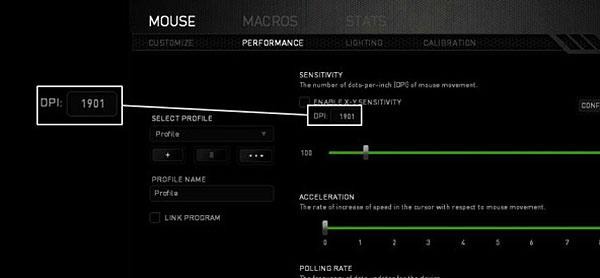 The center scroll wheel is coated with a rubbery textured grip not unlike the side grips, and is just the right mix of stays-put and roll-with-ease. Two side-buttons are just as clicky as any Mamba before this one.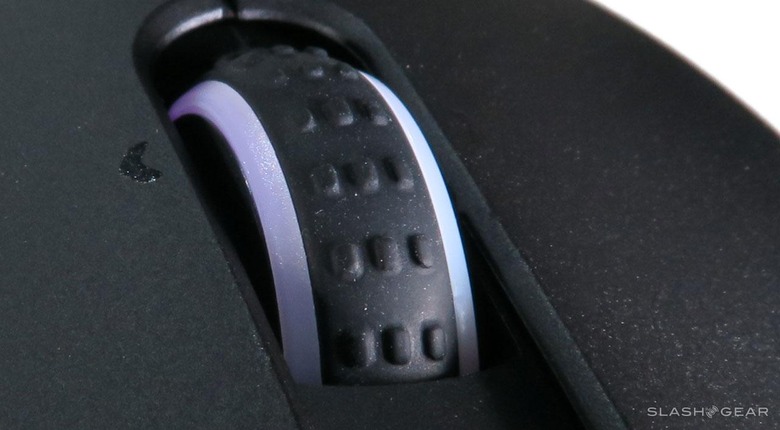 Each of nine buttons on this device is programmable through the Razer Synapse app, including the tilt-click scroll wheel, center click (also on the scroll wheel), left and right buttons, left thumb buttons, and DPI buttons.
This device is approximately: 128 mm (5 in) x 70 mm (2.76 in) x 42.5 mm (1.67 in), and weighs in at 133 g (0.29 lbs).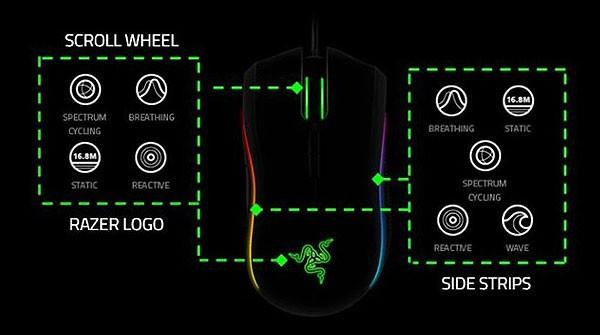 This device is part of the Chroma family, which in this case means you've got everything from spectrum cycling to reactive lighting. The scroll wheel, Razer logo at the back, and light stripping on both sides of the mouse are 16.8-million colors of customizable.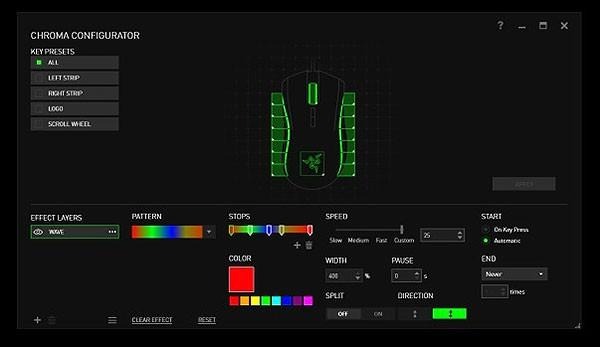 These lights can then be synchronized with the lights on the rest of your Razer Chroma devices, as you'll see in the rest of our Chroma reviews below.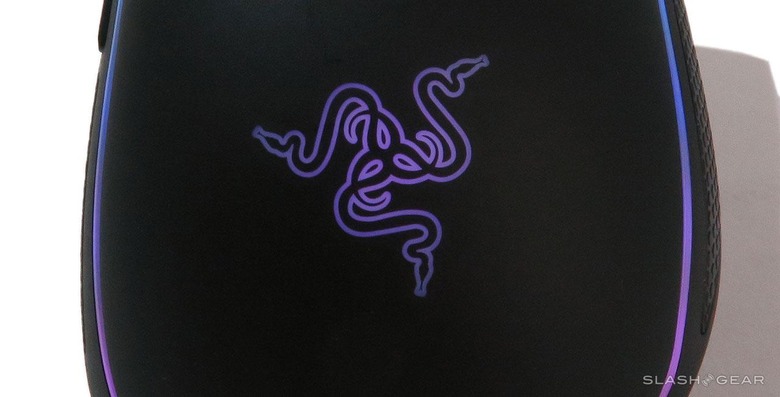 This device requires either a PC or Mac with a single USB port, working with Windows XP (32-bit), Windows Vista, Windows 7, or Windows 8 – or newer. On an Apple computer you'll need OS X version 10.8 or better.
You'll also want an internet connection to download the Razer Synapse app and 100MB of free hard disk space to keep the app's components.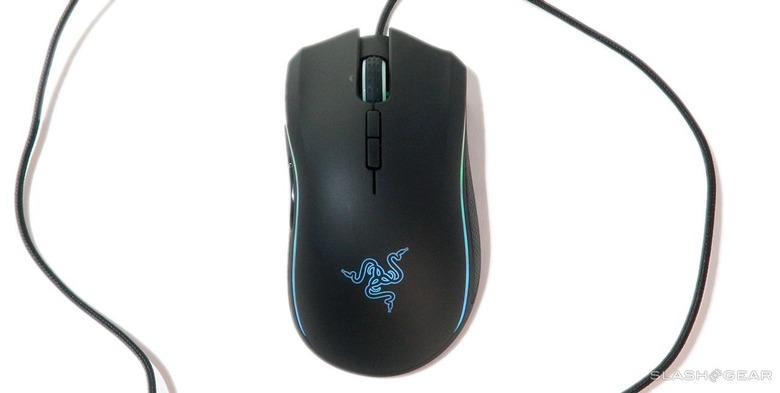 The Razer Mamba TE joins a wide variety of Razer gaming devices with full spectrum lighting. The Chroma collection also includes the BlackWidow, BlackWidow TE, DeathAdder, Naga Epic, Mamba, Kraken 7.1, and Firefly – and you can probably expect more is well on the way. The Razer Mamba TE (Tournament Edition) will cost you $89.99 USD and is available from retailers like Amazon and Best Buy now.