Razer debuts new Overwatch accessories inspired by D.Va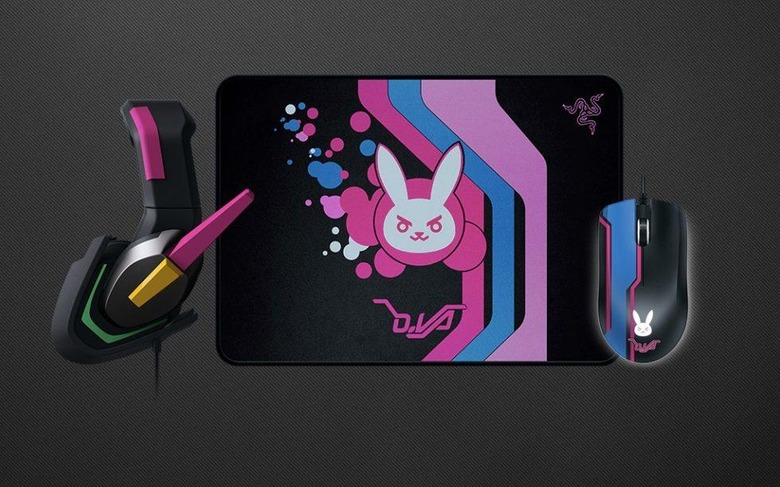 Now in full swing, Blizzard's BlizzCon 2017 has been packed with new announcements about the developer's biggest games, including the beloved Overwatch. To coincide with this, Razer has announced a set of new official PC accessories for the team-based shooter, this time styled specifically after the mech-weilding character D.Va. Even better is that the new headset is a dream come true for cosplayers.
Officially called the D.Va Razer line, it's the MEKA headset that grabs the eye first. Featuring the character's signature pink color, the wired headset is designed to look just the one the former StarCraft pro wears in-game, complete with the bunny ear-like antennas on the sides. Release date and specs for the headset haven't been revealed just yet, so it's hard to know it will perform as a gaming accessory, but based on looks and design alone, it's probably the closest one can get to functional D.Va headgear.
The rest of the line includes Razer's Abyssus Elite mouse and Goliathus mouse pad, each sporting D.Va's pink and blue color scheme and bunny logo. Priced at $60, the mouse features a 7,200 DPI optical sensor, 220 IPS, 30 G acceleration, and a shape for both right and left-handed use, while the mouse pad sells for $20 and has a tight cloth weave surface with anti-slip rubber on the bottom.
These aren't Razer's first official Overwatch accessories, of course, as the company also sells a ManO'War Tournament Edition headset, DeathAdder Elite mouse, and Blackwidow Chroma keyboard designed with the game's logo and black and orange color scheme.
SOURCE Razer