Razer Core X Makes MacBook Pro A Beast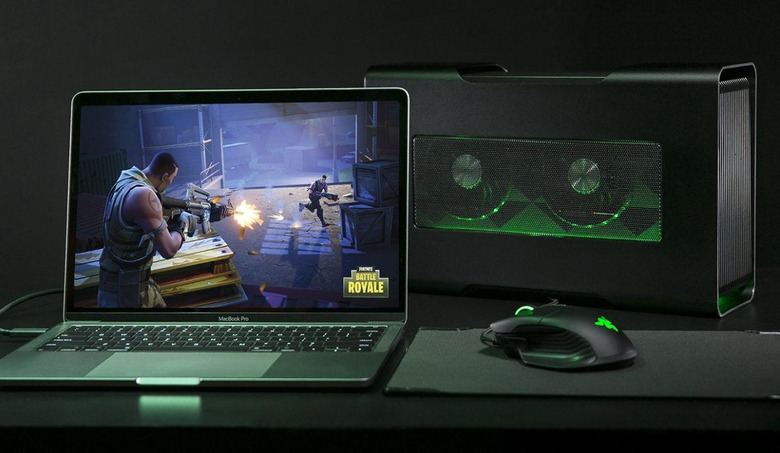 This morning NVIDIA revealed their latest graphics card enclosure – Razer Core X – complete with Mac compatibility. Apple isn't about to release a product completely dependent on 3rd-party hardware – but that's never stopped Razer! The Razer Core X AND the previously-release Razer Core V2 will begin to work with Macs starting this week. Below we're running down the differences between the two.
This device allows utilization of a full-size graphics card with a tiny-sized laptop. The enclosure has its own power supply and connects to the laptop with a single cord. In the case of the Razer Core X and a MacBook Pro, that means a Thunderbolt 3 cord – a cord that also provides power to the MacBook. With this added GPU compute power, users are able to run AAA video games at top-notch performance levels (potentially, that is).
SEE TOO: Everything Razer announced today
System requirements for the Razer Core X (and Razer Core V2) for a Mac include: macOS High Sierra 10.13.4 or later. Users will be connecting with a 40Gbps Thunderbolt cable – so you'll also need to have a MacBook with that sort of port – some might also use it only as a standard USB-C port, but you know better. You know what it's TRULY capable of.
NOTE: Mac compatible graphics chipsets make a much shorter list than those available to Windows 10 notebooks. That's just how it goes when you roll with the Mac – restrictions are tight up in there.
Macs can use these GPUs with the Razer Core X:
• AMD Radeon RX 570
• AMD Radeon RX580
• AMD Radeon Pro WX 7100
• AMD Radeon RX Vega 56
• AMD Radeon RX Vega 64
• AMD Vega Frontier Edition Air
• AMD Radeon Pro WX 9100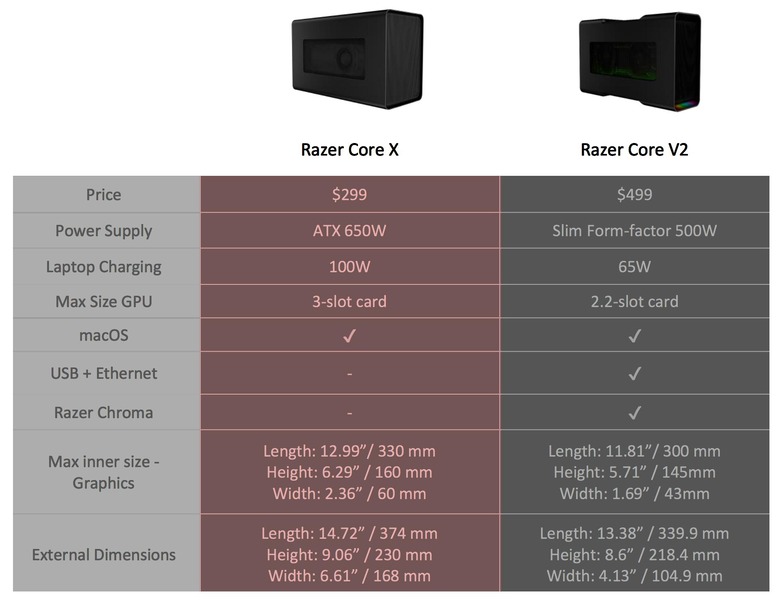 Above you'll see the differences between the two graphics card enclosures available now from Razer. Razer Core X is a little bigger, doesn't have any Chroma LED lights, and costs a bit less. There are also different power supplies and such, too, if you want to get all specific about it.
UPDATE: We've just gotten ourselves a review unit that's right up this device's avenue. It's an OWC Helios FX, a Thunderbolt compatible external graphics card enclosure that's extremely similar to what Razer's made in the Core. Stay tuned as we compare their ups and downs, ins and outs!