Everything Razer announced today: Razer Core X, Blade 2018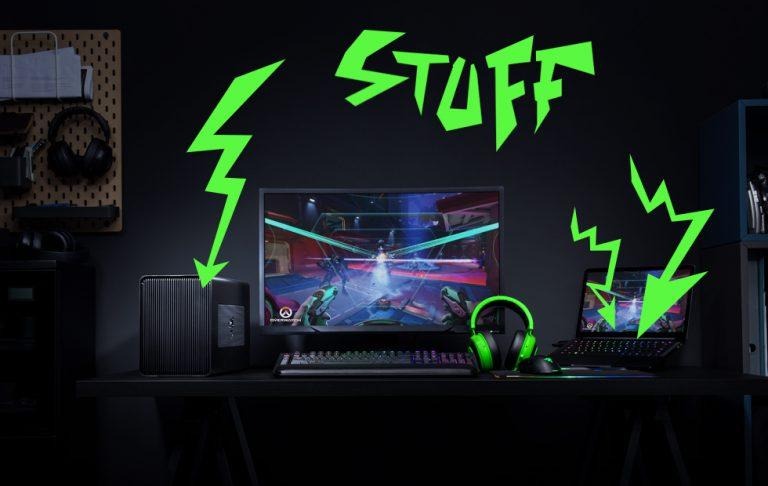 This morning Razer revealed two major upgrades for two major products: the 2018 Razer Blade (15.6-inch) and the new Razer Core X. They also announced a few accessories that work between the two major products. The Razer Blade takes what worked with previous generations of Razer Blade ultra-thin gaming laptops and made it all better – 1920 x 1080 or 4K, whichever way you're all about. The Razer Core X is Razer's new most advanced GPU housing for boosting graphics power for laptops.
2018 Razer Blade
The Razer Blade's been a market leader since birth – if not for price, then for quality in its corner of the market. This year the team made some updates that make a whole lot of difference for hardcore gamers. "We upgraded to Intel's latest 6 core processor, used a fast 144Hz display driven by NVIDIA GeForce GTX 10 Series graphics, and set a new standard for power in the world's smallest 15-inch gaming laptop," said Razer Co-Founder and CEO Min-Liang Tan.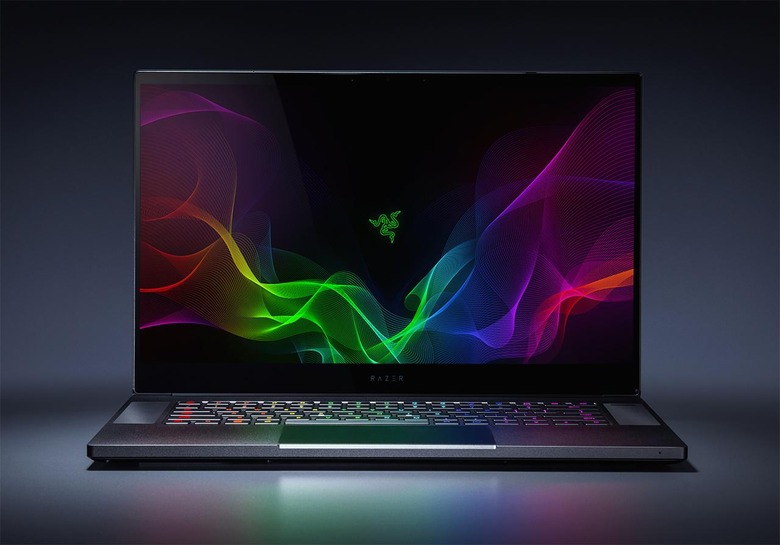 Specs for this newest version of the Razer Blade ultra-thin gaming laptop are as follows. Pricing follows this bit, right alongside some info about a few new accessories.
Specifications:
• 8th Gen Intel Core i7-8750H Processor (6 Cores/12 Threads, 2.2 GHz/4.1 GHz)
• 15.6-inch IPS Full HD (1920 x 1080) matte up to 144Hz, individually color calibrated
• 15.6-inch IPS 4K (3840 x 2160) capacitive multi-touch, individually color calibrated
• NVIDIA GeForce GTX 1060 Max-Q Design
• NVIDIA GeForce GTX 1070 Max-Q Design
• 16GB Dual-Channel system memory (DDR4, 2667MHz), 32GB maximum support
• Up to 512GB PCIe SSD, 2TB maximum support
• Windows 10 (64-bit)
• Intel Wireless-AC 9260 (802.11a/b/g/n/ac) and Bluetooth 5
• Thunderbolt 3 (USB-C) x 1
• USB 3.1 port x 3 (SuperSpeed)
• Mini Display Port 1.4 x 1
• Anti-ghosting keyboard powered by Razer Chroma
• Razer Synapse 3 compatible
• HDMI 2.0b audio and video output
• Built-in front firing stereo speakers
• 3.5mm headphone/microphone combo port
• Built-in webcam (1MP/720P) with array microphone
• Trusted Platform Module (TPM 2.0) security chip embedded
• Compact 200W/230W power adapter
• Built-in 80 Wh rechargeable lithium-ion polymer battery, NVIDIA Optimus support
• [GeForce GTX 1060] 0.66 in. / 16.8 mm (Height) x 14 in. / 355 mm (Width) x 9.3 in. / 235 mm (Depth)
• [GeForce GTX 1070] 0.68 in. / 17.3 mm (Height) x 14 in. / 355 mm (Width) x 9.3 in. / 235 mm (Depth)
• [Full HD] approx. 4.56 lbs. / 2.07 kg
• [4K] approx. 4.73 lbs. / 2.15 kg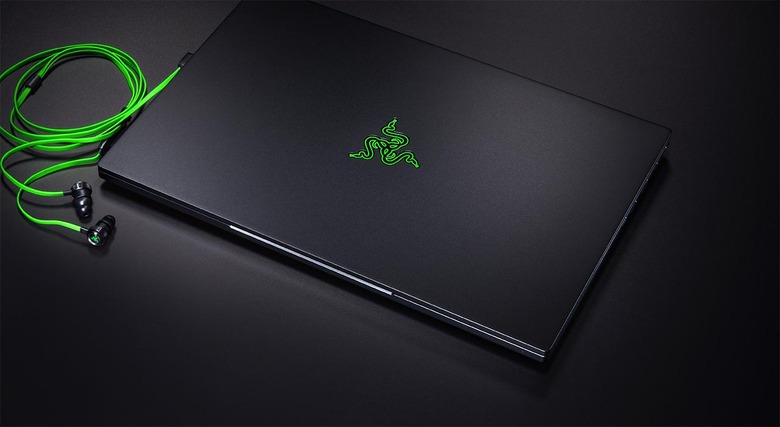 Pricing for this newest version of the Razer Blade starts with a (FHD(60Hz)/i7-8750H/GTX 1060/16GB/256GB) model that'll ring in at around $1900 USD. Ramping up to the most impressive set of specs with a (4K(Touch)/i7-8750H/GTX 1070/16GB/512GB) model and you're paying closer to $2900. That most expensive version is coming "soon" to "select markets." The 6-core Razer Blade 15.6 gaming laptop is available starting today at retailers in the USA, Canada, France, Germany, the UK, and China, and is available at Razer's online store as well.
Razer Blade Accessories
There's a new Chroma Laptop Stand coming to the market with this wave of products. It has a lovely Chroma light strip around the front and a 3-port USB hub in the back. This is similar to the previously released "Laptop Stand for Razer Blade Stealth", but this one's made for the non-Stealth blade, and this one's got Chroma color, and this one has a USB hub, too. Release timing and price coming up quick.
Razer also revealed a new "15.6-inch Protective Sleeve" that they suggest is "made of durable, water resistant material with a slim profile design." This laptop sleeve is made to fit the 15.6-inch Razer Blade perfectly – but supposing you've got some other device that you think might fit instead, I'm sure Razer wouldn't turn you down. You bought it, you own it.
Razer Core X (2018)
The Razer Core X is an external graphics card enclosure for gaming computers – especially super teeny tiny thin computers like the Razer Blade. This Razer Core X has a simple design that includes a bunch of aluminum and open vents and "additional desktop cooling to quickly dispense heat and provide optimal thermal performance." It might interest you to know that Razer mentioned in their press release that this device delivers performance "whether for gaming sessions or digital currency mining." Either way!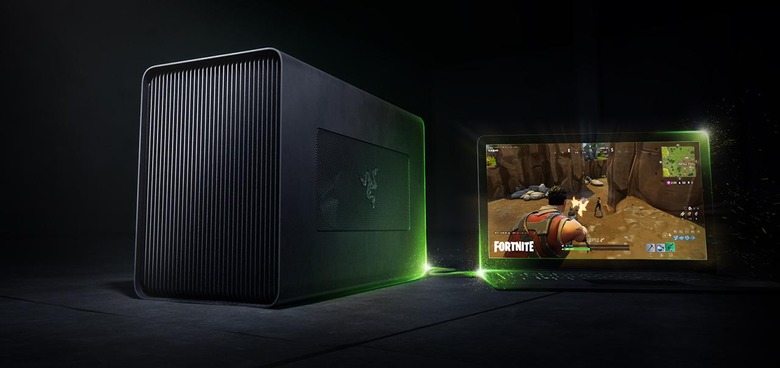 The Razer Core X rolls with MSRP of approximately $300 USD. That's a couple hundred dollars less than the smaller, yet more impressive Razer Core V2, which remains up for sale from Razer with the release of Razer Core X. Below you'll see a comparison between Razer Core X and Razer Core V2, as they stand here in May of 2018.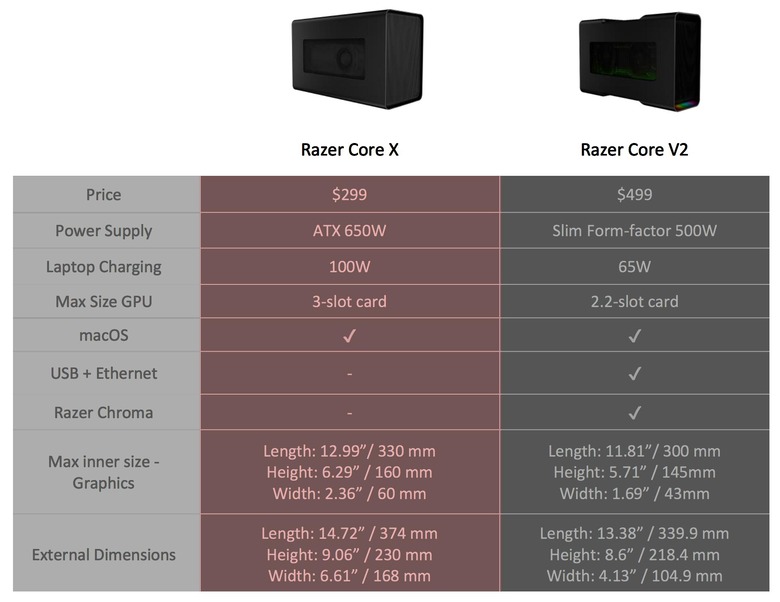 The Razer Core X is available starting today for order from Razer's online store. You can get this thing mailed to ALL the places – or most of the places. That includes the United States, Canada, United Kingdom, France, Germany, China, and shipping soon to the Nordics, Australia, Hong Kong, Japan, Singapore, and Taiwan.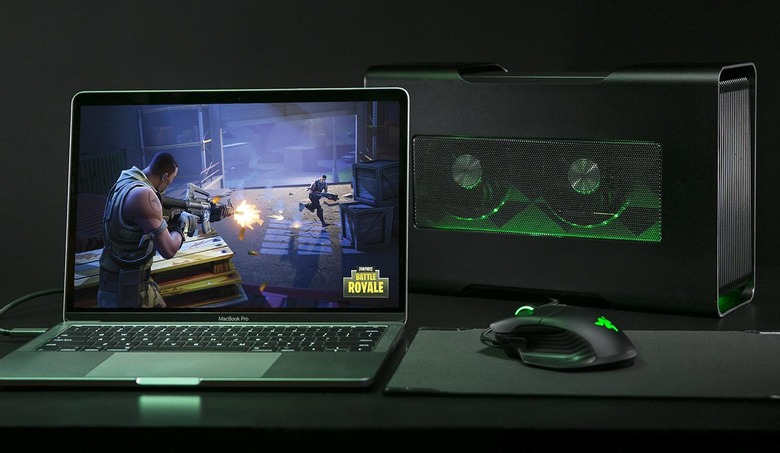 Also note: This week Razer's graphics card enclosures are both compatible with Mac Thunderbolt 3 laptops of several sorts. At last, you can play with far more graphics power for ... whatever games you'd play on a MacBook!