Razer Core Thunderbolt 3 Graphics Enclosure Goes Into Pre-Order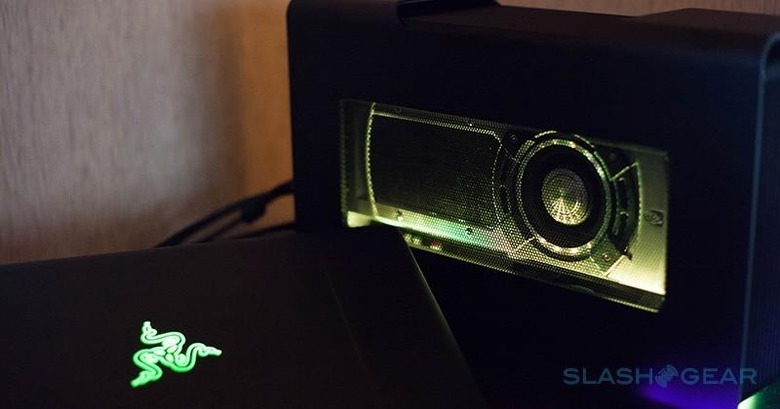 At CES 2016 earlier this year, Razer put gaming desktops on notice, sort of. While the Stealth Blade ultrabook that it unveiled isn't exactly a gamer's laptop, considering the lack of a dedicated GPU, it had a trick up its sleeves. Or in this case, inside a box. It also announced the Razer Core which isn't just your regular external graphics card enclosure that is getting popular these days. It is also the world's first external graphics enclosure that uses a single Thunderbolt 3 connection to deliver power, graphically and literally, to a mobile computing package like the Blade Stealth.
Graphics enclosures are catching on as a new trend that lets gamers and content creators enjoy the portability of a usually business-class laptop when they need them but also the muscle of a desktop gaming rig when they want them. While still waiting for the ultimate gaming ultrabook, which could be coming soon in Razer's 2016 Blade, users need no longer compromise power for mobility.
More than just a simple enclosure, the Razer Core boasts of two related firsts in the PC market. First is that single Thunderbolt 3 connection that supplies not only the added graphics power of a desktop-class GPU but can even charge the laptop's internal battery. The second is that it is the first to offer a plug and play experience, via that same Thunderbolt 3 cable, seamlessly and conveniently switching between the laptop's onboard Intel graphics chip and the Razer Core.
That latter feature is attributed to the close cooperation between Razer, Intel, and Radeon Technologies from AMD. The Razer Core, as well as the compatible Razer Blade, are actually the first products to support AMD's XConnect technology, which makes this fast switching possible. While NVIDIA cards will also be supported at launch, Razer doesn't say if the same plug-and-play experience will be available.
From the start, the Razer Core is primarily compatible with AMD's Radeon R9 cards, including the Fury, Nano, 300, 290X, 290, and 280 series. When the Core launches in April, NVIDIA will have also made some of its graphics cards compatible, a list that comprises of the GeForce GTX Titan X, 980 Ti, 980, 970, 960, 950, 750 Ti, and 750. As for compatible computers, the Core will only work with the Blade Stealth as well as the still coming Blade 2016. Pre-orders have now started and the regular price tag for this box is $499. It can be purchased for only $399 if bought with a compatible laptop, which practically means only the $999 Razer Blade Stealth for now.
SOURCE: Razer