Range Rover Hybrid And Sport Hybrid SUV Models Unveiled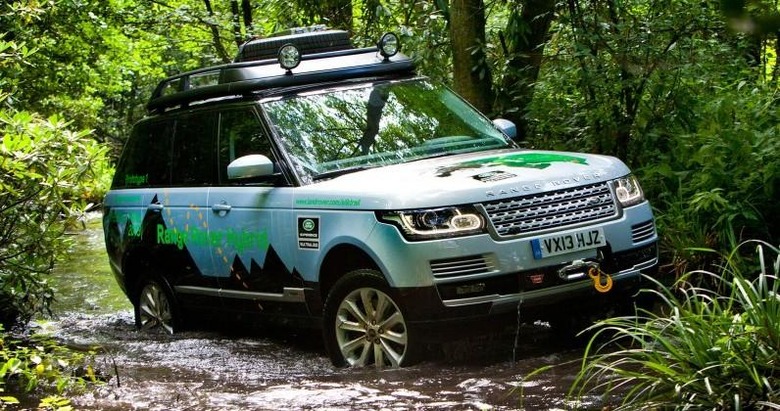 Land Rover has introduced its first hybrid models, the Range Rover Hybrid and Range Rover Sport Hybrid. Both models will offer higher fuel efficiency and less CO2 emissions than its non-hybrid vehicles while keeping in line with the auto maker's performance record. Those interested will be able to make a purchase next month, with deliveries slated to start next year.
Both of the models are all-aluminum and are based on the Premium Lightweight Architecture, earning the titles of world's first premium diesel SUV hybrids. Both the Hybrid and Sports Hybrid feature the same powertrain with three modes the driver can select. There's a 3-liter SDV6 diesel engine and a 35kW electric motor, as well as a lithium-ion battery and an inverter.
Land Rover says the entire hybrid system, which is composed of the electric motor, battery pack, and the inverter, weighs less than 264lbs. Acceleration is boosted via 170Nm torque from the electric motor, able to drive the SUV in the EV Mode. There's a generator system in place that uses regenerative braking energy harvesting, something that charges the battery when the driver brakes. Overall, the Hybrid model can drive up to 1 mile at speeds up to 30MPH in the EV mode.
The SUV is able to get up to 62MPH in less than seven seconds, and tops out at 135MPH. As far as design goes, the hybrid models feature five seats and a luggage area. The Sport Hybrid model features the same interior as the Hybrid. Starting today, three Hybrid models have taken off as part of the Silk Trail 2013 to demonstrate what they can handle.
Said Land Rover's Global Brand Director John Edwards, "We are extremely excited to introduce the Range Rover and Range Rover Sport Hybrids, the world's first hybrid SUVs with legendary Land Rover capability. The addition of a smooth electric drive enhances refinement, cuts CO2 emissions and delivers staggering performance on a par with our SDV8 engine."
SOURCE: AutoBlog