RAMRod Powerbox gaming PC with RAMDisk review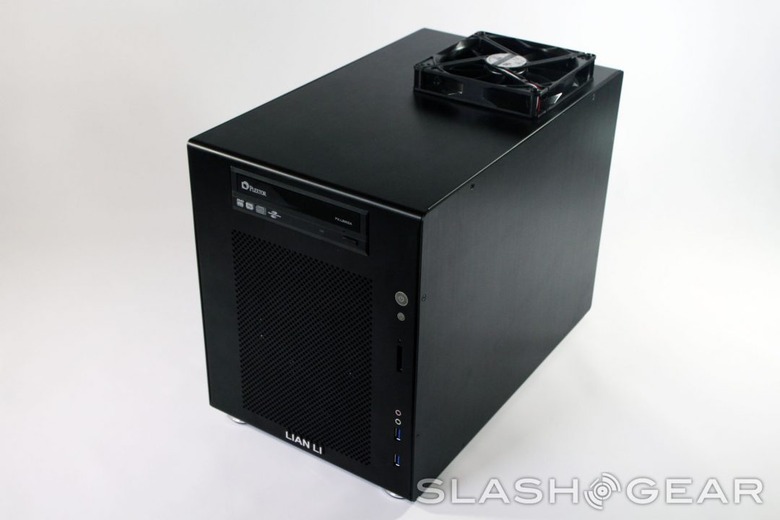 There are a lot of companies out there that will build you the gaming desktop of your dreams for a pretty penny. You could go pedestrian and buy from Alienware, or perhaps a little more custom and try iBuyPower. But one competitor has an edge that they hope will put them in a performance class above the rest. DV Nation specializes in blazing fast storage and memory, and puts every ounce of their experience into their RAMRod line of gaming PCs. The company was kind enough to let us try out the Powerbox, its compact model, to see the best in gaming excess.
Hardware
Our Powerbox review unit had the latest and definitely greatest in gaming hardware, complete with an Intel Core i7-3820 CPU running at 3.6Ghz, a monster NVIDIA GTX 690 GPU (with an MSRP of about a thousand dollars all by itself), and an Asrock EXTREME4-M Micro-ATX x79 motherboard. But that's all details (and all configurable, by the way): the stars of the show are the memory and storage. In addition to a massive 1.5 terabyte storage drive made up of two Seagate Momentus XT hybrid drives in a RAID 0 configuration, there's an 240GB OCZ Revodrive 3X2 SSD that sits in one of the PCI-E bays to hold the Windows partition.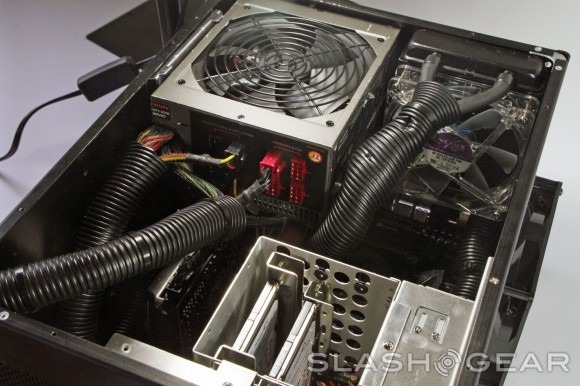 But the pride and joy of the Powerbox is its RAMDisk, a permanently active 20GB partition that sits on the machine's 32GB of DDR3 memory leaving 6GB for system use. (4GB each is dedicated to the PCI-E and hybrid drive caches.) Ours came in four 8GB Corsair DIMMs. The Windows pagefile, TEMP directory and IE and Chrome browsers sit on the RAMDisk by default for maximum performance. The read speeds for the RAMDisk is an amazing 8GB per second, at least theoretically.
All of this is wrapped up in a Lian Li case customized with externally mounted fans (plus another three inside, with two dedicated to the liquid-cooled CPU) to accommodate all of this high-end hardware, plus a 750 watt Thermaltake modular power supply. The case and motherboard combo allows for double USB 3.0 connections on the front and  two more around back, another six USB 2.0 ports, two eSATA and one Firewire port, SPDIF and 5.1 audio right off the motherboard, and two PS/2 ports for you old school types.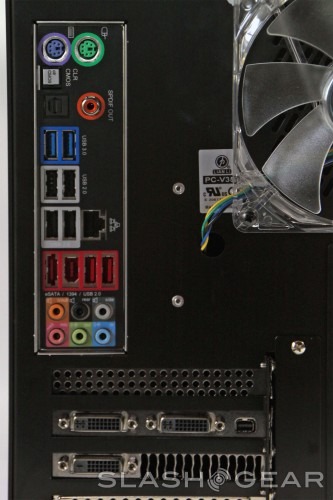 Altogether our configuration of the Powerbox came to a cringe-inducing $4,463, with basic configurations starting at $2,999 with a 10GB RAMDisk, 260GB PCI-ESSD and a GTX 680. Yes, you could certainly build it yourself for less, but this is for gamers who want the bang in an all-in one package. For those of you who are builders, be aware that due to the design of the Lian-Li case and the size of the components, modification will not be easy – you've got to remove the PSU and most of the intricately arranged cabling in order to access any of the components.
Software
The Powerbox comes with Windows 7 Professional 64-bit, and not much else. However, there's some considerable modifications done in order to maximize performance. In addition to the browser, pagefile and cache moves mentioned above, the box comes pre-loaded with a full version of Primo Ramdisk Ultimate Edition, for switching the RAMDisk from Direct-IO to SCSI mode and back again, among other things. You'll also get a free copy of SuperSpeed Disk Cache, the two utilities totaling a value of $200. In addition to the basic tools that come along with the drivers, you get AsRock's XFastUSB tool for dynamic monitoring and boosting of the motherboard's USB 3.0 ports. Some inoffensive software like Chrome, Flash player and Paint.net is pre-loaded.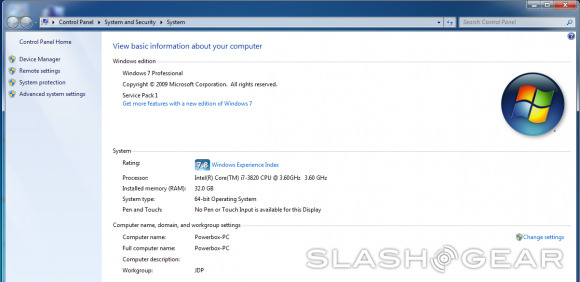 It must be said that the RAMRod's non-standard storage and memory usage created some stability issues. Older drivers for the GTX 690 graphics card may have contributed to this, since they (mostly) went away after I installed new ones. Even so, there were more hang-ups and freezes than we like to see on a modern system.
Performance
This is what you came to see. What's the point in spending thousands of dollars on a gaming PC if it doesn't beat all comers, right? Well, the basic performance of the RAMRod Powerbox doesn't disappoint. In our standard Geekbench test, the Powerbox beat everything except the new HP z420 workstation, and that's running off of a newer-generation Xeon octo-core processor, so we're inclined to be generous.
[sgbenchmark id=158 show=score]
[sgbenchmark id=158 show=system]
The really impressive scores here are for storage. We've included the new Anvil benchmark for the hybrid storage drive in the gallery below, but the star of the show is the 20GB RAMDisk. In the benchmark the RAMDisk read consistently above 4GB per second, with write speeds nearing the 3GB mark. Also note the Input-Output Per Second score of 1.1 million read, and over 700,000 write – according to DV Nation, no other gaming system can match it, and we're not arguing.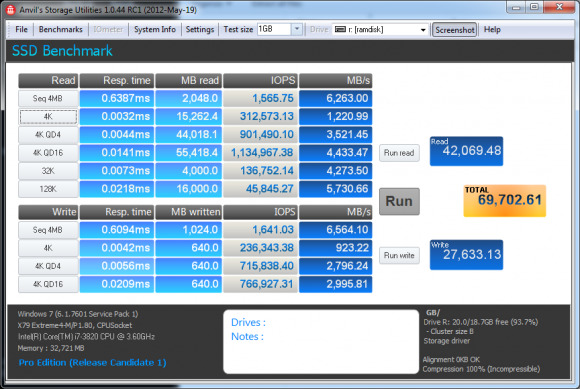 The PCI-E system drive is impressively fast in its own right, with reads consistently going over 1GB per second and breaking 4GB on the 128K file test. Write speeds were somewhat poorer, but the input/output score was an impressive 665,744 . If you're swimming in numbers right now, consider that the average Ultrabook with a standard SATA SSD gets about one tenth the scores of this system drive. You can see the 3DMark and PCMark scores, along with a few other benchmarks, in the gallery below.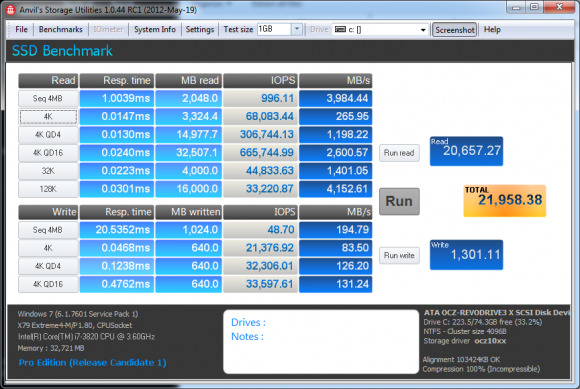 But what did this do for games? Needless to say, the combination of some of the best components money can buy led to buttery smooth framerates on just about every game we tried. On a 1920x1200 monitor with every setting and switch set to its highest, plus V-sync enabled, the framerate never dropped below 60. With V-Sync off, we got eye-popping framerate scores of an average of 114 in the original Crysis, 124 in The Elder Scrolls V: Skyrim, 131 in Batman: Arkham City, and 111 in Grand Theft Auto IV. We're not the most demanding of gamers here at SlashGear, but suffice it to say, the Powerbox in this configuration can produce graphics better and faster than most people's eyes can actually see, and with this level of hardware this is likely to remain the case for at least two or three years.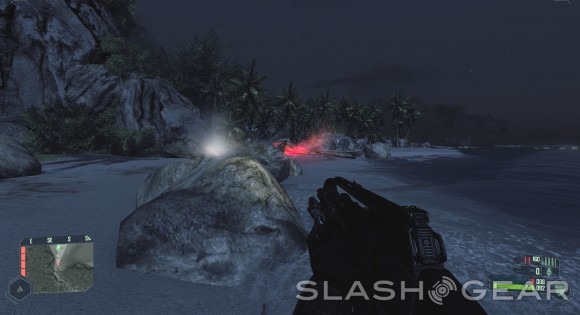 A note on some of the more physical aspects of the Powerbox: it's loud. Very loud, and surprisingly so for a system of this size. But then you need to take into account the externally mounted fans and the high temperatures inside such a compressed build – there's not a whole lot that can be done about it, even with the addition of Intel's first-party liquid cooling. Those of you who plan to do your own upgrades beyond the graphics card and storage drives should do your homework beforehand.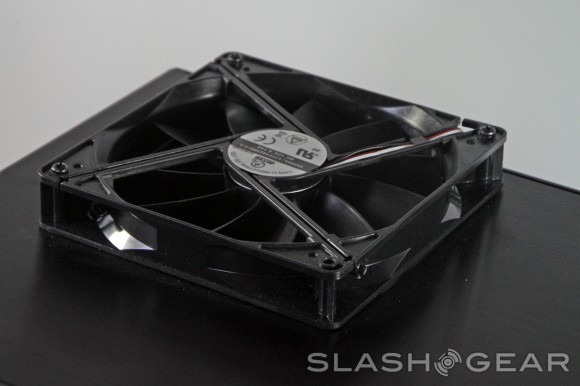 Value
Make no mistake, this is a fantastically expensive gaming machine. Were I going to order it for myself, I'd opt for the full-sized tower with an Antec case, just because it's easier to work with and probably quieter. That said, if you've got the money and the inclination (and if you've got a significant other, some impressive negotiation skills) then more power to you. Those who need a machine that's semi-portable will be happier with what DV Nation calls the "SFF" Lian Li version, but be careful when moving it, as it still weighs in at about 30 pounds.
Wrap Up
Got a few thousand dollars you're not doing anything with? Want the fastest storage that money can buy, convincingly disguised as a Windows gaming machine? Does the sound of case fans and GPU coolers lull you to sleep at night? Then DV Nation's RAMRod Powerbox might just be your dream machine. It's not cheap, it's not subtle, and it's certainly not for everyone, but as boutique gaming machines go, it's hard to compete with. You can order one at their website.