HP Z420 Workstation review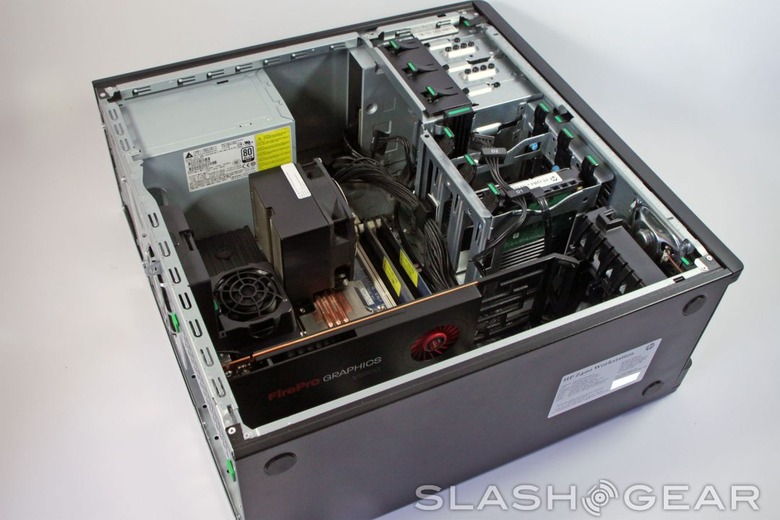 Workstation computers are strange beasts: it's rare that someone more used to a traditional laptop or desktop will need them, or indeed, will be able to justify the extra expense. But for those who need massive amounts of performance for specific tasks, there's no way to beat them. In contrast with their consumer products, HP's workstations have earned a reputation as some of the best in the business, and we were thrilled to put the new Z420 Workstation through its paces.
Hardware
The Z420 Workstation is on the low end of HP's full-sized Z-class, with only the even newer Z220 and the all-in-one Z1 below it. That said, it still gives you all the functionality of a full-sized workstation, and makes great effort to deliver first-class performance with a relatively economical price.
Our test unit came equipped with an eight-core Intel Xeon E5-1620 CPU clocked at 3.6Ghz, a relatively modest 8GB of memory and 1TB 7200RPM hard drive, and an AMD FirePro V5900 professional graphics card. Other additions include a multi-card reader and an extra guide and fan assembly for the graphics card. For these parts the total comes to $2762, up from the base price of $1169. A maxxed-out Z420 with the top end processor and graphics, an NVIIDA Quadro 5000 graphics card, 64GB of memory, huge SSDs and hard drives, integrated carrying handles and the like pushes towards $12,000.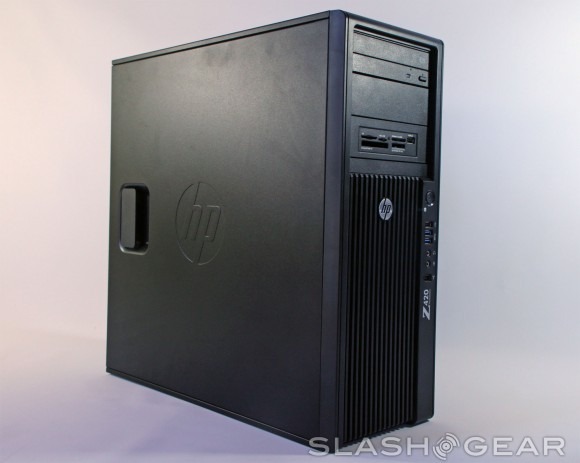 For those interested in the Z420 or one of its bigger brothers in an IT environment, you really shouldn't pay attention to the components. These are staggeringly configurable and in any case, the tower form factor is designed for replacements and upgrades. The case itself is of some interest to us here. HP's workstations are renowned for being tough, and indeed this is the case: steel and hard plastic are hard to mess up. But what caught my eye is just how easy it is to add and remove parts, thanks to an ingenious system of tabs, handles, slides and slots.
When I cracked the case (which is itself quite easy thanks to a handled access panel) I found that every single component could be removed by hand, with the notable exception of the motherboard, processor and power supply. Since these are generally the components that are left alone, it seems just about right. The only problem I encountered was with the graphics card brace, which achieved a tool-less design with an unfortunately flimsy plastic lip. Have a gander at a true "unboxing" video below:
The outside of the case is just as important. The front of the case has three USB ports, two of which use the much faster USB 3.0 standard. You'll also find FireWire and audio in/out. Around the back you'll find another two USB 3.0 and four USB 2.0 ports, an extra FireWire port, the audio and Ethernet ports embedded on the motherboard, and two PS/2 ports (for you die-hard Model M users). A locking mechanism keeps your expensive interior safe, and a rear-mounted power button (identical in function to the front button, not just a switch) completes the build.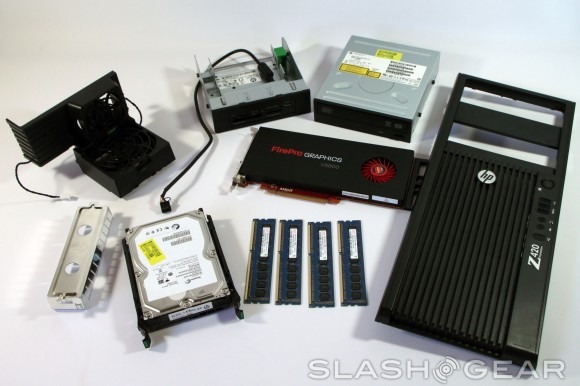 While not as pretty as a standard desktop, and indeed not as stylish as the new Z620 and Z820 monster machines, the Z420 clearly means business. Upgradeable components include three optical drive bays and 3.5-inch hard drive bays, two PCIe-16X slots, and a 600-watt power supply. Even the most demanding of users could keep this machine up to date for years.
Software
It's rare that we see Windows 7 unencumbered by extra software, but naturally workstation-class users aren't interested in bloatware. HP doesn't disappoint: the only non-essential programs that came with Windows 7 Professional 64-bit were the Bing Bar (sigh), a Corel DVD viewer, Roxio Creator Business and HP's proprietary Remote Graphics Software (RGS).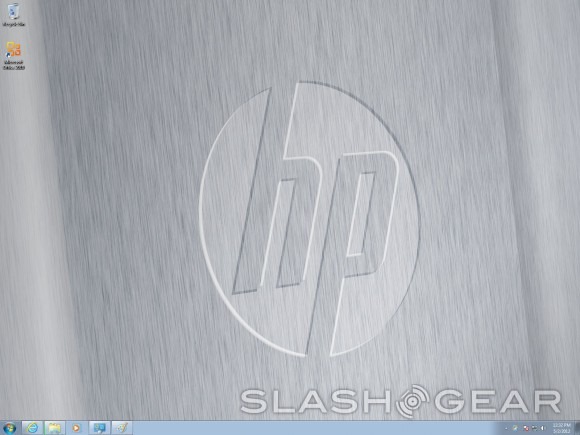 RGS deserves a special note here. In many ways it reproduces the functionality of Windows' own RDP, but is tuned to the exacting demands of graphics professionals. Demonstrations showed the software keeping up with some rather amazing CAD visuals in real-time. RGS is free for use with any HP computer.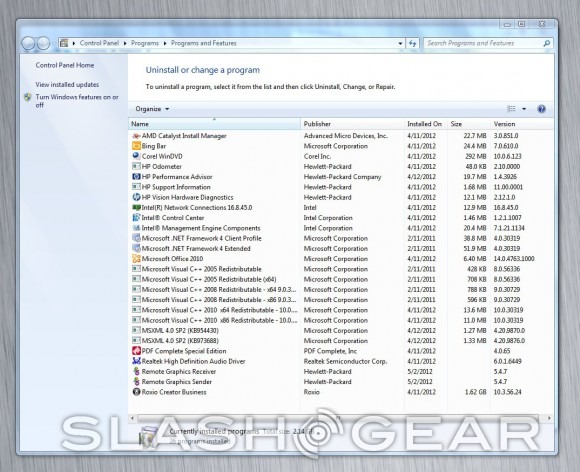 Needless to say, Windows users who are tired of bloatware will find a lot to love here. While many users and IT managers prefer to install Windows from scratch, this is the first machine I've seen in perhaps a decade where I didn't feel the need. Performance is smooth and screaming fast, as you would expect with these components. Other pre-installed OS options include Red Hat Linux, and you can order recovery media for an extra $10.
Performance
Components with this kind of power are, quite frankly, far beyond our usual fare. While not exactly ideal for gamers thanks to the OpenGL-specific graphics cards, those whose work demands incredible amounts of power won't be disappointed. Graphic design, CAD, medical imaging, financial tracking... there's enough power and options here to satisfy everyone.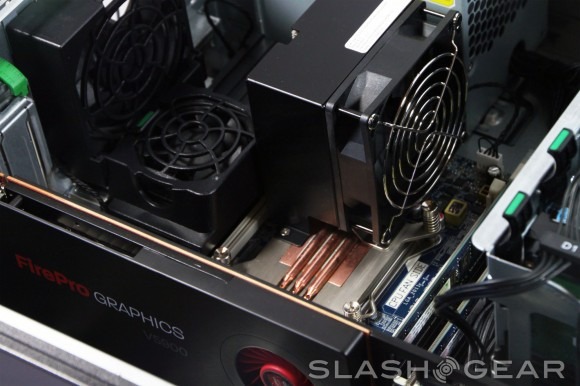 In my own personal usage, Photoshop and Premiere are about the toughest programs that I put my machines through. The Z420, as expected, put the other Windows laptops and desktops I've used lately (all of which had second-generation Core-series processors) to shame with its combination of an 8-core Xeon E5 processor and fast memory. For those with the inclination, even faster processor and storage options are available.
Benchmarks aren't all that relevant on a machine as configurable as this one. Needless to say the Z420 has far outpaced any consumer-focused Windows machine we've ever tested, and only the latest revision of the Mac Pro comes close. PCMark 7 gives this configuration a score of 3168 – you can see the full test in the gallery section.
[sgbenchmark id=157 show=score]
[sgbenchmark id=157 show=system]
An important note about all that screaming horsepower: it doesn't, in fact, scream. During extensive uses I never once heard the Z420 make noise that surpassed the ambient volume of my home, with the exception of some extremely fast disk writes. If it weren't for the LED status lights I might never know it was on. There's some incredible engineering that's been put into airflow, heat, vibration and noise management, and it shows. This thing makes my home-built desktop (with some pretty high-end cooling components itself) sound like a sputtering B-52.
Wrap-Up
There aren't many reading this that need massive amounts of power for specific and often crucial tasks. But for those who do, and can afford the premium that a workstation demands, the Z420 is an excellent choice. While not as flashy as the machines above it or as compact as those below it in HP's line, it strikes a happy medium while keeping a wide variety of initial configuration and upgrade options.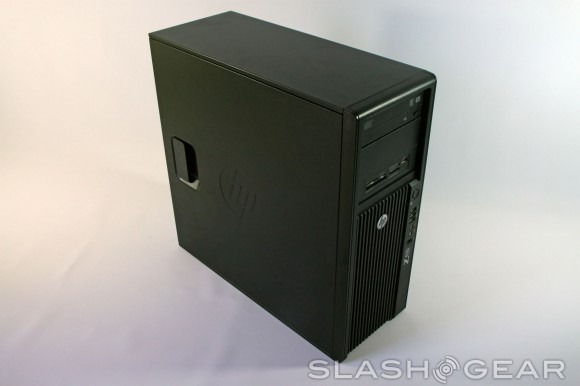 When it comes to desktops, I nearly always advocate building from the ground up for those with the skills to do so. the Z420 is the first machine that's made me reconsider. The sheer ease of replacing components along with a truly amazing level of sound suppression make me wish my own computers were half as user-friendly. If you need a full-size workstation, the Z420's combination of features and price (depending upon your configuration) is very, very hard to beat.