RAmos to release Rockchip Android MID with 1080p?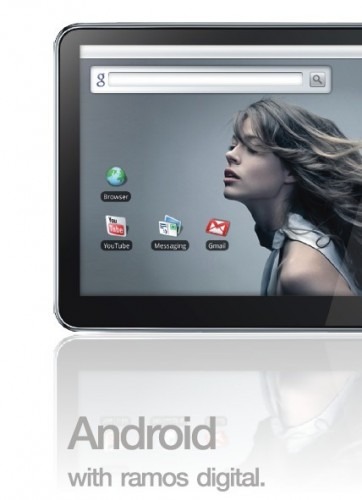 Having taunted us with one of the most alluring Android MIDs we've seen to date, only to reveal it was a mere husk intended to show off their 720p-capable HD chipset, Rockchip may slowly be working their way back into our good books.  RAmos Digital are teasing an upcoming Android device for an event to be held on September 25th, and from the promo shot it looks to be exactly the same as the Rockchip concept.
Full specifications of the RAmos Android MID are unknown, though it's unsurprisingly expected to be ARM based rather than using x86 architecture.  It's also tipped to support 1080p MKV (H.264/VC-1), AVI (Xvid/DivX) and various other formats, with bitrates ranging from 30 to 40Mbps.
That doesn't quite tally with what we know about the Rockchip RK2808 chipset, the original component inside their Android concept, and which was said to support 720p rather than full 1080p high-definition.  Nonetheless, we won't argue with a feature upgrade, and instead will cross our fingers and hope that the performance from the unnamed RAmos Digital Android MID matches its aesthetic promise.
[via Pocketables]