R2-D2's head will launch as a Bluetooth speaker this month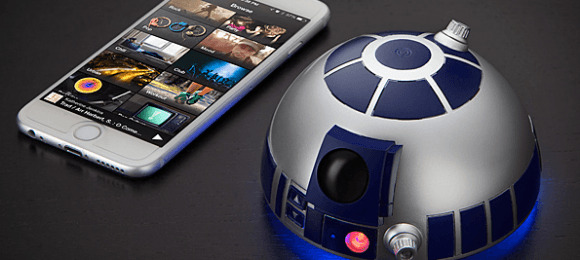 There's no shortage of Star Wars gear, and yet we can never get enough of it. If the rugs, the wall-mounted heads, the knife block, the desk vacuum, and others aren't enough, later this month ThinkGeek will be launching an exclusive wireless speaker designed to look like R2-D2's head. As far as replicas go, the speaker looks quite similar to the movie rendition, and it even glows. With a twist of one of its knobs, however, the little droid head starts playing music.
ThinkGeek revealed the speaker on its website recently, saying that it created and will exclusively offer the speaker, which doubles as a speakerphone (you can use it to take calls if it's connected to your smartphone). This is an officially licensed product, as well.
As far as the speaker aspect of it goes, the R2-D2 Bluetooth speaker is about the same as any other wireless speaker. You can pair it to your Bluetooth devices, toggle it on and off with a physical button, and adjust it via a volume knob.
The speaker is equipped with sound effects from the movie that play when it is turned on, paired, and turned off. As you can see in the image, a blue accent light rounds out the design. The speaker won't be available until August 27; it is priced at $49.99 USD.
SOURCE: ThinkGeek