R2-D2 speaker droids entertain you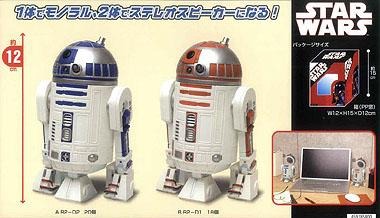 If your desk is in dire need of a little droid action, then you could do far worse than these R2-D2 speakers available for preorder from National Console Support Inc.  Forty bucks gets you two 12cm tall models, in either red or blue, and by flipping up the head domes you reveal a set of speakers.
You're not likely to get major sound quality from them, true, but they'd be a compact and entertaining way to decorate your desk if you're a Star Wars fan.  Connection is via a standard 3.5mm audio cable, although a USB connection for power supply at least is an unconfirmed possibility.
Delivery is expected in December 2007.
Product Page [National Console Support, Inc]