Quantum Video Touch Digital TV PMP With GPS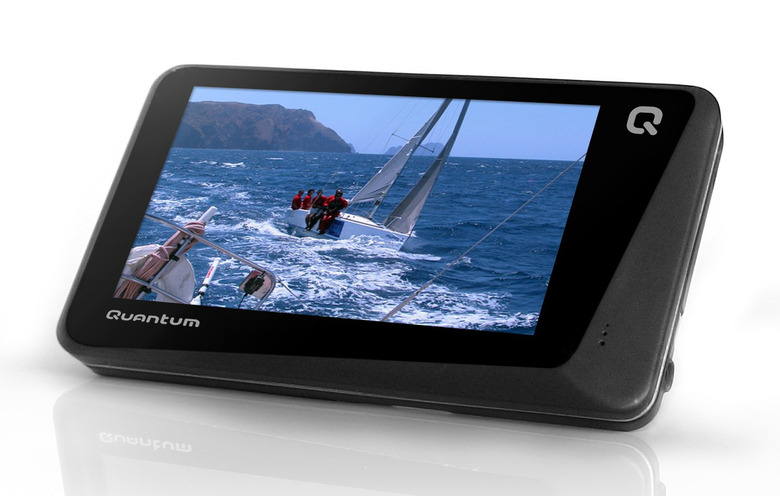 Quantum have announced a new PMP with digital TV and navigation capabilities, the Video Touch personal TV media player.  Based on a Siano DVB-H receiver, the Video Touch is capable of receiving up to 30 channels of high quality live mobile TV, as well as GPS navigation, in-car assistance, traffic and weather updates, movies, an MP3 player and picture viewing.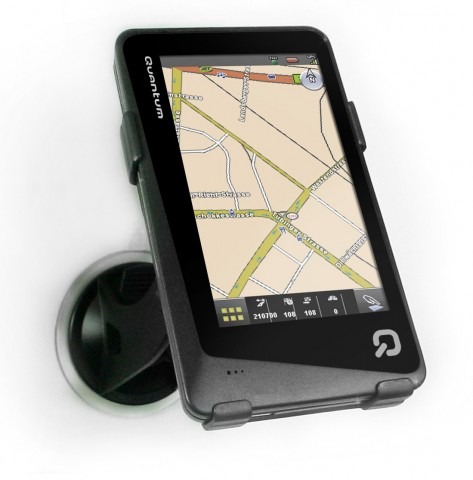 The device also uses Siano's SMS8021 chip antenna, removing the need for an external aerial while still promising reception in rural areas or while travelling in moving transport.  Different versions of the design will be available, differentiated by the inclusion of 3G HSDPA WWAN.
Flipping between portrait and landscape modes automatically, the Video Touch uses a gesture-based interface with only a single hardware button (for power).  No release date or pricing has been suggested.
Press Release:
Quantum Unveils the New Video Touch Personal TV Media Player Featuring Siano's Revolutionary Internal Chip Antenna

Ultimate Entertainment Device Combines GPS Driver Assistant Features and GPRS Return Path for OMA BCAST DRM and SCP Profile Support

AMSTERDAM, Netherlands –(Business Wire)– Sep. 12, 2008 Leading mobile TV industry players Quantum (http://www.qtmtv.com) and Siano (http://www.siano-ms.com) announced today at IBC Amsterdam the launch of a new convergence media device developed by Quantum incorporating Siano's DVB-H front-end technology. Siano's DVB-H silicon receiver chips together with the revolutionary SMS8021 internal chip antenna have been integrated into the breakthrough Personal TV Media Player by Quantum, becoming the first connected PMP in the world featuring OSF IPDC and OMA BCAST personal mobile TV and GPS navigation.

Siano will be demonstrating the new Quantum device at this week's IBC conference in Amsterdam, at Siano booth 592 in the mobile zone. Selected Quantum partners will provide their media mobility experience through the new VideoTouch (Motorola: booth 1.D31; Alcatel Lucent: booth 12P,C20; Nagravision: booth 1.D69; Irdeto: booth 1.D51; NDS: booth 1.A71). The move introduces a new realm in portable entertainment, introducing high quality live mobile TV broadcasting of up to 30 channels onto a GPS enabled device offering navigation, personal assistance and location based-services. The end-user can enjoy high performance mobile digital TV entertainment whilst having in-car assistance, traffic and weather updates, movies, an MP3 player, and picture viewing — all on a touch-screen interface.

Based on Siano's leading DVB-H silicon and additional SMS8021 chip antenna, Quantum's Personal TV Media Player convergence device offers unparalleled DVB-H reception, in both indoor and outdoor locations, in rural areas, and mobility performance that will support mobile TV whilst travelling on high speed trains or vehicles, eliminating the need for external antennae.

"We are delighted to work with Siano in bringing live DVB-H broadcast capabilities to our new Personal TV Media Player," said Stefano Martini CEO of Quantum. "Our latest device represents a breakthrough in consumer technology — until now high-quality DVB-H Pay TV has been the missing element in providing the ultimate multi-media rich mobile experience. With Siano's proven track record in DVB-H and elimination of the need for external antennae — they were the obvious choice."

Alon Ironi, CEO of Siano, added, "As the demands of mobile entertainment grow, converged multi-media devices are merging entertainment, navigation and mobile TV to provide consumers with the ultimate experience. The debut of Quantum's personal media player meets these 'all in one' demands and we are thrilled to be the selected as the mobile TV chip vendor of choice."