Qualcomm's HP Touchpad-powering Snapdragon APQ8060 detailed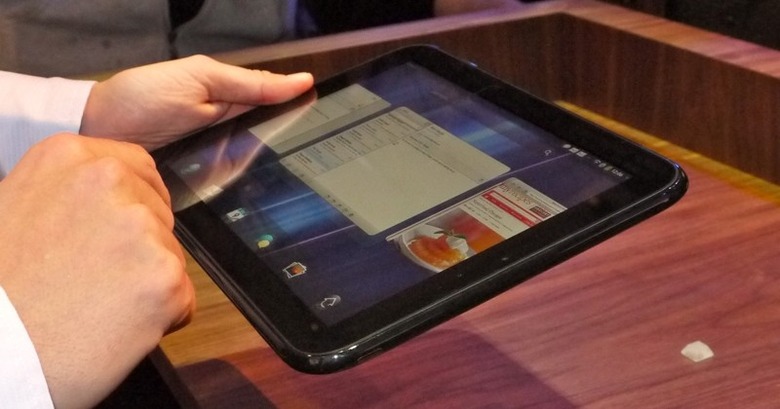 HP's new Touchpad tablet is the first device to publicly commit to Qualcomm's new Snapdragon APQ8060, and now the chipset company is spilling the beans on exactly what its dual-core can do. The third-generation of Snapdragon, Qualcomm pairs the APQ8060 with an integrated Adreno 220 GPU (with twice the graphics processing power of its predecessor) to offer Full HD 3D support.
There's also native support for up to a 16-megapixel camera, together with 1080p HD stereoscopic 3D video capture; alternatively, the APQ8060 can shoot 8-megapixel stereoscopic stills. HDMI support allows for easy connection to an HDTV, though the Snapdragon also works with autostereoscopic displays for glasses-free 3D.
Obviously the HP Touchpad doesn't actually make use of all that – there's no 3D capture or display, for instance, and the webOS slate only has a front-facing camera, not a rear camera. Still, with Qualcomm claiming 150 Snapdragon devices currently in development (though not all using this particular third-gen chipset) we imagine we'll be seeing more of the APQ8060 relatively soon.
Press Release:
Qualcomm's Snapdragon Processor Powers Advanced 3D Gaming and Stereoscopic 3D in the Latest Tablets and Smartphones

— Single and Dual-Core Custom CPUs and Advanced GPUs Enhance Performance Levels and Enable Next-Generation Mobile Gaming—

SAN DIEGO — February 10, 2011 — Qualcomm Incorporated (NASDAQ: QCOM) today announced that its Snapdragon™ processors are enabling the latest and greatest multimedia experiences in today's commercial mobile devices, including stereoscopic 3D (S3D) entertainment, 1080p 30fps HD video capture and playback, console-quality gaming and full web browsing with Adobe Flash 10. The newest member of the Snapdragon family, Qualcomm's APQ8060 dual-CPU processor, powers the HP TouchPad, which HP introduced yesterday.

"Our work with industry leaders has allowed us to showcase the full spectrum of Snapdragon's graphics and multimedia capabilities in both the tablet and smartphone space across major software platforms," said Raj Talluri, vice president of product management for Qualcomm. "With more than 75 Snapdragon devices already announced, 150 Snapdragon devices in development and over 100 high end mobile games optimized for our GPU, Qualcomm continues to be a leader in delivering high performance devices to market."

The first webOS tablet, the HP TouchPad, offers a 9.7-inch diagonal multitouch display, an innovative and intuitive multitasking UI and a robust platform for game development. Qualcomm and HP collaborated with Polarbit to optimize its action-packed arcade flight simulation game, Armageddon Squadron II, for the HP TouchPad. Running on the HP TouchPad, Squadron II showcases dynamic lighting and shading with enhanced motion blur visual effects to create a real-world gaming experience, which is made possible with the power of Qualcomm's Adreno® 220 GPU.

"With the APQ 8060 and Adreno 220 GPU, the HP TouchPad delivers a high-performing and fluid multitasking user interface, as well as offers game and multimedia application developers a high-performance environment for their applications," said Jon Oakes, director of TouchPad Product Marketing at HP.

Qualcomm's embedded CPUs and GPUs are designed from the ground up to deliver unprecedented processing and 3D graphics performance with industry-leading efficiency to extend battery life. The 8x60 family, with the APQ8060 being the newest addition, is part of the third generation of the Snapdragon family and is the ultimate solution for the latest multi-tasking smartphones and tablets. The third-generation includes: two asynchronous processor cores; an integrated Adreno 220 GPU with twice the processing power of its predecessor; support for up to a 16 Megapixel camera; and can capture and display HD 1080P stereoscopic video or 8 Megapixel stereoscopic still images to an autostereoscopic panel or a 3DTV (via HDMI), allowing consumers to capture high resolution video or stills and watch them without the need for special glasses.

The second generation Snapdragon single-core family of CPUs is already powering numerous smartphones that are commercially available today, including the recently launched Sharp Galapagos 003SH, a 3D entertainment smartphone. The Galapagos 003SH is powered by the Snapdragon MSM8255™ processor, which provides the ability to capture and display pictures, as well as play movies, in stereoscopic 3D without the use of glasses. The Galapagos 003SH also supports the Adreno 205 GPU for 3D gaming capability in addition to a 9.6 Megapixel camera and HD 720p video for playback and recording.

"In order to provide the best mobile user experience possible for the Galapagos 003SH, we were thrilled to work with an industry leader such as Qualcomm," said Hiroaki Tochihara, division general manager, Personal Communication Systems Division II, Communication Systems Group, Sharp Corporation. "The 003SH provides an innovative and robust user experience with its next-generation 3D entertainment capabilities, and Qualcomm has been instrumental in helping to enable these features and bring this device to market."

For more information about Snapdragon and to see the latest devices it's enabling, please visit us at the GSMA's Mobile World Congress in the Company's exhibit, located in Exhibit Hall 8, #8B53 or visit www.qualcomm.com/snapdragon.

About Qualcomm

Qualcomm Incorporated (NASDAQ: QCOM) is a world leader in 3G and next-generation mobile technologies. For 25 years, Qualcomm ideas and inventions have driven the evolution of wireless communications, connecting people more closely to information, entertainment and each other. Today, Qualcomm technologies are powering the convergence of mobile communications and consumer electronics, making wireless devices and services more personal, affordable and accessible to people everywhere. For more information, visit Qualcomm around the Web:

www.qualcomm.com