Qualcomm Wants Your IoT Coffee Pot To Run Apps, Too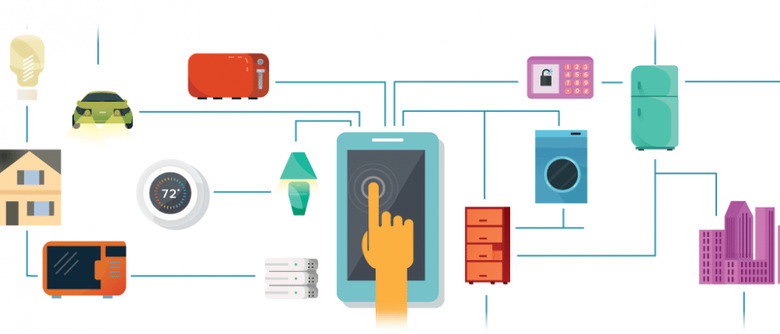 Qualcomm has ambitions for the Internet of Things beyond just wiring up your fridge to the web, launching a set of chipsets that will not only provide connectivity but app support to appliances. The two new embeddable boards target everything from coffee pots and rice cookers through toasters, fridges, and washer-dryers, not to mention integrating the IoT – or the "Internet of Everything" as Qualcomm prefers to describe it – with home hubs and routers. Meanwhile, there are moves to smooth the IoT setup experience, too.
For the more basic appliances, there's the Qualcomm Atheros QCA401x. It pairs a microcontroller with WiFi 1x1n, a broad range of I/O options for a variety of sensors and displays, AllJoyn for easier connectivity, and – perhaps most interestingly – a small amount of storage for local apps.
It's only 800KB, but that's enough for a basic set of applications depending on the demands of the manufacturer, along with the real-time OS. So, if your coffee pot needs smartphone-connected scheduling, that app could run on the Qualcomm chip rather than demanding a completely separate processor. A washing machine's physical controls could be replaced with a touchscreen driven by the QCA401x, meanwhile, running programs loaded into the chip's storage.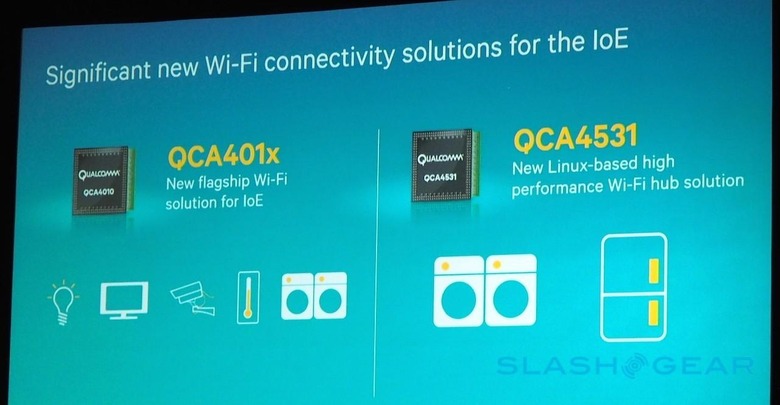 That's one of the most common requests from existing Qualcomm IoE chip customers, Joseph Bousaba, Sr. Director of Product Management for IoE at Qualcomm, explained to me. Qualcomm's previous-gen chips are already in tens of millions of devices – the Xbox controller for one – and expectations for what those previously-dumb gadgets should be able to do are growing.
Those needs have also pushed Qualcomm to broaden the sensor support in the new chips, in a combined attempt to better future-proof appliances that might be expected to perform for much longer periods than the average smartphone or tablet.
Qualcomm's second chipset is a more advanced version, the QCA4531, focusing on markets like automotive and smart home hub makers. In addition to WiFi 2x2n, it can act as both an 16-client access point or as a network client itself, opening the door to implementation in hubs and gateways.
To make that more straightforward, it also runs Linux/OpenWRT. According to Bousaba, there's a growing number of companies with existing smart home and appliance software that would like to jump to a more flexible IoE platform, but which also need to be able to port their current software across to make it feasible.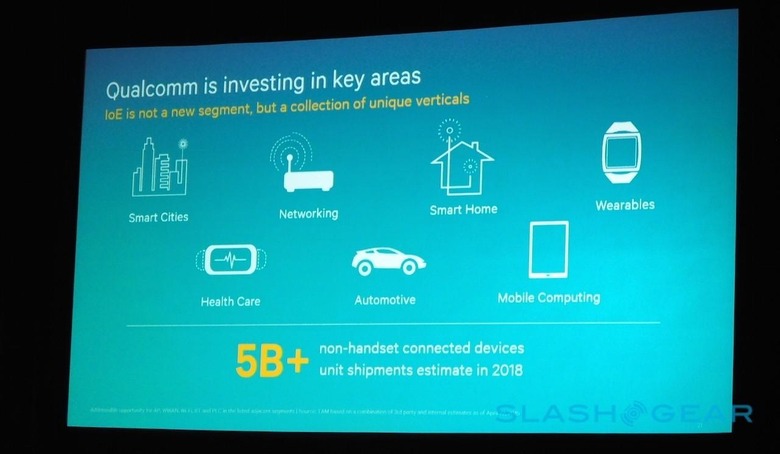 It's clearly the week for Internet of Thing chipsets. On Tuesday, Samsung revealed its own take on embeddable 'boards for hooking up appliances, smart home hubs, and just about everything else, the Samsung ARTIK series.
What might help distinguish Qualcomm Atheros' chips from rivals might be the ease of hooking either of the chips into the cloud. Much as smartphones come pre-populated with APNs for various cellular networks, so the new IoE chips will be preloaded with settings for the common cloud-based services.
Qualcomm's QCA401x is sampling now, with production expected later this year. As for the QCA4531, that's already shipping to appliance manufacturers.