Qualcomm talks Atheros 802.11ac for super-fast WiFi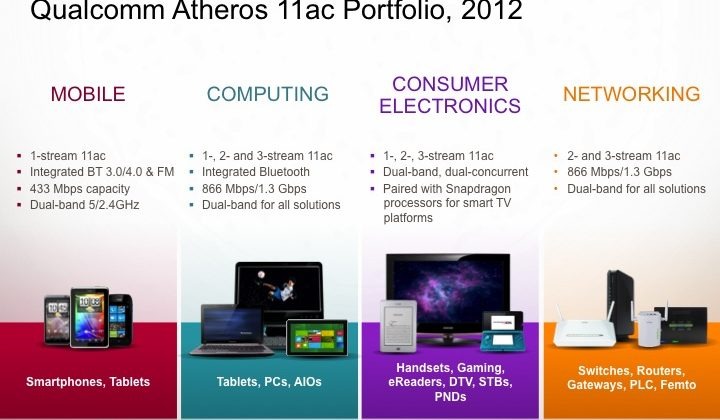 Qualcomm has launched its Atheros 802.11ac product range, an ecosystem of high-speed WiFi chipsets promising up to 6.9Gbps data rates in smartphones, tablets, smart TV hardware, computers and home routers. Getting its official unveil at MWC next week, the new Atheros line-up deliveres "practical gigabit wireless" performance Todd Antes, Qualcomm Atheros VP of product management told SlashGear and addresses the "looming challenge" of exponential growth in WiFi-enabled clients. It's not just a matter of faster speeds, though: 802.11ac says there'll be better range and overall capacity, too, as well as improved battery life for mobile devices.
Qualcomm is targeting all three of the major electronics markets, Antes explained: mobile, computing and networking. 11ac uses the 5GHz band for increased capacity, and can combine up to eight streams simultaneously for the fastest performance. Only the most advanced versions will see 6.9Gbps-style rates, with 3.5Gbps perhaps more likely as the theoretical maximum for the home. Later, though, will come Multi-User MIMO (MU-MIMO) in early 2014, increasing speeds further as well as ensuring that devices even at the outskirts of range will get higher rates: typically 2-3x what you would get in the same situation with 11n, Antes says.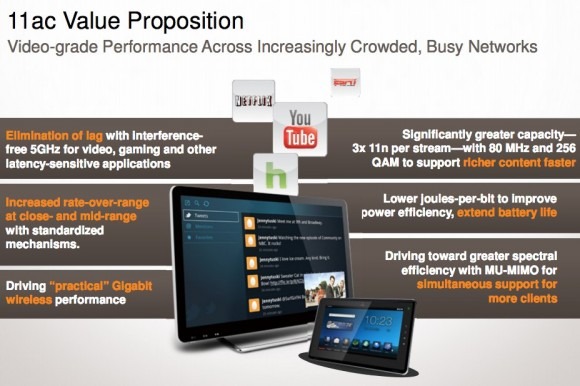 It could be mobile where some of the biggest improvements are seen. Antes suggests users could get 3x the wireless performance with a single stream/single antenna setup, with data rates going from a theoretical 150Mbps (70-80Mbps in the real-world) with 802.11n to 450Mbps theoretical (roughly 300Mbps in practice) with 11ac. There'll be battery gains, too: devices will be able to squirt out bursts of data faster and more efficiently, shutting down the radio sooner and thus cutting power consumption.
Qualcomm Atheros' first product will be the WCN3680, a multimode 11ac/Bluetooth 4.0/FM radio chipset intended to work with the company's MSM chipsets – such as the Snapdragon S4 MSM8960 – for phones and tablets. It's also seamlessly backward compatible with previous Atheros wireless chipsets, and will work with Android, Windows Phone and other platforms as a drop-in replacement.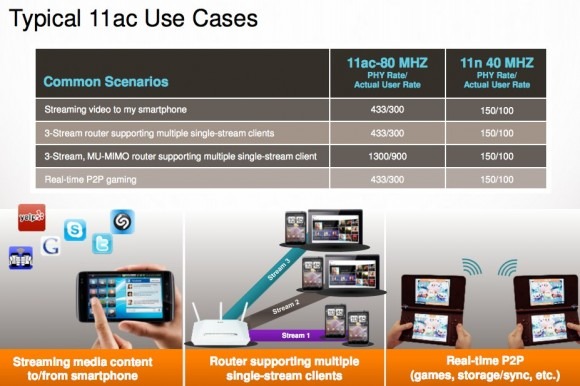 We'll have to wait a while for the first proper 802.11ac hardware, however. Qualcomm expects the WiFi Alliance to approve the new standard from in early 2013, going on to certify the first products from around February. Devices using draft 11ac spec could arrive as early as the second half of 2012, but Qualcomm is trying to dissuade its partners from doing that, even with the potential benefits of being first to market. There's still the chance that final specs could be tweaked before approval, and of course you'll need more than just an 11ac router to make the most of the potential speeds.
Until all hardware is brought up to speed with 802.11ac, there'll be a speed impact if you're using legacy b/g/n kit. 11ac routers will use a "round robin" distribution method in that case, rapidly connecting and disconnecting with each client in turn, and negotiation the fastest possible speeds each of those clients can support. However, true 11ac supports concurrent operations for a big uptick in rates.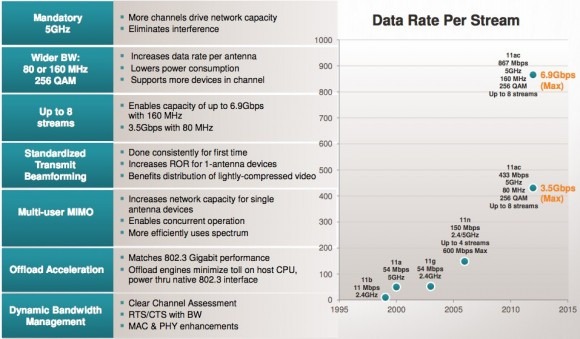 11ac will be an industry-wide standard – terms like "gigabit wireless" will likely be universal branding – but Antes thinks there are still reasons why people should look for Qualcomm chipsets. "We have a track record of delivering the best WiFi performance: throughput, integration, size, battery" he insists. "Products using our solutions will be among the best in benchmarks."
We'll be taking a look at Qualcomm Atheros 802.11ac in practice – and seeing just how fast it can run – at Mobile World Congress next week.