Qualcomm Snapdragon S4 (Krait) gets early benchmarks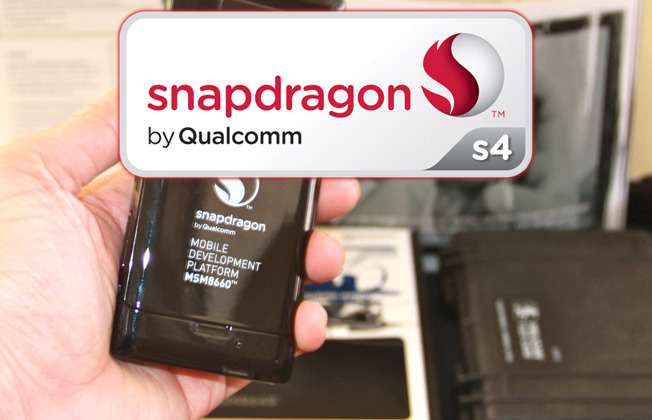 The newest Snapdragon processor is bringing its A-game to the tablet with the Mobile Development Platform smartphone MDP8660, and the benchmarks are in. This device represents the first hardware preview of the S4 processor made by Qualcomm and is in full working order in a reference platform design not unlike the
we've seen from Qualcomm in the past. What we're looking at here mostly is the processor itself,
comparing it to the NVIDIA Tegra 3 and the TI OMAP 4,
comparing it to the previous model Qualcomm MDP with a dual-core Scorpion processor instead.
Having a look first at the Linpack benchmark, this test a Java port of the classic Linpack memory bandwidth / FPU test, Anandtech showed how advanced this newest processor is over the previous generation which sits fourth on the list, but above many of your favorite devices from across the Android gamut. Compare this device with its S4 processor to the Google Nexus S (which sits at the very bottom of the list) and there simply is no comparison to be made: this is not just a step forward, it's a leap forward. As Brian Klug & Anand Lal Shimpi of Anandtech note:
"Occasionally we'll see performance numbers that just make us laugh at their absurdity. Krait's Linpack performance is no exception. The performance advantage here is insane. The MSM8960 is able to deliver more than twice the performance of any currently shipping SoC. The gains are likely due in no small part to improvements in Krait's cache/memory controller. Krait can also issue multi-issue FP instructions, A9 class architectures can apparenty only dual-issue integer instructions."
Next, PCmag's Sascha Segan found that benchmarking this device aside two other comparable devices had web browsing winning out on this newest MDP by far. These tests show the performance of the MDP's web browser up against the Samsung Galaxy Nexus with a Texas Instruments OMAP 4 processor and the ASUS Transformer Prime with an NVIDIA Tegra 3 processor. In regards to why these devices were chosen and how they stood up to one another, Segan had the following to say:
"It's not fair to compare Android 2.3 devices to Android 4.0 gadgets, as browser performance really changes between the versions. ... The new Qualcomm S4 chip blew out the competition on the two Web-browser-based benchmarks."
We'll continue to grab information as it's released into the wild here at Mobile World Congress 2012 and abroad on the Qualcomm Snapdragon S4 processor all week and into the future – stay tuned!