Qualcomm Snapdragon S4 developer tablet running Android 4.0 ICS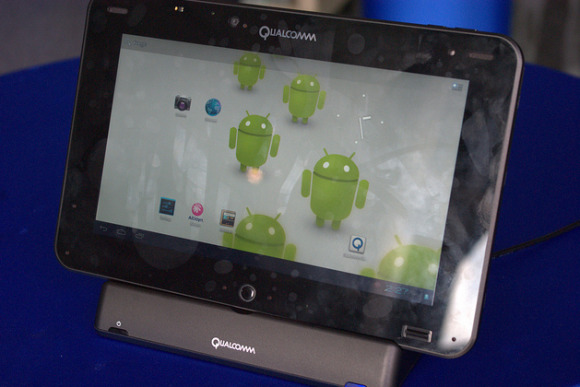 A bit earlier this month the folks at Qualcomm had an analyst summit with about 50 industry analysts from both North and South America to show off their developing technologies and in particular one device which had us raising our eyebrows – a new Snapdragon S4 developer tablet running Android 2.3 Gingerbread — news today from Qualcomm shows off how this tablet is now prepped to be running the newest OS, Android 4.0 Ice Cream Sandwich. You'll remember the MDB Qualcomm handset we had earlier this year, that one of the last developer-centric devices the chip manufacturer had out for purchase. Now we've got this lovely tablet coming out sooner than later, and complete with the tastiest Android flavor yet!
Though details aren't especially numerous or expansive at the moment on this build, Qualcomm themselves have provided the images you're seeing above and below. Qualcomm is sure to be releasing their S4 processor as well inside 2012, and based on what we've seen with the massively popularity and well-working nature of past processors from the group, you can bet this one will be a doozy as well. Qualcomm is currently getting Ice Cream Sandwich fully optimized for Snapdragon S4-toting tablets as well as the rest of their Snapdragon processors.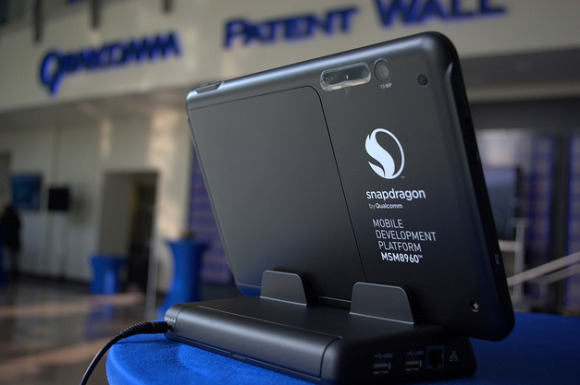 This means that it's more likely than ever that, for example, the HTC line of smartphones from 2011 (and beyond) will be able to work with Ice Cream Sandwich in one way or another. All HTC handsets that you've likely handled have had Qualcomm processors in them, and until next year when the rumored NVIDIA-powered HTC Zeta is released, that one-processor-love situation will continue to stay strong. Ice Cream Sandwich ahoy for Qualcomm in 2012, that's for certain!
P.S. Notice how awesome the text size is on the back of this tablet – and also check out how powerful the camera is if you dare. More massive than the most massive camera on any tablet before, much less a smartphone!