Qualcomm Snapdragon S4 and Gobi 5th generation updated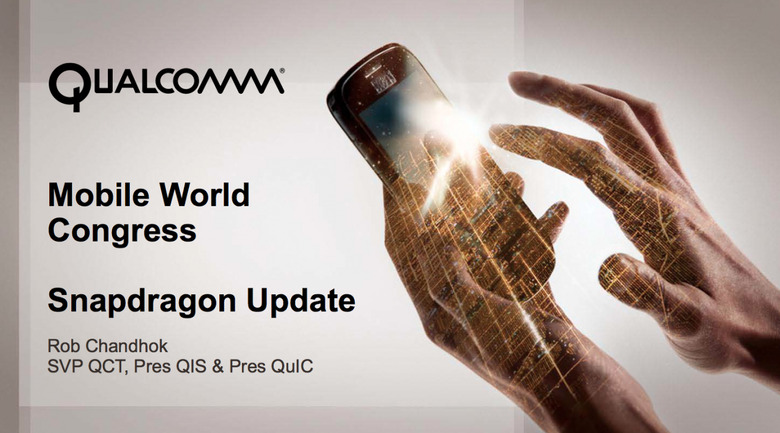 The chipmakers are coming out swinging this week at Mobile World Congress 2012, and as Qualcomm is proving today, they're all going to bring us undeniably excellent devices throughout 2012 and beyond. Speaking on both the Snapdragon S4 processor and the Gobi modem, Qualcomm spoke this week on how their set of chips is able to out-do the competition with an integrated experience. Rob Chandhok, Senior Vice President and President of Qualcomm Internet Services and President of Qualcomm Innovation Center, Inc., as well as Serge Willenegger, Vice President of Technology spoke about both the upcoming S4 platform and Gobi's 5th generation in kind.
Stating with information on Superior Microarchitecture for thermal and power efficiency, we're reminded instantly of Texas Instruments outline of OMAP 5 with their "Thermal Budget", heat being the key in both cases. This is a good sign for every user as now that this heat factor is being pushed by several chipset makers as a big issue, our handsets will be cooler very, very soon. The as well, of coursebe keeping it cool at the same time as being able to take on a wide variety of devices across the planet as well, of course. Head to the Q and A section of this post for more information on the S4 – there's also the next generation Gobi modem from Qualcomm getting prepared for the future as well for LTE superiority.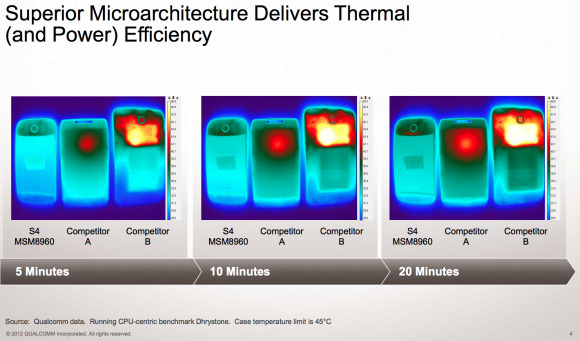 Qualcomm's 5th generation Gobi processor is being shown as having already a third generation of LTE-capable connectivity. The first generation is the World's First integrated LTE/3G chipset, the second was the World's First mobile chipset with those same abilities, and the next generation is coming soon – with the ability to utilize LTE with a whole new level of efficiency. Qualcomm's solutions with Gobi currently support over 40 RF bands from USA to Australia up to Japan and throughout Europe. This new Gobi modem offers up MDM 9x25, this bringing LTE Cat4 at 150Mbps, HSPA+ 84 Mbps – faster than ever, Cat 4 data rates without contiguous 20MHz.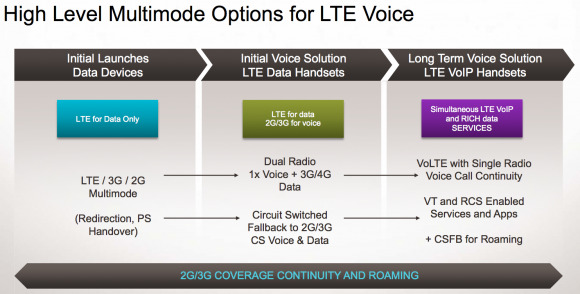 Qualcomm is bringing their LTE abilities into the future, having stated with LTE for data only, moving then on to where we are now, LTE for data with 3G/3G for voice. The long term voice solution for handsets is LTE VoIP, that is simultaneous LTE VoIP and rich data services, and +CSFB for roaming. If you've got to have it all, you've got to have Qualcomm in the future.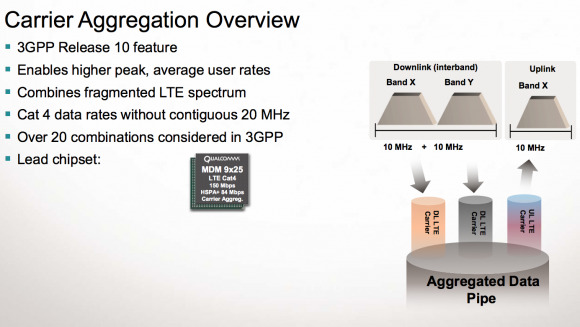 The 5th Generation Gobi Embedded Data Connectivity Reference Platform is the first to support multiple LTE bands on a single device. Eventually this system will be bringing said technology to the whole world as well as to a wide variety of devices, not just mobile smartphones and tablets. Without a doubt Qualcomm will continue to be a force to be reckoned with in the world of fully integrated mobile devices.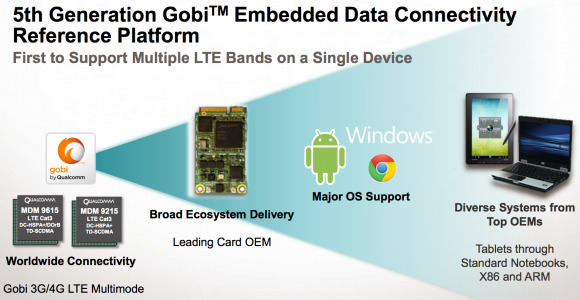 In the question and answer part of the conference here at the Snapdragon Update meeting when asked about graphics processing with DX9 vs DX11 used by competitors, Chandhok responded with a simple "I can't hand you a Windows 8 device and say, here, benchmark it, but I will say that the rumors that our performance is not where it should be are not true."
Asked about partnering with Windows Phone at the S4 processor, Chandhok noted that "Windows phone takes advantage of our chip in a way that's amazing. They take the things that we design and exploit them to the greatest extent."
A question about Windows 8 came up, asking specifically if there will be a quad-core notebook in the future, Qualcomm inside. Chandhok spoke:
"I'm not sure what desktop means anymore. The phone I have in my pocket is more powerful than most of the desktops I've had in my lifetime. ... The compute power is there [already] for what you're going to do on the desktop. It's going to be a really interesting blend, what you're going to see, it's just how it gets treated – 2012 2013 is going to be a really exciting time."
There was a question on Qualcomm GameCommand, a question asking about optimized games and developers for the future for that program. Chandhok responded:
"We ship more GPUs than anyone else in the world. There's going to be a natural partnership throughout the future. ... look to us to be more specific about that between now and the near future, we've got some programs that'll be great to look forward to soon."
Stick with us here on SlashGear for all the Qualcomm and Mobile World Congress news you can handle the next few days here in Barcelona and beyond through our [Qualcomm] and [MWC 2012] portals. We'll be here all week!