Snapdragon 8cx gives Windows its most extreme Arm chip yet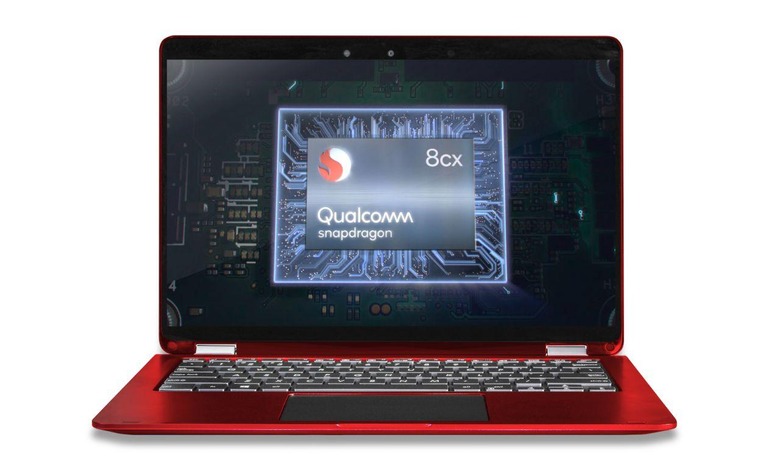 Qualcomm has announced the Snapdragon 8cx Compute Platform, a new flagship "Extreme" chipset for Windows on Arm notebooks, tablets, and 2-in-1s that promises more connectivity, more power, and battery life in excess of 25 hours. The new platform also debuts Qualcomm's new nomenclature for that ecosystem of devices, borrowing technologies from Snapdragon for smartphones but shaping them for ultraportable computing.
It comes twelve months after Qualcomm announced its first Windows on Arm products. At last year's Snapdragon Summit, partners ASUS and HP revealed a Windows 10 notebook and 2-in-1, respectively, each running Microsoft's software on Qualcomm's Snapdragon 835.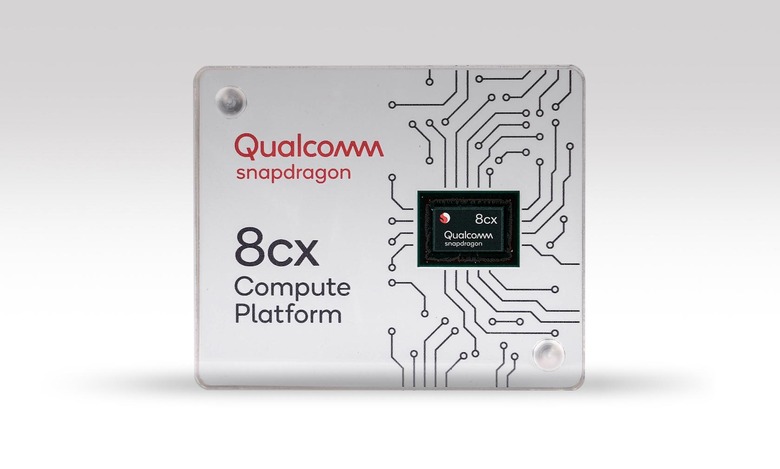 The first benchmarks proved relatively uninspiring, but Qualcomm quickly followed up with the Snapdragon 850. Promising even more performance without sacrificing on battery life or always-on 4G LTE connectivity, it nudged the platform further toward the sort of usability Windows 10 users have come to expect from Intel and AMD-powered machines. Now, the Snapdragon 850 is getting a more potent sibling.
The Snapdragon 8cx Compute Platform won't replace the 850 – or, indeed, be called the Snapdragon 1000 or Snapdragon 8180 as the rumors suggested – but instead sit above it in the Windows on Arm ecosystem. Described as "a new tier of premium computing" by Qualcomm's Miguel Nunes, senior director of product management, ahead of the Snapdragon Summit 2018 at which SlashGear is Qualcomm's guest, it was also developed from the ground up with computing in mind. Its predecessors were, of course, mobile chipsets coopted into laptop use.
It means it's a different chip, physically, from the Snapdragon 855 that Qualcomm revealed earlier this week for smartphones and tablets. Fanless, of course, as well as bigger, with a faster CPU and GPU along with more transistors, the Snapdragon 8cx is also the first 7nm PC platform, the chip-maker points out.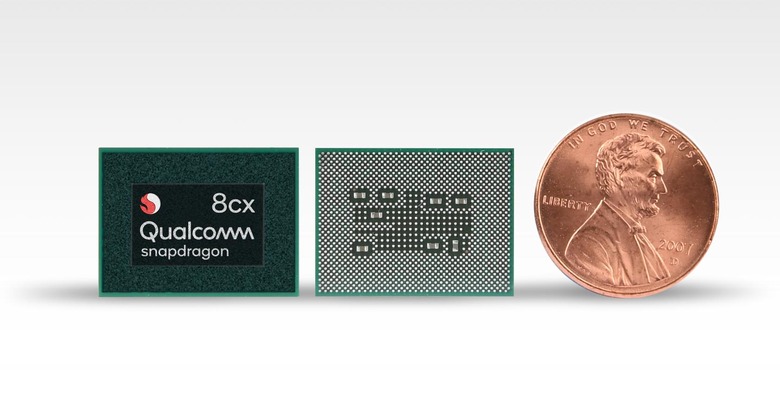 On the CPU side, the Snapdragon 8cx gets the new Kryo 495, the fastest Snapdragon processor ever. That has four performance cores and four low-power cores, along with a larger system cache and L3 cache. Indeed, with 10MB cache in total, Snapdragon 8cx has more than double what the Snapdragon 850 can boast.
It's paired with the Adreno 680 Extreme GPU. Again, there's a sizable upgrade over the Snapdragon 850's graphics abilities, with the new GPU promising to be twice as fast and 60-percent more efficient. Compared to the graphics on the Snapdragon 835, meanwhile, the Adreno 680 Extreme is three times faster.
There's twice the number of GPU transistors, and twice the memory bandwidth. Snapdragon 8cx also supports the DirectX 12 API, and has a high-efficiency video encoder that can drive two 4K HDR external displays.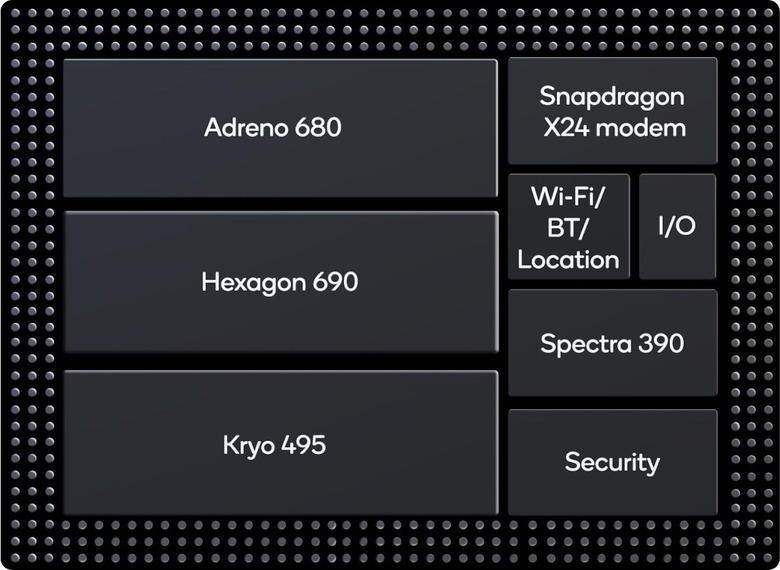 Of course, power is only half of the story when it comes to Windows on Arm: battery life is also vital, especially when you consider the always-on connectivity promise. There, Qualcomm says the Snapdragon 8cx not only has a 7W TDP, but that it can maintain a 50-percent higher level of performance compared to competitor 15W platforms, such as Intel's Core i5 U Series processors. In total you're looking at machines with more than 25 hours of battery life, Qualcomm suggests, and which recharge significantly faster courtesy of Quick Charge 4+ support, something previous Snapdragon PC chipsets lacked.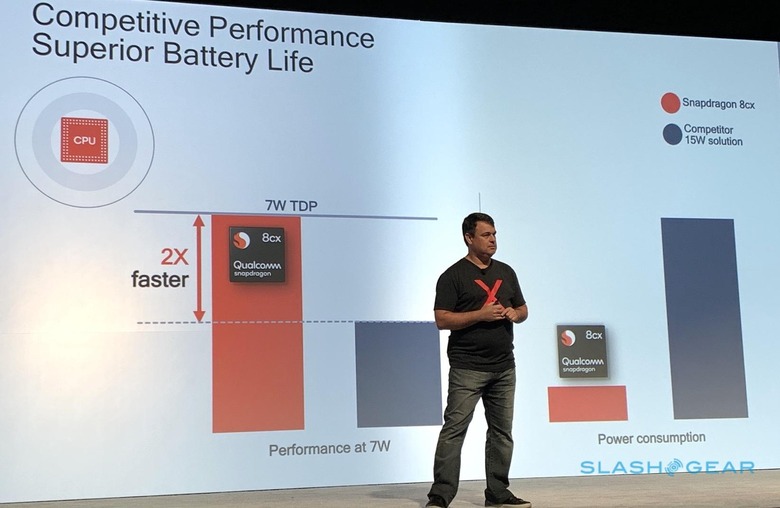 As for connectivity, like the Snapdragon 855 the new Snapdragon 8cx will use Qualcomm's X24 modem. That promises up to 2 Gbps Gigabit LTE – carrier depending, naturally – along with features like 7xCA, 4x4 MIMO, LAA, and support for up to 20 streams. Right now there's no sign of Qualcomm's X50 5G modem, though the chip-maker is relentlessly bullish on 5G and so we wouldn't be surprised to see – Snapdragon 855-style – a companion 5G modem for the Snapdragon 8cx platform, too.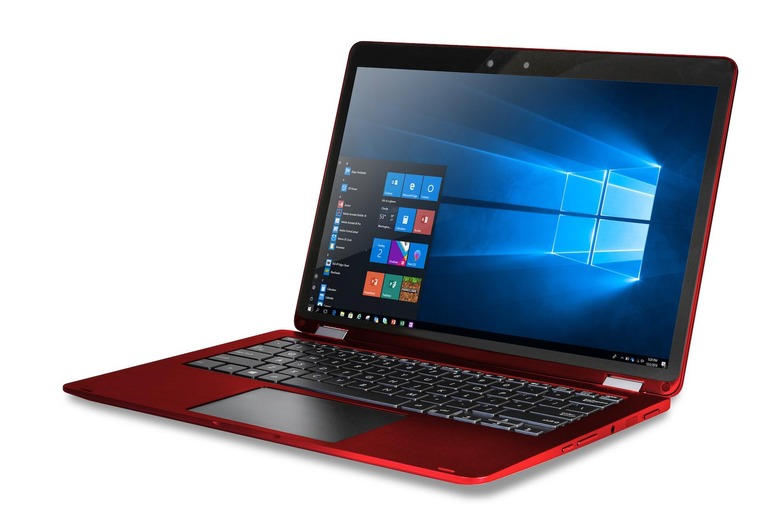 Qualcomm Aqstiq audio is onboard, along with aptX HD for higher quality Bluetooth audio. The Hexagon 685 Artificial Engine is included, too, and Qualcomm has some ambitious expectations there too. Noise cancellation with two microphones is billed as perfect for virtual assistants, like Cortana and Alexa.
Part of Qualcomm's focus this time around has been to address criticisms that Windows on Arm falls short when it comes to replacing workhorse x86 ultraportables. Snapdragon 8cx, therefore, can handle up to 16GB of LPDDR4x 2133MHz memory, along with pro-level NVMS SSD or UFS3.0 storage. There's second-generation USB 3.1 support too, together with four PCI-E Gen 3 lanes.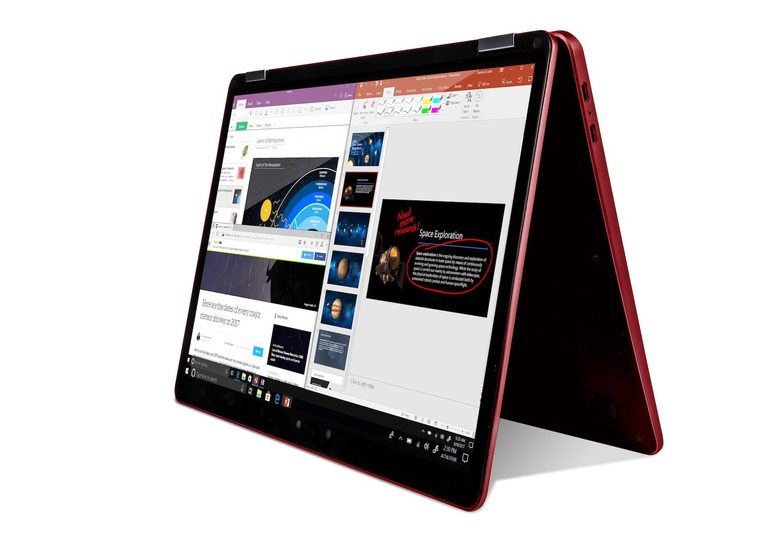 The goal, Qualcomm's Nunes says, is to deliver notebooks, tablets, and 2-in-1s that focus more on real-world usability than just benchmarks. "It's not about peak," he insists, "it's about what people see in real-life performance." And, while right now it's being pitched as ideal for Windows 10 machines, "in the future there's no reason why we couldn't [support other OSes] with 8cx," Nunes teases.
For the moment, though, Windows is the focus. Not just a pared-back version for consumers, either. The Snapdragon 8cx also introduces Windows 10 Enterprise support, while Qualcomm is working with software developers of apps like Firefox and Chromium to not only run them on the new platform, but maximize that experience. That includes things like loading new Firefox browser tabs on a new core when possible, to more intelligently use the capabilities of the CPU.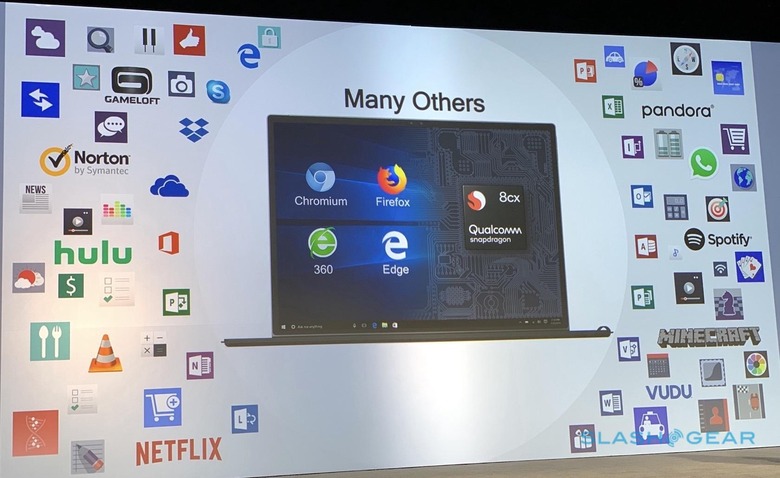 "Microsoft released a native Arm toolkit to build apps a while back," analyst Patrick Moorhead of Moor Insights & Strategy says of the software strategy. "In most cases, this is a relatively easy recompile. Developers don't even have to recompile the entire app, they can do this to certain libraries, as Microsoft did with Outlook. Native is, of course, faster than emulated."
Qualcomm has already started sampling the new chipset to manufacturers, though the first products aren't expected to reach the market until Q3 of 2019. That's a while to wait, certainly, but given Intel's recent challenges with delivering 7nm manufacturing it still sees Windows on Arm ratcheting up the pressure on the more traditional chip-maker in the notebook space.