Qualcomm Snapdragon 855: Everything you need to know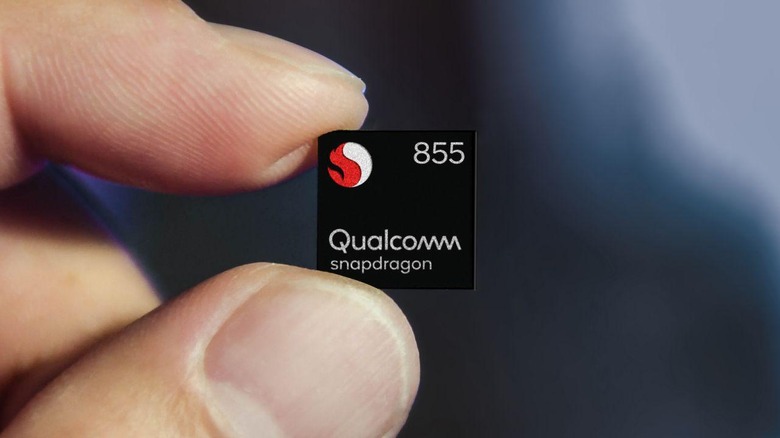 The Snapdragon 855 is here, and Qualcomm would really rather you call it a "Mobile Platform" than a processor. Promising to open the door to a new decade of 5G, Artificial Intelligence, and Mixed Reality technologies like AR and VR, the flagship chipset cranks up the power while paving the way for form-factors beyond just the smartphone.
Why is the Snapdragon 855 Mobile Platform so important? Beyond Qualcomm's boasts about performance and power efficiency, not to mention it ushering in 5G, the sheer fact that it'll be seemingly ubiquitous in 2019 makes it a big deal.
Qualcomm's ongoing spat with Apple may make it persona-non-grata in the iPhone right now, but Android phone-makers are lining up to add some Snapdragon 855 to their flagships. We're expecting the chipset to power the Samsung Galaxy S10 early in the new year, and likely the Galaxy Note 10 later on in 2019. OnePlus and LG will undoubtedly release smartphones that use it, along with most other names, big and not so big.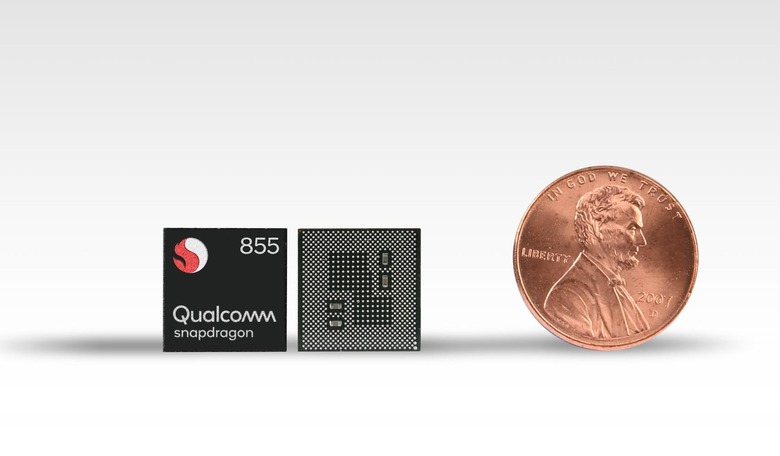 Not all will necessarily tap into every hardware feature Qualcomm is offering with its new Mobile Platform. After all, as we've seen in the past, there can be a gulf between what a Snapdragon can technically do, and what a smartphone built on that Snapdragon has the capabilities of by the time it hits shelves. Still, much of what Qualcomm is discussing today at the Snapdragon Summit 2018 – where SlashGear is a guest – will have relevance across the board.
5G
With the first commercial 5G networks expected to light up in the US come early 2019, it's no surprise that the Snapdragon 855 has a big focus on fifth-generation cellular. In reality, though, 5G will still be an option, and whether it's included will be down to individual device-makers.
Every Snapdragon 855 will have the X24 Cat 20 modem integrated: previously, that was a discrete component. It tops out at 4G LTE – though it still manages up to 2 Gbps throughput, network depending – and is paired with 802.11ac (aka WiFi 6 under the new Wi-Fi Alliance nomenclature) for up to roughly 10 Gbps speeds, with 8x8 sounding and WPA3 security. 802.11ay, or mmWave WiFi, is also included, as is Bluetooth 5.0.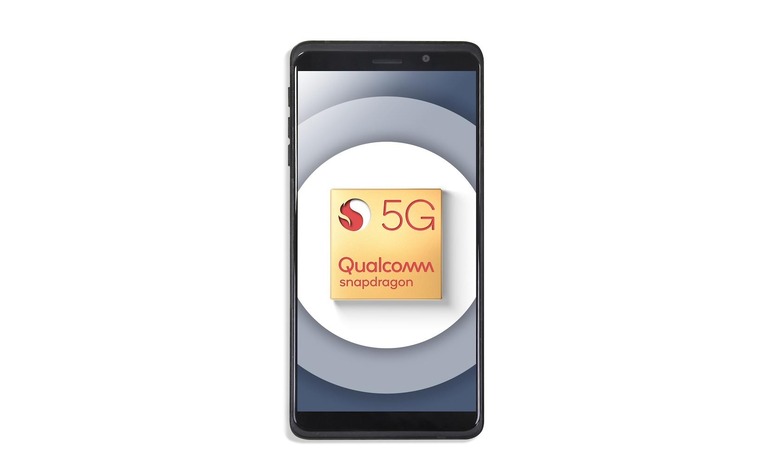 If a phone needs 5G, though, it'll have the Snapdragon X50 modem added too. Although a separate part, Qualcomm still considers it falling within the overall Mobile Platform. Just how useful that will be – and how ubiquitous in stores – will depend on how fast 5G networks roll out, and the speeds they achieve in their earliest iterations. Certainly, though all of the major US carriers have 5G roadmaps, at first coverage is going to be the exception and not the rule. That, of course, is why having the Snapdragon X24 onboard is so important: Gigabit LTE isn't going anywhere.
As for audio, Qualcomm is enhancing its TrueWireless Stereo Plus system for fully wireless earbuds. That should cut latency between the left and right earbuds, in addition to cutting power consumption.
Performance and Gaming
A new Snapdragon means stronger compute, and that's down to Qualcomm's Kryo 485 CPU and Adreno 640 GPU. The former promises up to 45-percent more performance over the previous Snapdragon 845. While it's an octa-core as the Snapdragon 845 was, Qualcomm has actually changed the architecture considerably. There's now a single Prime Core for maximum performance, running at 2.84GHz, and then three Performance Cores each running at 2.42GHz. Then there are four Efficiency Cores, each running at 1.8GHz. Each of the eight cores has its own L2 cache, and they all share a single L3 cache. Overall, it gives the Snapdragon 855 more flexibility to deliver maximum power when required.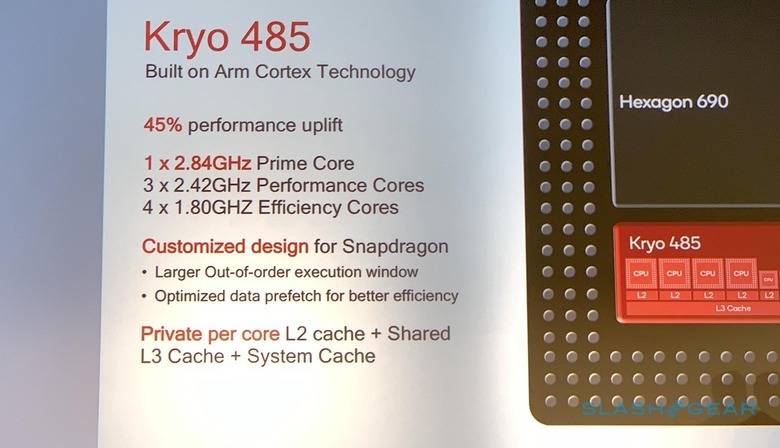 As for the Adreno 640, there's up to a 20-percent performance increase over the Snapdragon 845's GPU. A new Cinema Core has support for features like H.265 and VP9 hardware-accelerated decoding, and the whole chip is up to 7x more power efficient than before. Qualcomm has also enabled second-generation HDR support, for HDR10+ and Dolby Vision.
Potentially more important to gamers, meanwhile, are things like 120 fps playback support. For video, there's 8K 360-degree playback, together with Volumetric VR video playback. The Adreno 640 will be able to drive up to a 4K HDR display on the smartphone itself, and up to two 4K HDR displays connected externally.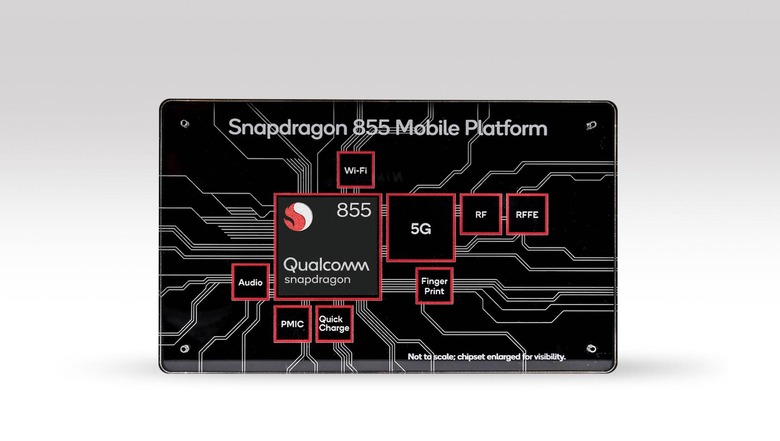 To maximize the Snapdragon 855's performance potential, Qualcomm is launching the Snapdragon Elite Gaming Platform. Effectively an umbrella term for things like cinematic color grading in HDR – with support for over a billion colors – and filmic tone mapping, it'll include Vulkan 1.1 graphic library support along with physically based rendering, or PBR.
That's not something we've really seen in mobile devices before, but it could make a huge difference to gaming on the go. At its core it's a change to how animation textures are rendered, beyond a single reflection from a light source. Instead, game developers will be able to do physically-based rendering, just like Hollywood animators can use, taking into account the characteristics of different materials like stone, fabric, and indeed anything on the periodic table, and then calculating just how light would interact with those surfaces.
Theoretically, Qualcomm says, you could have done all that in software before. However figuring out the albedo color, micro-surface textures, reflectivity, and porosity would have been incredibly inefficient when it comes to power consumption, with the chip-maker suggesting that it likely wouldn't have hit 40 fps. In contrast, Adreno 640 has hardware support for it, and developers will be able to dip in with relative ease as the Unity 4 game engine also supports PBR.
Artificial Intelligence
On-device AI is a big deal in mobile right now, for a number of reasons. Of course there's performance to consider: having on-device AI engine processing support can be faster than sending data to the cloud to be processed, then get the results back. However there's also a strong privacy argument to be made, keeping more of a user's data on their phone or tablet.
For the Snapdragon 855, Qualcomm's fourth-generation AI engine debuts. That combines the Adreno GPU and Kryo 485 CPU with the chipset's new Hexagon 690 processor, for as much as three-times the AI performance versus the old Snapdragon 845.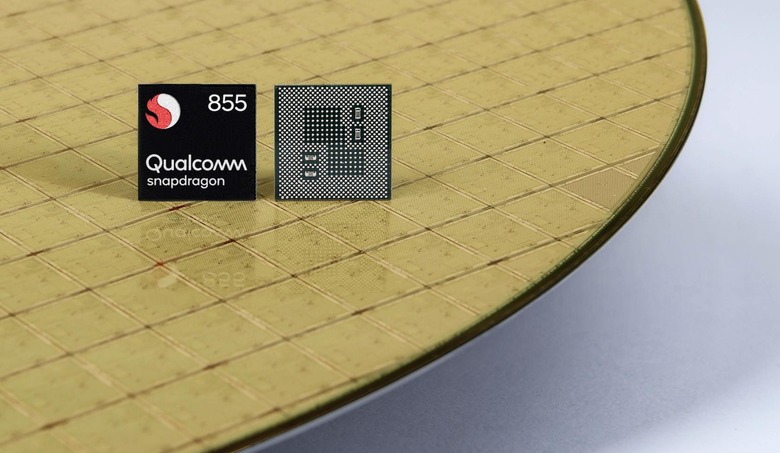 The Hexagon 690 gets four of Qualcomm's Hexagon Vector eXtensions (HVX), double the vector processing from before, along with four scalar threads and a new design of Hexagon Tensor Accelerator (HTA). "We've been asked to add more of these capabilities to the device," Cisco Cheng, evangelist for Snapdragon technologies, explains. "Hexagon is by far the most power-efficient core."
There's also native voice assistant support for things like the Google Assistant, Baidu's DuerOS, and other voice-AI platforms. That'll include dedicated AI acceleration for echo cancellation and noise suppression, making it more likely that your assistant can hear you across the room or with loud background noise. In fact, the Snapdragon 855 can do noise cancellation with just a single microphone, unlike traditional systems which demand two or more.
Camera and Computational Photography
Smartphone buyers are led by camera functionality, and so unsurprisingly many of the Snapdragon 855's enhancements are around capturing better images and video. At the heart of that is the new Spectra 380 ISP, which includes the world's first computer vision (CV) ISP, or CV-ISP, for more efficient computational photography.
The Spectra 380 handles things like the color pipeline, noise reduction, autofocus, autoexposure, and more. Then, the computer vision pipeline collects color information – with things like HDR10+ support in video – and combines the two. Previously, the CPU/GPU/Hexagon would've been responsible for the latter, but bringing it into the new Spectra has some significant performance advantages.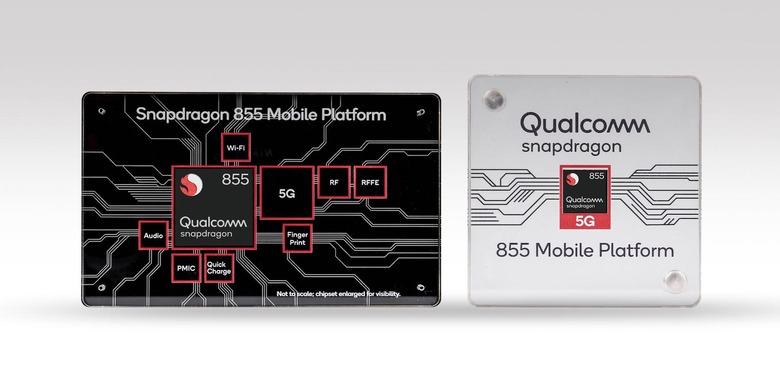 For a start, there's up to 4x power savings over the old method, despite it also being faster. There's a 2x power saving in 6DoF body tracking, and 4x power savings for object detection and object tracking. The Snapdragon 855 can record 4K video at 60fps with HDR while using 3x less power than the old 845 did when it was capturing 4K at 30fps. Qualcomm can now support things like depth sensing at 60fps, too, and portrait mode in 4K HDR video, not just stills. That could mean background defocus in video, but also removing the whole background and replacing it with something else.
Hardware acceleration for HEIF file format encoding as well as decoding has also been baked in. So far the biggest push for HEIF has been on Apple's recent iPhone models, which take advantage of the fact that its compression delivers photos roughly half the size of JPEGs. However that's only really the tip of what HEIF can do.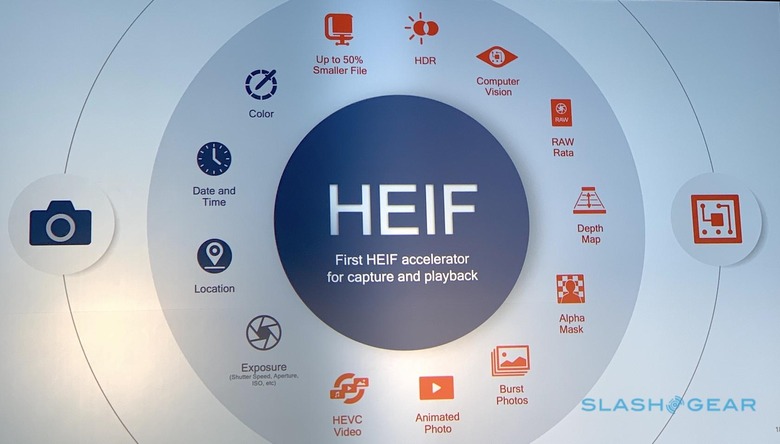 For example, HEIF encoding can store details on HDR color, computer vision data, the depth map generated when you took the shot, RAW data, or even burst and animated photos, all in a single file. On devices with multiple cameras – in the manner of, say, the LG V40, which has wide-angle, regular, and telephoto lenses – each could capture an image simultaneously, and then all of those shots could be combined into a single HEIF. Rather than sharing a number of images, one HEIF could carry them all.
Of course, the receiving device will need support for unpacking them, though that's native in Android 9 Pie. Services like Google Photos would likely be quick to embrace the format's potential, too. Qualcomm has built a mockup of what an interface for HEIF file navigation might look like, though it'll be down to individual device-makers and services to decide how they want to present the extra wealth of data preserved in each file.
Security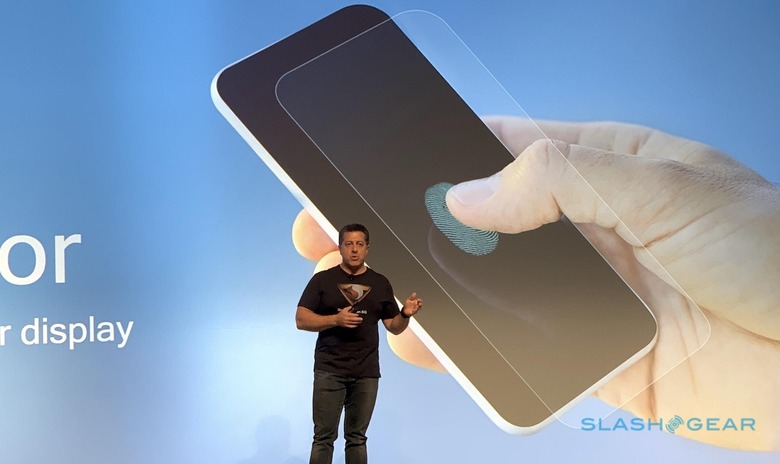 The headline feature for the Snapdragon 855's security enhancements is the Qualcomm 3D Sonic Sensor. Announced yesterday, it's the company's latest fingerprint scanner, using ultrasonics to build a 3D map of the surface of the fingertip. What makes it particularly special is that it can be embedded underneath the display.
We've seen in-display fingerprint scanning before, but Qualcomm says its system differentiates itself with its resilience to imperfect scans and its security. Because it relies on ultrasonic mapping of the ridges and whorls of the finger, it can scan through dirt or grease. And while an optical scan would build a 2D picture, the 3D Sonic Sensor collects what's effectively a texture map of the fingertip, which is more secure.
Snapdragon 855 availability