Qualcomm Snapdragon 865: The Juicy Details On 2020's 5G Flagship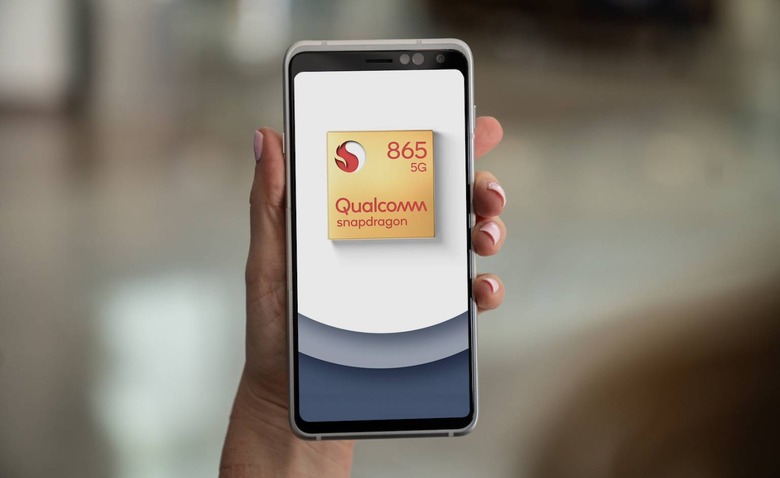 Say hello to the Qualcomm chipset likely to be powering your flagship Android phone in 2020, with the Snapdragon 865 arriving to put a big dollop of 5G into your pocket. Successor to the Snapdragon 855 – found in devices like the Pixel 4, Galaxy Note 10, and OnePlus 7 – this new chipset includes 5G as standard along with more performance.
Qualcomm was so excited about the new Snapdragon 865, it brought SlashGear – along with several hundred other media – out to the Snapdragon Tech Summit to tell us about it.
5G
Unlike the Snapdragon 855 before it, the Snapdragon 865 will make 5G an integral part of the overall mobile platform. What it isn't, though, is actually integrated onto the chip. Instead, it's the Snapdragon X55 5G modem announced back in February.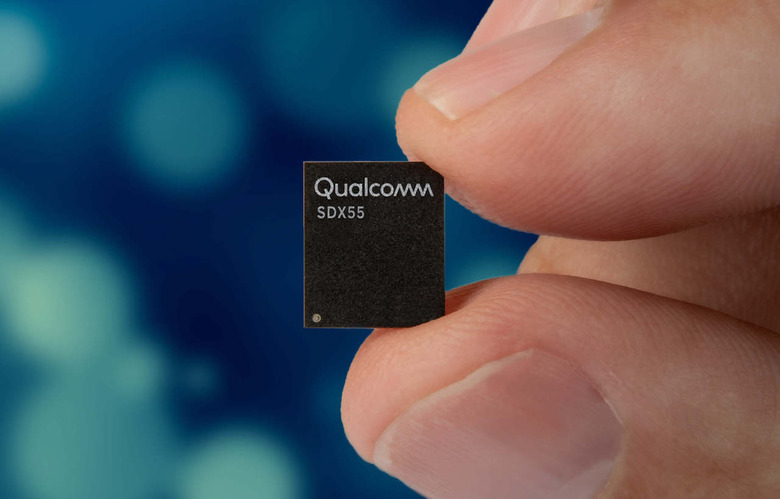 That supports up to 7.5 Gbps downlink, 5G network-depending, along with features like dynamic spectrum sharing. There's both standalone and non-standalone support too – meaning the X55 can use 5G networks both for data and other purposes – along with backward compatibility back to 2G standards. Qualcomm includes QTM525 mmWave and sub-6 support, along with a mandatory RF transceiver and RF front-end.
For networks that support it, there's Dynamic Spectrum Sharing (DSS) as well as multi-SIM. Qualcomm says the 5G support in the X55 should work globally, too, meaning a single SKU should work no matter the 5G network you're trying to use.
CPU and GPU
As before, Qualcomm is using an octacore design for the Snapdragon 865'S Kryo 585 CPU. Four of those cores are based on the ARM Cortex A77 and focused on performance; the other four use the Cortex A55, and are more frugal. By switching between them, the Snapdragon 865 can deliver a better balance of power and efficiency, depending on the load at any one time.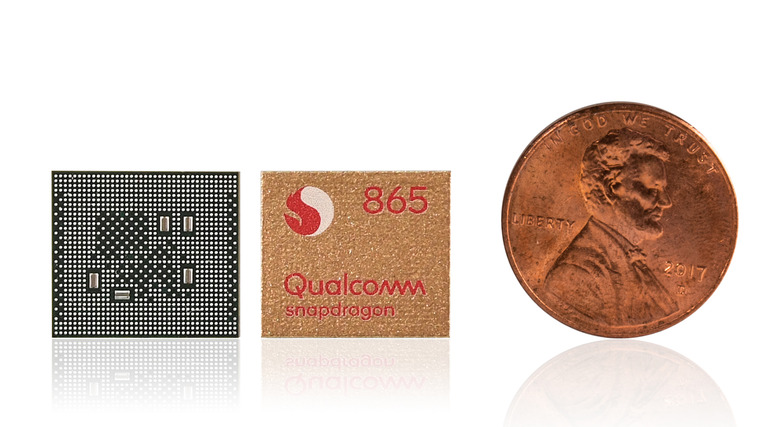 Versus before, there's 25-percent more performance, Qualcomm claims, and a 25-percent uptick in power efficiency. It pairs the new CPU with a new Adreno 650 GPU, meanwhile, which itself offers up to 25-percent more performance compared to the last generation. It's up to 35-percent more power efficient, too.
Artificial Intelligence
AI is big business these days, and it's not just a buzzword any more. Phone manufacturers are relying on dedicated AI hardware processing for things like scene detection and on-device deep learning. Unsurprisingly, then, the Snapdragon 865 devotes a decent chunk of die-space to AI-centric hardware.
There's a new, 5th Gen AI engine, which doubles performance compared to the Snapdragon 855, to 15 TOPS. There's now both LPDDR5 2750 MHz and LPPDR4 2133 MHz support, along with 3MB of system cache; Qualcomm is also adding the memory controller in, this time around.
At the heart of it is the new Hexagon Tensor Accelerator, with 4x the TOPS performance of before. Qualcomm says it should be 35-percent more power efficient, though, too. That's equally important, the chip-maker argues, since there's likely to be more AIs running locally on devices in the years ahead, and so power needs to be balanced with power consumption.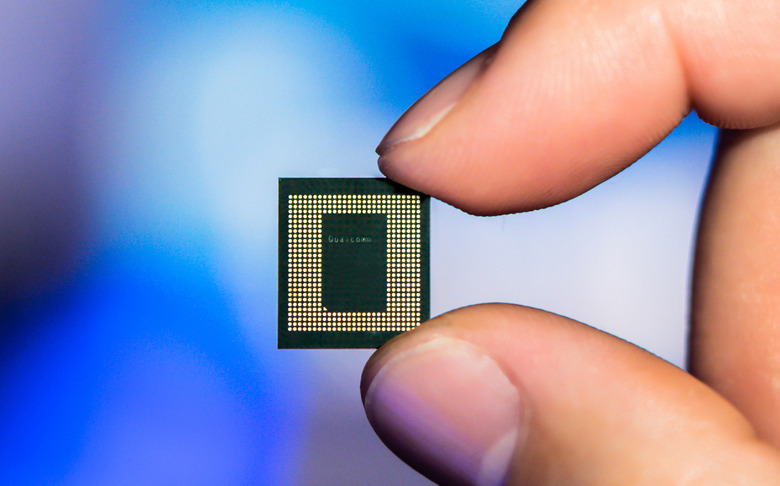 The Snapdragon 865 pairs the new accelerator with the updated Qualcomm Sensing Hub. It's that which keeps the chipset aware of what's going on around it, like voice detection, always-on sensors, and intelligent sound recognition. As well as being incredibly frugal – needing under 1mw – and supporting multi-word wakeup, the revamped Sensing Hub also supports a scalable sensor framework.
You can use location, WiFi, and other features for inferred intelligence, for example. If you're in the car, perhaps, and it's moving, the phone can now figure that out just because of its sensor input.
Camera ISP
With cameras the number one deciding factor as people buy smartphones, it's no surprise that the Snapdragon 865 puts plenty of emphasis on photography. Its new ISP runs at up to 2 gigapixels per second: whereas the last-gen could do 1 pixel per clock cycle, the new Spectra 480 can do 4 pixels per clock cycle.
It means the Snapdragon 865 can process image data faster, but it also allows it to slow down that processing without impairing the results. That saves power, means the whole chip runs cooler, and still delivers 40-percent faster pixel processing. Hardware-depending, it means support for up to 200-megapixel stills.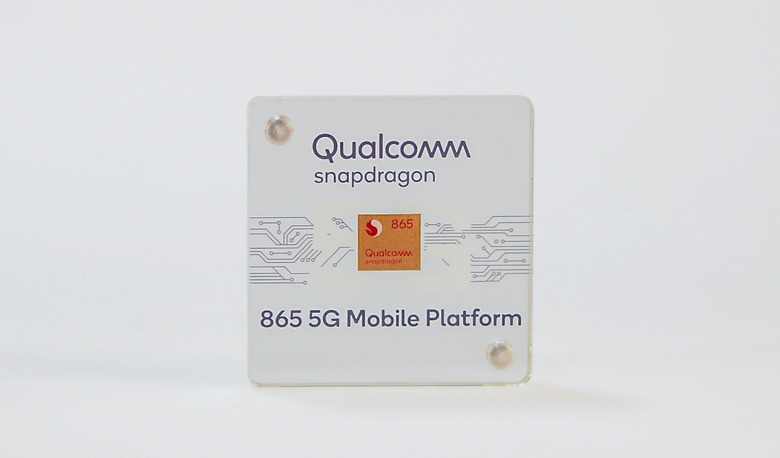 The Snapdragon 855 introduced features like HDR10+ capture, 60 fps depth sensing, and 4K HDR video with portrait mode. 2020's flagship upgrades that with 8K video support, as well as 4K HDR with over a billon colors. Devices based on the chipset will be able to simultaneously capture 4K HDR and up to a 64-megapixel still at the same time, with no hit on resolution for either; the Snapdragon 865 is also the world's first mobile chip to support Dolby Vision capture, alongside HLG, HDR10, and HDR10+.
It's also Qualcomm's first chipset to do 4K video capture at 120 fps, which pays dividends for smooth motion on devices with 120 Hz displays. There's 960 fps video recording, but here it's for unlimited lengths of time, rather than just a split-second. Qualcomm's silicon will also be able to do things like background recognition, to allow people, objects, and backdrops to be processed differently.
Connectivity
While 5G will be standard, the Qualcomm FastConnect 6800 mobile connectivity subsystem will be optional. It's probably worth holding out for a phone that includes it, however. That's because it includes features like WiFi 6, with near 1.8 Gbps downlink, network-depending, and 8x8 MIMO.
Bluetooth 5.1 is standard on the FastConnect 6800. There's also Qualcomm aptX Voice, for Super Wide Band (SWB) voice calls over Bluetooth. aptX Adaptive and Qualcomm TrueWireless Stereo Plus are also included.
Snapdragon Elite Gaming
Qualcomm announced the Snapdragon Elite Gaming package last year, alongside the Snapdragon 855. It's a bundle of hardware and software intended to enhance gaming, not only for speed but when it comes to things like color and detail in graphics. Now, it's getting a revamp to go alongside the Snapdragon 865.
There's 144 Hz display support for Android gaming, now, along with Game Color Plus 2.0. While the 855 could do HDR for capture, playback, and gaming at 10-bit color, the new 865 is capable of bringing non-HDR color games into the HDR color space. It can do that while still preserving skin tones, however, rather than just bumping up the saturation and contrast.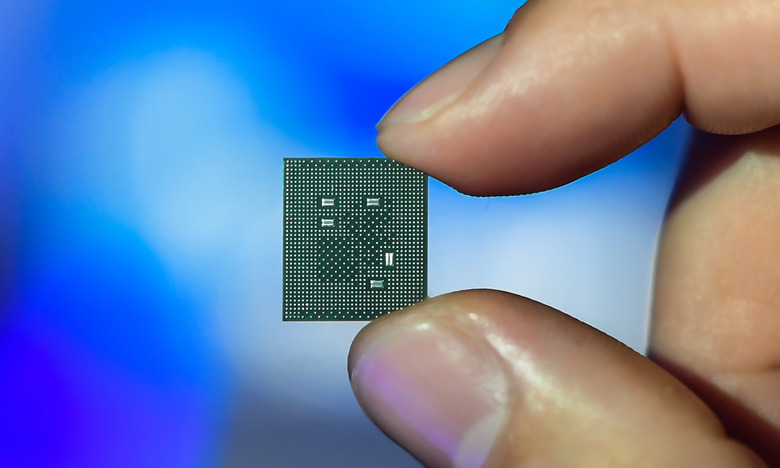 The Snapdragon 865 will be the first mobile chip to do Desktop Forward Rendering, a feature of the Unreal 4 Engine. This isn't some mobile version of that engine, however: it's the full desktop version, with support for multiple light sources and multiple shadows, all dynamically rendered. You can expect motion blur and multiple light sources impacting multiple objects in the same scene, all at the same time.
Equally important, though, will be the Snapdragon 865's provision for driver updates. For the first time on Android, there'll be the ability to update the Adreno GPU drivers through the Google Play store, rather than requiring a full OS update. Qualcomm is working with individual device OEMs on those drivers: so, for example, it's likely that if you have a Razer phone, you'll get Razer-specific drivers.
Snapdragon 865 availability
Qualcomm, of course, doesn't set the schedule for smartphone releases, it just provides the chipsets. Still, the company does say that we can expect the first devices based on the Snapdragon 865 to arrive in the first quarter of 2020. Motorola, OPPO, and Xiaomi have all confirmed they'll be launching phones with the new Mobile Platform, but we'd be very surprised if it didn't show up in flagships from Samsung, LG, Google, OnePlus, and others too in due course.