This is Snapdragon 845: 2018's AR, VR, and HDR super-chip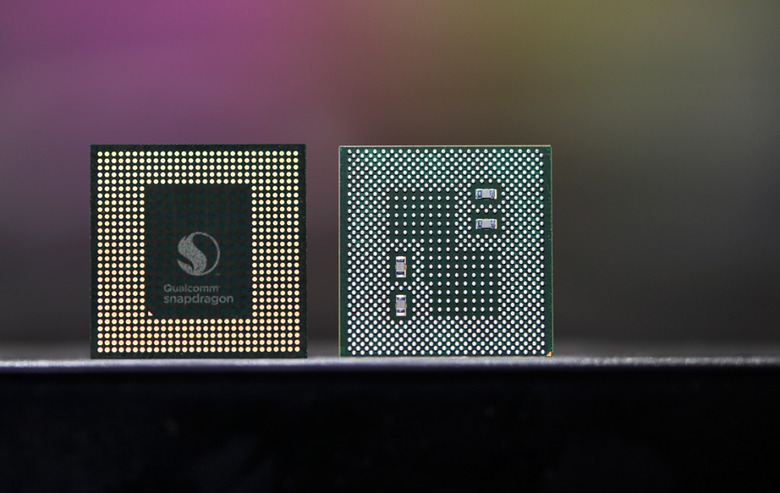 Qualcomm has taken the wraps off its new super-chip, the Snapdragon 845, set to be found inside smartphones, tablets, and more come 2018. Renewing Qualcomm's focus on virtual and augmented reality, computational photography, video capture, mobile security, and more, the new system-on-chip (SoC) promises faster performance along with more efficient battery use and charging.
It's been ten years since the first Snapdragon processor, a 1GHz mobile chipset that helped usher in the smartphone age. Qualcomm is now spending more than a billion dollars a quarter on research & development. "That R&D spend isn't just about building chips," however, according to Keith Kressin, Senior Vice President of Product Management at Qualcomm. "It's about leadership and innovation."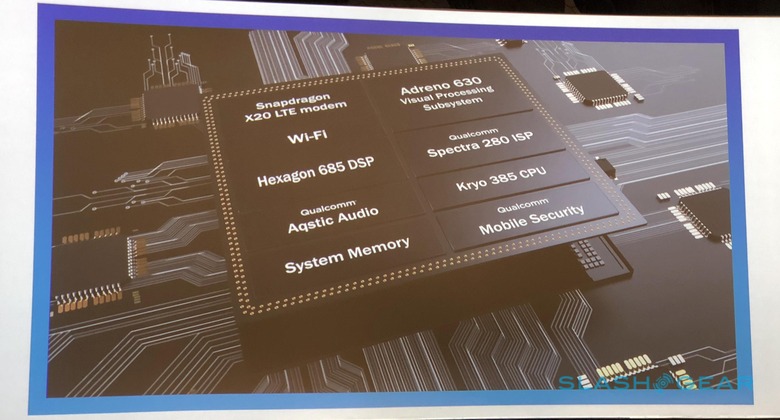 Last year's Snapdragon 835 has been similarly successful. Currently, it's inside more than 120 designs either launched or in development. "Almost every Android-powered smartphone uses a Snapdragon processor," Kressin points out. Of course, the market isn't just Android-based, nor solely focused on smartphones, and there's competition from all sides.
Now, at the Snapdragon Summit – which Qualcomm hosted SlashGear at this week – it's time for the latest version. The Snapdragon 845 is the combination of not only fast processor cores but a whole host of other components that have either been revamped or completely redesigned for 2018.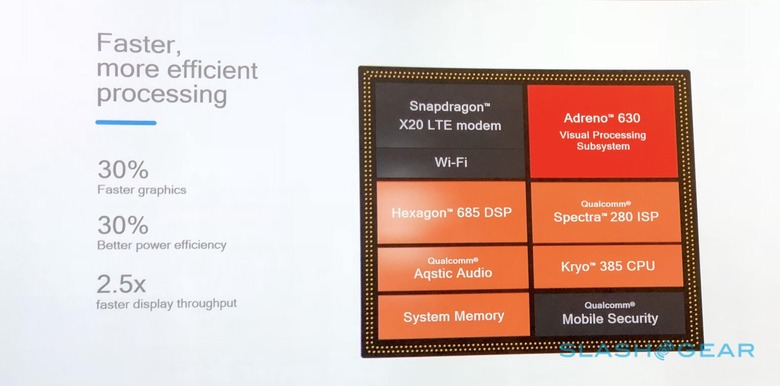 That includes the new Adreno 630 Visual Processing Subsystem. The new Spectra 280 ISP has been completely redesigned, both on hardware and software, while the Kryo 385 CPU is also a brand new design. There's a new hardware-based security system, and for the first time a system-level cache of memory that can be accessed by both the CPU and other services for faster intercommunication.
The Hexagon 685 DSP is faster, for better AI and more, while the Aqstic Audio system and other components promise better wake-word recognition, along with a broader number of supported languages. Finally – but by no means least – there's the Snapdragon X20 LTE modem for Gigabit LTE on compatible carriers.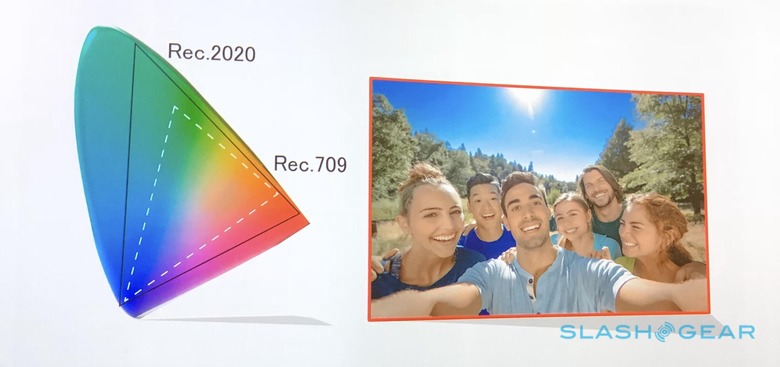 The upshot is things like support for Ultra HD Premium video recording at 60 fps. There's greater color accuracy, with Qualcomm moving from 8-bit to 10-bit capture depth, and pushing that through its new encoder. "There's an increase of 64 times in shades alone," Qualcomm's Tim Leland says. Color gamut has also been increased, from the Rec.709 standard to the Rec.2020.
That might not mean much to you, but it'll add up to brighter and fuller reproduction of what you're taking photos of. The Spectra 280 ISP also adds new hardware for multi-frame noise reduction, capable of removing noise by shooting multiple 16-megapixel stills at 60fps and then analyzing them together for a single, less noisy-frame. There'll be ImMotion, which allows you to capture stills with sections of the frame that are video too, like a blend of Live Photos and GIFs.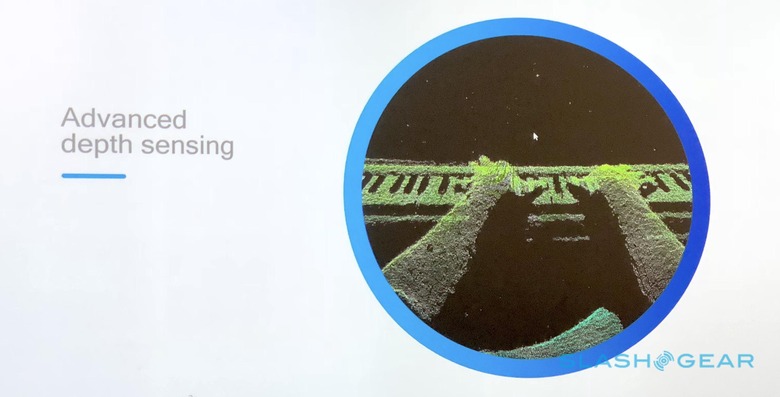 It's not just photos, either. Qualcomm is also talking up Rec.2020 color gamut support for HDR video, too. Snapdragon 845 will also support 720p HDR10 at 480fps for slow-motion.
Beyond stills and video, the Snapdragon 845 has been built with depth-sensing in mind. That could be used for faux-bokeh Portrait modes, doing post-capture re-focusing, or other photo editing. However, it'll be integral to face scanning for biometric security, not to mention what's being called "XR", the collection of augmented reality, virtual reality, and mixed reality, which Qualcomm sees as spreading to wearable headsets from Daydream, VIVE, and more.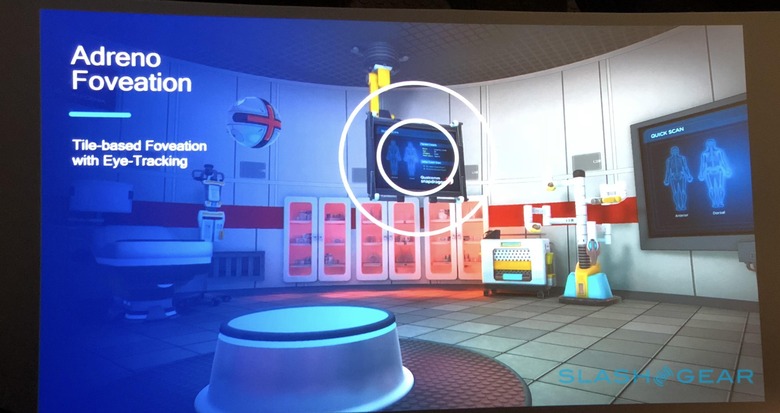 That means 6DoF (six degree-of-freedom) tracking, now at room-scale with SLAM. It'll mean far more immersive augmented and virtual reality experiences, with headsets powered by the Snapdragon 845 able to track rooms and objects both in the real world environment and virtual, and map them together. Hand tracking will allow for natural interactions with virtual objects without having to wear special gloves or grip controllers.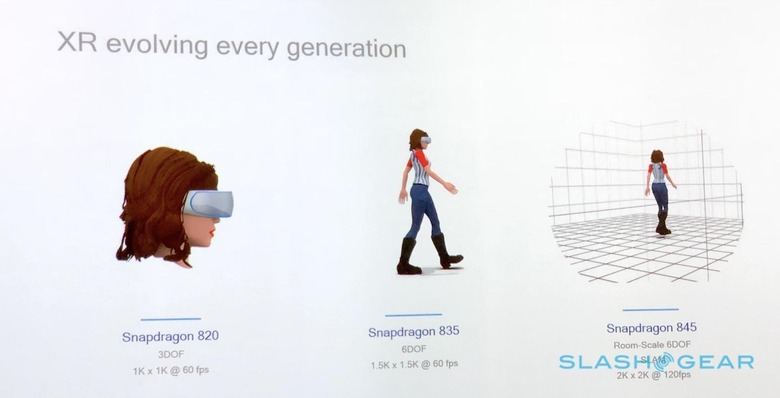 Instead, Qualcomm has been working with Leap Motion to build in support for tracking individual hands and fingers. That's not to say wireless, handheld accessories won't have a place, when required by a game for instance. Qualcomm says it's been working with developers of those, too, to ensure they don't suffer poor latency and more.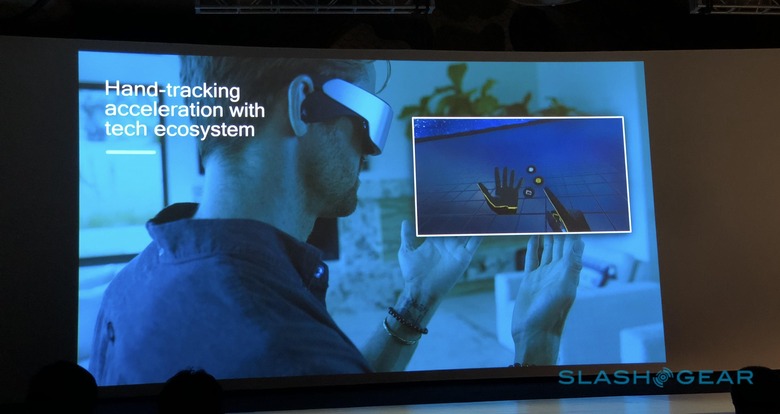 The Snapdragon 845 will support tile-based foveated rendering using eye-tracking, allowing VR and AR experiences to focus their graphics processing on the area of the scene where the wearer is actually paying attention. That can have a big impact on how the Adreno 630's potency is aimed. It's something we've seen Samsung invest in, with its acquisition of VR headset startup FOVE, but Qualcomm is throwing in multiview rendering that helps cut down on CPU cycles and DRAM bandwidth along with GPU, and making it supported down to the core SoC level. Qualcomm has been working with Oculus and other developers to make sure that multiview rendering is up to scratch.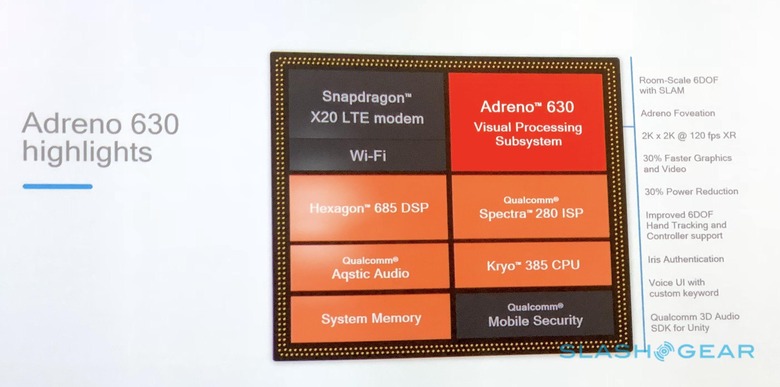 Qualcomm also believes that wearable computers – think the modern day reinvention of Google Glass – are also about to come of age. That'll include things like headsets which are always-listening, and which can use photo recognition and voice recognition to do things like identify people you've met before, but might have forgotten the name of.
Qualcomm says the first devices to launch commercially with the Snapdragon 845 will arrive in early 2018.