Qualcomm Snapdragon 450 launches to tackle mid-range devices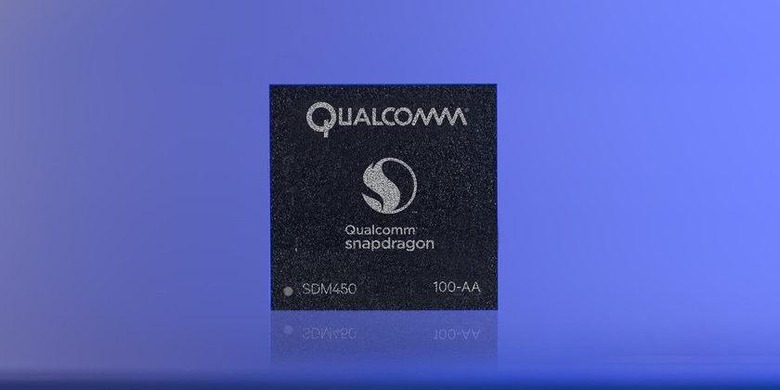 When we're talking about mobile processors, a lot of attention is paid to the high-end, like Qualcomm's Snapdragon 835. The mid-range is just as important to many phone manufacturers, however, and Qualcomm wants its processors to feature in those devices as well. With that in mind, Qualcomm has launched its new Snapdragon 450 at Mobile World Congress Shanghai.
There are four main talking points Qualcomm has chosen to focus on with the Snapdragon 450. The first, obviously, is the improved CPU and GPU. Qualcomm says that the octa-core ARM Cortex A53 CPU offers a 25% jump in compute performance over the Snapdragon 435, while the Adreno 506 GPU shows a similar increase in graphics performance. So, while we're not talking leaps and bounds here, it sounds like the Snapdragon 450 provides a considerable increase in performance.
Battery life is the second area of focus in the 450, with Qualcomm boasting a 4 hour increase in overall live as compared to the 435. Just as well, power consumption while gaming has been decreased by as much as 30%. Of course, the Snapdragon 450 is compatible with Qualcomm Quick Charge 3.0, but that's to be expected of most Qualcomm SoCs in this day and age.
Though you wouldn't necessarily expect high quality cameras on a mid-range phone, the Snapdragon 450 seems to have that covered anyway. Qualcomm says that the 450 can support dual-lens cameras of up to 13MP for each sensor, or single-lens cameras up to 21MP. Where the 450 shows its mid-range chops, however, is in the fact that it can only support 1080p video capture and displays with a resolution of up to 1920x1200. So, no 4K video recording or support for UHD displays, though it should be noted that it can capture that 1080p video at 60 frames per second.
Finally, the 450 will use the Snapdragon X9 LTE modem. 2x20MHz carrier aggregation should result in download speeds of up to 300Mbps and peak upload speeds of 150Mbps. It also supports USB 3.0, so expect to see more support for the latest USB standard to pop up on mid-range devices.
All in all, it doesn't sound like too bad of a SoC, and hopefully it continues to blur the once distinct line between high-end and mid-range phones and tablets. We won't see this new CPU for a little while yet, though – Qualcomm says that commercial sampling for the Snapdragon 450 won't begin until Q3 2017. Devices featuring the Snapdragon 450 should then follow by the end of 2017.