Qualcomm reports record Q1 fiscal results
Manufacturer of all things wireless: products, technologies, and services, Qualcomm, have announced their first quarter earnings, Q1 being for them a season ending on December 25, 2011. "This quarter," said Dr. Paul E. Jacobs, chairman and CEO of Qualcomm, has been "another record quarter with revenues, earnings and MSM shipments reaching all-time highs." They can praise the Snapdragon for that, and a fully integrated experience on mobile devices and a future full of smart televisions galore – let's talk about how!
Qualcomm's revenues are up 14% over the last quarter of 2011 and up a whopping 40% over this same period last year, sitting them in cool and pretty at $4.68 billion. This puts them up to $1.55 billion in operating income, an amount which puts them 24% and 25% higher than they were last year and last quarter, respectively. Their net income is right up around the O.I. with 1.40 billion, this up 20% from Q1 2011 and 33% from Q4 2011. Things are looking up all around!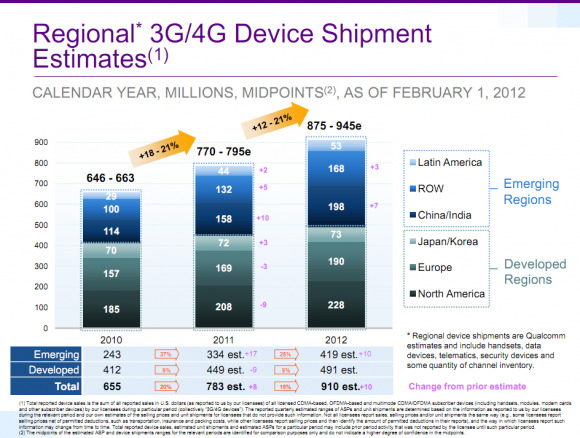 In the estimates chart for 3G/4G device shipments you're seeing here, growth is apparent of course, but what's more interesting is how tiny growth has been in Japan and Korea compared to every other region. You'll find North America to be growing at a healthy rate with China and India essentially exploding year over year, and estimates for 2012 hitting a slightly less fabulous percentage growth over 2011, but certainly looking pretty impressive compared to 2010.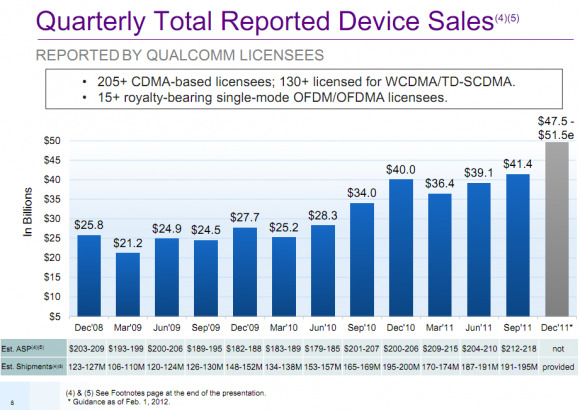 In this quarterly total reported device sales chart, you'll find that it's been an ever-so-slightly bumpy road since December of 2008, but that December of 2011 is likely to reach nearly double what it was 3 years ago. Compared to the last four quarters, Qualcomm has been growing each quarter by a significant amount, with this first quarter always being the biggest of the year. If this chart holds true, we can expect a bit of a dip in Q2's total reported device sales, with a continued upward swing until sometime next year.
In other words, Qualcomm is doing quite well right now as chips are up, mobile is up, and everything's turning up Milhouse for the company that's made a big showing at CES 2012 and is set to make another big bang at MWC 2012 – seeya there!