Qualcomm Provides Developers With Snapdragon Windows 8 Test Machines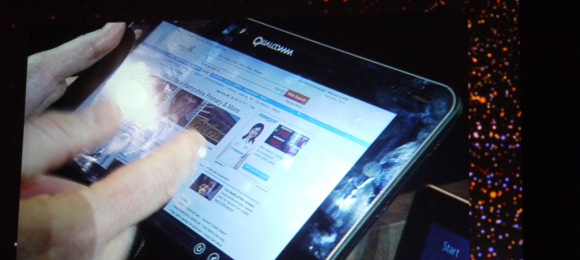 Microsoft has re-ignited the fervor behind its new ARM version of Windows 8 at Mobile World Congress today, and Qualcomm wants developers to know that it's behind them all the way. The chip manufacturer has announced that it will provide custom-made Snapdragon developer devices specifically for working on Windows 8 ARM. The hardware will be provided specifically with the intention of testing and optimizing new ARM-based Windows software, which will be quite a challenge as developers contend with new code and chip standards.
The test machines, the same S4-based tablets that Microsoft is showing off at its Windows 8 event at MWC, will run the latest versions of the MSM8960 dual-core chip. The tablets are not representative of final hardware headed for release when Windows 8 ARM is published later this year – Qualcomm is a silicon provider, not an original equipment manufacturer. In order to simulate final hardware, the test machines will include GPS and 4G LTE radios, along with the standard compliment of WiFi and Bluetooth. You can see the impressive performance behind the Snapdragon S4 chips in the latest round of benchmarks.
Qualcomm's chips will power the first generation of Windows 8 ARM tablets and other machines, along with entries from Texas Instruments, Nvidia and Intel. According to Microsoft, Windows 8 ARM will only be sold in conjunction with final hardware, unlike previous versions of Windows sold as stand-alone x86 and x64 operating systems. Developers can create Metro UI apps or traditional desktop programs for Windows 8 ARM, but simply porting older Windows programs won't work – they have to be rewritten for the new processor architecture. Qualcomm will be providing the loaner computers to developers through Microsoft's Windows on Arm developer seed program, so far the only non-partner members of the public who have had long-term access to the software itself.