The processor for the new Amazon Fire Phone has been revealed as Qualcomm's Snapdragon 800, the same SoC (system on chip) released on the most recent Kindle Fire model tablet. This processor was one of the biggest releases for Qualcomm back when they announced it in early 2013, sporting a coming to "virtually every global OEM" tag early on.
We've seen this processor on a number of devices over the past year, including – but not limited to – the Amazon Kindle Fire HDX, Sony Xperia Z Ultra, LG G2, LG G Pro 2, and the LG Nexus 5. The Samsung Galaxy Note 3 works with this processor, as does the Samsung Galaxy Note 10.1 2014 Edition.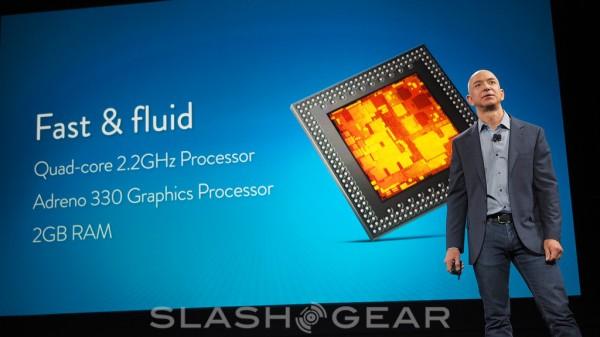 While Amazon sticks with this tried-and-true SoC, groups like HTC, Samsung, and LG have moved on to the next-in-line model. The HTC One (M8), Samsung Galaxy S5, and LG G3 all work with the Qualcomm Snapdragon 801. The differences between the 800 and the 801 are few:
Snapdragon 800
Up to 2.26GHz quad-core Krait 400
450MHz Adreno 330 GPU
800MHz (12.8 GB/s) Memory
Snapdragon 801
Up to 2.45GHz quad-core Krait 400
578MHz Adreno 330 GPU
933MHz (14.9 GB/s) Memory
While the specifications of the 801 are better than the 800, Amazon is obviously not concerned with competing with their opposition in a straight up spec-war. Instead, the Snapdragon 800 is a familiar SoC to Amazon, having already been used in their tablets, and brings extremely similar processing power at a lower price than the 801.