Qualcomm Kayak 3G-connected low-cost PC reference design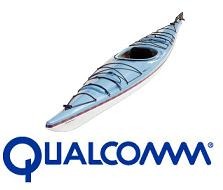 Qualcomm have announced the Kayak PC alternative, a low-cost entry level computing device that the company describes as positioned "between desktop PCs, which normally require landlines or separate accessories for connectivity, and internet-capable wireless devices".  Devices built according to the Kayak reference design would be a hybrid of 3G-enabled netbooks and stationary nettops: rather than use hardwired ADSL or cable connections, they would take advantage of high-speed cellular broadband.  Qualcomm envisage future Kayak products as using their Snapdragon platform, but initial devices will rely on the company's Mobile Station Modem MSM7xxx-series chipsets that incorporate both computing and connectivity.
While Inventec (who are the OEM behind the HP Mini-Note and multiple Kohjinsha UMPCs) will build the first Kayak devices, Qualcomm have apparently got fifteen manufacturers – including Acer, ASUS, HTC, LG, Quanta, Samsung and Toshiba – signed up to use Snapdragon and the likelihood is that it will push them to develop based on the Kayak design.  Kayak is aimed at developing markets whose wireless networks far exceed their wired connectivity; it will offer an Opera web browser, support for standard keyboard and mouse input, a music player and 3D gaming, and be able to use either regular monitors or TVs as a display.
Trials of the platform will begin in Q1 2009 in Southeast Asia, using both CDMA2000 and WCDMA (UMTS) networks.  Unsurprisingly Qualcomm has also name-dropped cloud computing into the project, though it's reticent in describing exactly which aspect of this latest buzz phrase will be relevant.
[via jkOnTheRun]
Press Release:
Qualcomm Unveils PC Alternative for Bringing Internet Access to Developing Markets Worldwide

- "Kayak" Leverages 3G Networks to Bridge Connectivity Divide -

SAN DIEGO, Nov. 12 — Qualcomm Incorporated (Nasdaq: QCOM – News) today announced a new PC alternative to make high-speed wireless Internet access more widely available and affordable in emerging markets. The Kayak(TM) PC alternative leverages the widespread availability of 3G wireless broadband to bring Internet connectivity to markets where wired Internet access has often been difficult to access or unaffordable. The Kayak PC alternative fills the niche that exists between desktop PCs, which normally require landlines or separate accessories for connectivity, and Internet- capable wireless devices.

The Kayak PC alternative includes a reference design and recommended software specifications that will be made available to device manufacturers. Manufacturers can then design a wide range of devices based on the Kayak reference design that take advantage of the high level of integration, inherent connectivity and comprehensive functionality. The Kayak reference design uses Qualcomm's dual-core Mobile Station Modem(TM) (MSM(TM)) MSM7xxx-series chipsets to provide both computing and connectivity. Devices based on the Kayak reference design will offer:

– A Full-featured Web 2.0-capable browser from Opera Software able to perform at desktop resolutions

– Access via the browser to Web 2.0 productivity applications

– Support for both television sets and computer monitors to be used as displays and/or for a built-in display

– Compatibility with a standard keyboard and mouse for input

– Music player and/or a 3D gaming console functionality

In the future, commercial Kayak-based devices may also be powered by Snapdragon(TM) solutions. Initial Kayak PC alternative units, manufactured by Taiwan-based Inventec Corporation, will be used to initiate user trials during the first quarter of 2009 in Southeast Asia on both CDMA2000® and WCDMA (UMTS) networks.

"Emerging markets will be a huge growth driver for the telecommunications industry in the coming years," said Mark Hirsch, vice president of corporate marketing, Inventec Corporation. "We are very excited about Qualcomm's innovative Kayak reference design that leverages wireless networks to bring Internet connectivity to developing markets."

"Web-based applications open up new possibilities for people in emerging markets for whom packaged software can be expensive," said Rod Hamlin, senior vice president of sales, Americas, Opera Software. "Combining the Opera browser with Qualcomm's chipset is a great way to help bring the power of connected computing to millions of new Internet users around the world."

"The broad footprint of 3G networks means that wireless is the answer to Internet access for worldwide markets — especially in emerging regions," said Luis Pineda, senior vice president of marketing and product management for Qualcomm CDMA Technologies. "The Kayak PC alternative is a great example of how Qualcomm is leveraging cloud computing over wireless broadband networks to help bring new areas of the world into the global online community for the first time."

Qualcomm Incorporated (Nasdaq: QCOM – News) is a leader in developing and delivering innovative digital wireless communications products and services based on CDMA and other advanced technologies. Headquartered in San Diego, Calif., Qualcomm is included in the S&P 100 Index, the S&P 500 Index and is a 2008 FORTUNE 500 company. For more information, please visit www.qualcomm.com.

Except for the historical information contained herein, this news release contains forward-looking statements that are subject to risks and uncertainties, including the Company's ability to successfully design and have manufactured significant quantities of CDMA and WCDMA components on a timely and profitable basis, the extent and speed to which CDMA and WCDMA are deployed, the extent to and pace by which the Kayak PC alternative is adopted, change in economic conditions of the various markets the Company serves, as well as the other risks detailed from time to time in the Company's SEC reports, including the report on Form 10-K for the year ended September 28, 2008, and most recent Form 10-Q.

Qualcomm is a registered trademark of Qualcomm Incorporated. Kayak and Snapdragon are trademarks of Qualcomm Incorporated. CDMA2000 is a registered trademark of the Telecommunications Industry Association (TIA USA). All other trademarks are the property of their respective owners.

This press release may reference 1X EVDO parts whose manufacture, use, sale, offer for sale, or importation into the United States is limited or prohibited by certain injunctions against Qualcomm. The reference to such 1X EVDO parts in this press release is not an offer to sell such parts and shall not be misconstrued as assistance in the making, using, selling, offering to sell or importation of such parts in or into the United States. Any device utilizing such 1X EVDO parts that are intended for sale to wireless carriers (other than Verizon) in United States markets must also utilize Qualcomm's hybrid mode alternative solution.