Qualcomm FLO TV on sale today; major stampedes not expected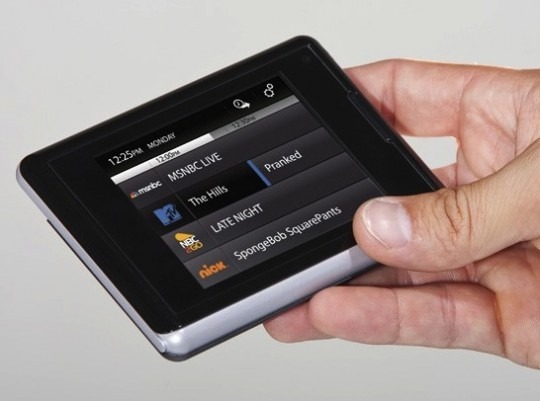 We may receive a commission on purchases made from links.
Remember FLO TV?  We'd forgive you if Qualcomm's standalone streaming TV handheld had slipped your mind; after all, the market for a dedicated device for mobile TV (that's already available on certain mainstream cellphones) seems pretty limited.  Still, if you've been saving your pennies and waiting anxiously to pick up a FLO TV Personal Television, salvation is at hand: it's going on sale today.
We hope you've gathered up quite a few of those pennies, though, as the sticker price is a whopping $249.99; that includes the FLO TV device itself and the initial six months of TV service.  After that Qualcomm will be merrily charging your credit card the equivalent of $8.99 or more per month.
As for the device itself, it's a palm-sized box with a 3.5-inch QVGA capacitive touchscreen (with grease-proof oleophobic glass), stereo speakers, intergrated flip-stand and a battery rated at around 5hrs playback time.  If you haven't already guessed, we're not entirely convinced by the whole thing; still, it's available from Amazon now, together with Radio Shack and Best Buy stores.
Press Release:
Television Enthusiasts Can Get Their TV Fix as FLO TV Personal Television Mobile Device Debuts with Major Retailers

— FLO TV Available Today at Amazon.com, Best Buy, Radio Shack and Other Select Retailers —

SAN DIEGO — November 13, 2009 — Consumers eager to watch their favorite television programs, sports and news while on-the-go can satisfy their mobile TV craving as the handheld FLO TV™ Personal Television hits shelves across the nation today. The much-anticipated device from FLO TV Incorporated, a wholly owned subsidiary of Qualcomm Incorporated (Nasdaq: QCOM), delivers live and time-shifted content via the award-winning FLO TV mobile TV service and will be available at Amazon.com and Best Buy. In addition, RadioShack will begin selling the device online and in stores this holiday season.

As part of the launch and for a limited time, FLO TV also announced that the first six months of subscription service will be bundled into the overall retail price of $249.99, after which point a monthly service subscription fee will be charged.*

"The FLO TV Personal Television is a dedicated device for consumers' on-the-go lifestyle that is perfect for sharing with friends and family, as well as for personal viewing time," said Bill Stone, president of FLO TV. "The FLO TV Personal Television is setting the standard for high-quality mobile TV thanks to our award-winning network and technology. It also adds another way for consumers to use the FLO TV service, in addition to a variety of handsets and our recently introduced FLO TV Auto Entertainment system."

FLO TV Personal Television is the first portable digital television to offer all these features in one package:

Dedicated portable television. Measuring 3 inches by 4.4 inches by 0.5 inches and weighing just over 5 ounces, FLO TV Personal Television is small enough to fit in your pocket while sporting a screen large enough to enjoy a complete television experience.

Live mobile TV from America's best content providers. FLO TV offers full-length simulcast and time-shifted programming from the world's best entertainment brands, including Adult Swim Mobile, CBS Mobile, CNBC, COMEDY CENTRAL, FOX News Channel, MSNBC, MTV, NBC 2Go and Nickelodeon. FLO TV also offers limited-time bonus channels for special events, premium programs and original content.

A dedicated, nationally available mobile television network. The FLO TV service is available through a dedicated multicast network so millions of consumers can simultaneously get amazingly high-quality video and audio in real time without streaming, buffering or downloads.

A capacitive touch-screen. Users control the device with intuitive swipe gestures. The oleophobic glass lens keeps the 3.5-inch QVGA display crisp and clear.

Long battery life. With more than five hours of viewing time and 300 hours on standby, the FLO TV Personal Television can be used for extended viewing or on long trips.

An easy to share experience. With a large screen, built-in adjustable viewing stand and integrated stereo speakers, FLO TV Personal Television can entertain you whenever you want and wherever you are. FLO TV Personal Television is a dedicated device so it's easy to share with family and friends.

For a full list of retail locations, please visit www.flotv.com. TV enthusiasts can also follow FLO TV on Twitter and Facebook.

*Taxes not included. Additional fees and charges may apply. Pricing and service subject to change at any time. Service must be activated between 11/1/09 and 3/31/10 and requires subscription. After six months' service, the customer's credit card will automatically be charged the then-current monthly subscription rate. Special offer expires 3/31/10. Customers should review the FLO TV Customer Contract and Privacy Statement for additional terms and conditions that apply to this purchase. Six months' prepaid service subscription included with purchase of the FLO TV Personal Television is nonrefundable.