Qualcomm dual-core Honeycomb tablet outed [Video]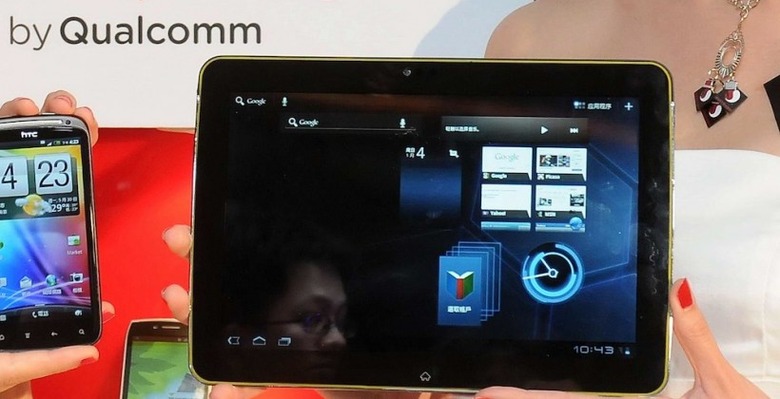 Qualcomm's own Uplinq conference may be starting later today in San Diego, but that hasn't stopped the chip company from turning up at Computex with some hardware to play with. Quanta had prepared a 10-inch tablet running on Qualcomm's latest dual-core Snapdragon, NetbookNews reports, running Android 3.0.
So far the bulk of the Honeycomb tablets we've seen have been running NVIDIA's Tegra 2 chipset; Qualcomm's dual-core MSM8660 has reached the market, but in the HTC Sensation smartphone rather than in a tablet. The Quanta slate is only a reference design right now – though we imagine the OEM wouldn't be adverse to a company picking it up and slapping their brand on it – but it packs mini HDMI, microUSB and a microSD card slot, along with integrated 3G and an audio jack.
NetbookNews reckon the screen is as good quality as a Super AMOLED, which bodes well for future 10-inchers, and there are twin cameras along with a slickly minimalist design. It's not completely clear whether it's powered by the MSM8960 which Qualcomm says is on track to sample in June, or the MSM8660. [Update: It's confirmed as the new MSM9860.] To tide us over there'll be more than 40 new tablets using existing Snapdragon chips.
We're guessing we'll hear more details at Uplinq later on; SlashGear will be there, bringing back all the news that matters.
Press Release:
Qualcomm's Snapdragon Family Gains Momentum with Leading OEMs across Multiple Operating Systems

Generation of Snapdragon MSM8960 Processors on Track to Sample in June

TAIPEI, TAIWAN – May 29, 2011 – Qualcomm Incorporated (NASDAQ: QCOM) will be demonstrating the latest Snapdragon®-powered mobile computing devices, including tablets running Android 3.0, at COMPUTEX TAIPEI 2011, May 31 – June 4. Qualcomm's Snapdragon family of smart mobile processors has steadily gained traction across a diverse array of mobile operating systems, including Android, BlackBerry, Chrome, HP webOS, Windows Phone and the next version of Windows. Qualcomm's Snapdragon mobile processors currently power 125 announced smartphones and tablets, with another 250 designs in development, more than 40 of which are tablets.

"We are very pleased with the tremendous Snapdragon traction we have been getting with a variety of companies," said Luis Pineda, senior vice president of product management, computing and consumer products at Qualcomm. "We are showcasing some truly innovative products from HTC, HP, ASUS and many more OEMs that are leading the mobile computing industry."

"Qualcomm and HTC agree that a great mobile device starts with a great foundation," said Kouji Kodera, chief product officer of HTC. "We are proud of our Snapdragon devices, including our HTC Sensation and HTC EVO 3D powered by the MSM8660, which is coming soon, and our HTC Flyer powered by MSM8655, which is now available. We look forward to continuing with the next generation of Snapdragon when the MSM8960 samples in June."

"We are pleased to be showing our latest ASUS tablet designs running Android 3.0, also known as Honeycomb, here at COMPUTEX," said HC Hung, vice president of ASUS. "We chose Qualcomm Snapdragon mobile processors to power our tablets because of their ability to provide the optimal combination of processing performance, efficient power usage and wireless connectivity on a single platform."

Qualcomm has built Snapdragon mobile processors from the ground up to deliver the best mobile processing, graphics and connectivity, intelligently integrated to deliver the highest performance with the least power consumption. The Snapdragon MSM8x60 family of mobile processors is a leading solution for the latest multitasking tablets and smartphones, offering two asynchronous processor cores; an integrated Adreno 220 GPU with twice the processing power of its predecessor; and support for up to a 16 megapixel camera. The Snapdragon MSM8x55 family of processors substantially improves overall user experience, increases system performance and further extends battery life.

At COMPUTEX 2011, Qualcomm will showcase a broad array of smart mobile devices powered by Qualcomm's Snapdragon single- and dual-core processors, including tablets and smartphones from Acer, Anydata, Asus, Compal Communications Inc., Compal Electronics, Foxconn, Foxlink, HTC, Lenovo, QISDA, Quanta and ZTE. Qualcomm will also demonstrate the Snapdragon MSM8660 MDP, which features asynchronous dual-core CPU performance and power savings; console-quality 3D gaming and UIs; and stereoscopic 3D and 1080P video capture, preview and playback.