Qualcomm demo Toshiba TG01 alternative GUI [Video]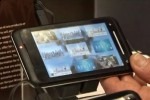 Toshiba followed the Windows Mobile crowd with their TG01, giving the super-skinny smartphone a custom GUI that sits on top of the Microsoft OS.  The Stripes GUI hasn't met with quite the degree of welcome that Toshiba maybe expected, however; we'd much rather have this 3D UI that Qualcomm commissioned and was demonstrating back in February.
Video demo after the cut
Just as with the Toshiba Stripes GUI, Qualcomm's sits on top of regular old Windows Mobile 6.1.  Instead of spinning panes, however, it uses a "planetoid" with contextual icons: for instance, the media player is – perhaps we're missing the connection, but we can't figure out why – represented by a tree, taking you into animated thumbnails.
This is really just an excuse for Qualcomm to show off the Snapdragon processor on which the TG01 is based, but it does demonstrate how the Toshiba smartphone can handle high-resolution H.264 content.  For more demo videos, check out our Toshiba TG01 launch coverage.
[via WMPowerUser]