Qualcomm deliver dual-3G WWAN chip with both EV-DO and HSDPA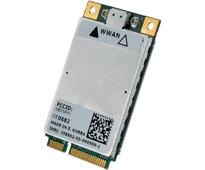 Having two high-speed cellular broadband technologies operating at the same time isn't ideal – switching networks is a pain, as can be roaming – but Qualcomm are hoping to make the best of a tricky situation with their latest dual-3G laptop chip.  Packing both HSDPA and EV-DO, the chip – which they're calling Gobi – can connect to networks of either standard, meaning that notebooks using the technology will have extra flexibility for users to choose the carrier with the best coverage in their area.
Available immediately for OEM markets, Qualcomm predicts that we'll see machines taking advantage of Gobi by Q2 2008.  It'll be interesting to see which carriers notebook manufacturers make deals with; currently, those using EV-DO have a choice of Verizon and Sprint, while AT&T runs the major HSDPA network, but with both standards on offer there's a fair chance that the cost of using cellular broadband will be further driven down.  As a handy bonus, Gobi also includes a GPS satellite receiver chip.