Qualcomm Augmented Reality SDK For Android Released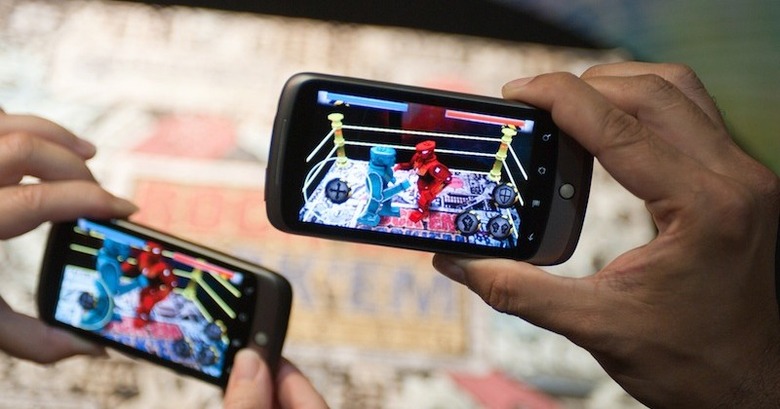 Qualcomm's augmented reality photo frames were perhaps the most memorable demo from the company's IQ 2010 event last month, and as promised they're releasing the necessary SDK for developers to do something similar themselves.  The Qualcomm Augmented Reality SDK for Android uses vision rather than GPS to anchor on-screen graphics to real-world objects, as with the company's Rock 'Em Sock 'Em robots game.
For instance, in the digital photo frames demo the Android smartphone can recognize which networked frame is which by the picture it is currently displaying; then a P2P link is used to update that display accordingly.  In Rock 'Em Sock 'Em robots, meanwhile, on-screen game graphics are overlaid onto a game mat which the phone's camera recognizes.
Keen developers can download the AR SDK from http://developer.qualcomm.com/ar, where there are also more details on the Qualcomm AR Developer Challenge and its $200,000 prize-fund.
Qualcomm AR Photo Frames demo:
[vms 97ccb54be14d6a47439b]
Press Release:
Qualcomm Announces Availability of Augmented Reality SDK

– Industry-leading, Vision-based Technology Will Enable Developers to Create New Generation of Augmented Reality Experiences –

SAN DIEGO, Oct. 4 /PRNewswire/ — Qualcomm Incorporated (Nasdaq: QCOM) today announced the immediate availability of its Augmented Reality (AR) Software Development Kit (SDK) for Android smartphones. Offered through Qualcomm's online developer network, QDevNet, Qualcomm's SDK will enable a new breed of applications that delivers interactive 3D experiences on everyday objects, such as 3D gaming experiences on tabletops and interactive media experiences on product packaging and promotional items.

"Qualcomm is making it easy for developers to create interactive 3D content for the real world," said Jay Wright, director of business development at Qualcomm. "By making the Qualcomm AR SDK available at no charge, we are encouraging all developers to start building innovative applications and services today."

Qualcomm's AR platform, which includes the AR SDK, uses computer vision technology to align graphics tightly with underlying objects. The approach is an evolution from current AR techniques that use a phone's GPS and compass for mapping applications. Vision-based AR enables a fundamentally different user experience in which graphics appear as if they are anchored to real world objects.

Qualcomm's SDK provides developers with an advanced feature set, allowing for augmentation of everyday images on printed media, as well as simple 3D objects such as boxes used for product packaging. Additionally, it supports the ability for users to interact with AR applications by simply touching real world surfaces.

First announced at Qualcomm's Uplinq developer conference, Qualcomm's AR platform has drawn interest from companies spanning a variety of industries, from traditional mobile developers to consumer product manufacturers and marketers. Mattel, Inc., a worldwide leader of toys and family products, was among the first consumer products companies to embrace Qualcomm's AR platform and developed a concept application to bring Mattel's classic Rock 'Em Sock 'Em® game to life.

"We received a very positive response to the Rock 'Em Sock 'Em project and as a result, we are moving forward with plans to commercialize the Rock 'Em Sock 'Em game and are now exploring the use of AR in other Mattel brands," said Andrew Cheesman, director of emerging digital technologies at Mattel.

Ogmento, Inc., another early leader and innovator in AR game development, also plans to use Qualcomm's platform to develop commercial titles.

"Qualcomm's AR platform and SDK provides features and performance that are critical to the game experiences we need to deliver," said Ori Inbar, founder and CEO of Ogmento. "We see Qualcomm's technology as a key enabler for high-fidelity gaming that will allow us to bring compelling games to market."

The Qualcomm AR SDK is available immediately as a beta release and can be downloaded at developer.qualcomm.com/ar