Qualcomm's USB-C DAC could fix your headphone jack sadness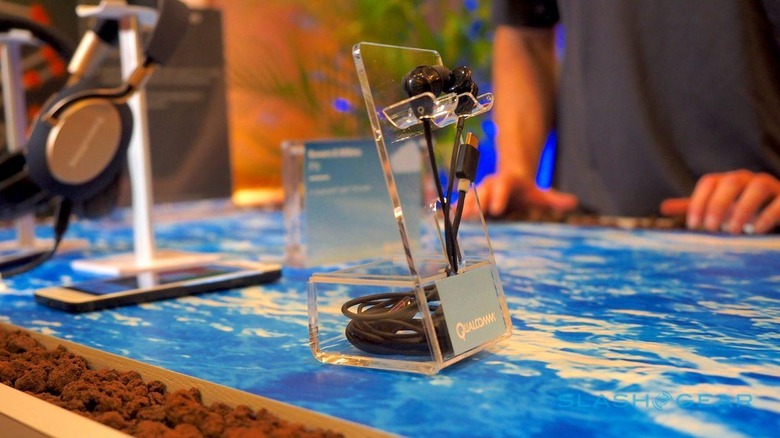 The 3.5mm headphone jack might be disappearing from smartphones, but Qualcomm wants to give us something better in the shape of a new DAC for smartphones and other mobile devices. The Qualcomm AQT1000 is the chip-maker's new Aqstic Hi-Fi digital to analog converter (DAC), set to show up in products in 2018.
It's designed to plug into a USB-C port, and then offer a 3.5mm headphone jack with much greater audio quality than you'd typically get. That means up to 384 kHz, 32-bit and a 123 dB dynamic range. Qualcomm is promising a THD+N of -105 dB, too.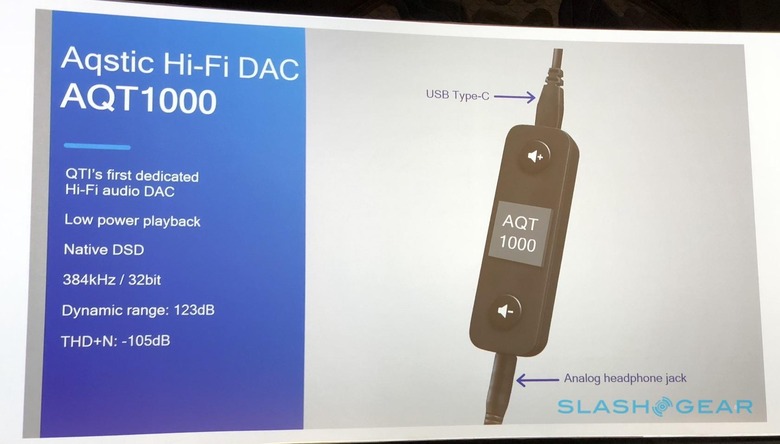 Notably, the AQT1000 has native DSD audio support. Direct Stream Digital might not be as well-known as other audio formats, but there's a good reason why you might be interested in gaining support through your phone. Developed initially to capture classic jazz concerts, DSD uses a single bit of information that samples the audio up to 2.8 million times a second.
DSD isn't automatically "better" than rival formats – it still comes down to the actual sample rate that's been used – but at higher levels some listeners claim it has a more natural character to their ears. Right now it's far from being a mainstream format, though many studios will master in DSD before converting to other formats because of its inherent advantages.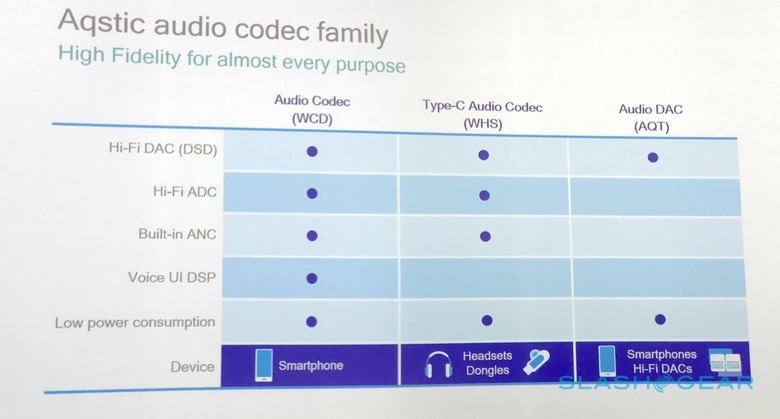 Mobile audio quality has seen a resurgence in interest in recent years, as consumers get to grips with what they should listen to their music with as legacy headphone jacks are retired. On the one hand, wireless earphones are proliferating, including Apple's AirPods and Google's Pixel Buds. Qualcomm, for instance, is not only baking Bluetooth 5.0 support into the new Snapdragon 845, but has tweaked the audio profiles to support things like transmitting to multiple individual earbuds simultaneously for power saving advantages.
However, some consumers are looking for even greater quality. LG's V30, for example, has found favor among audiophiles for its higher-than-usual DAC quality. With the AQT1000 chipset, that quality could theoretically be plug-and-play with other devices.
Qualcomm won't, of course, be making its own headphone dongles. Instead, it's aiming the Aqstic AQT1000 at third-party accessory-makers. According to the company we could start to see products based on the new chipset in 2018.