Qualcomm and LG Car-2-X trials begin 2018 on road to 5G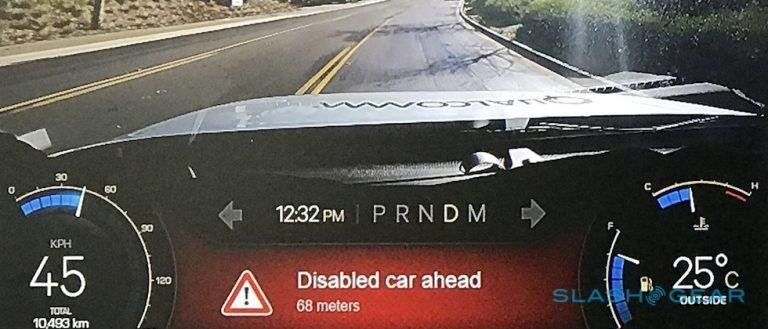 LG and Qualcomm are teaming up on 5G and connected cars, with joint trials of Cellular-V2X set to kick off in 2018. One of a number of so-called "C2X" – or "Car-to-X" – offshoots, which includes car-to-car, car-to-pedestrian, and car-to-infrastructure, Cellular-V2X explores using cellular modems to bring vehicles into an inter-communicating mesh. Most importantly for Qualcomm, it's one of the key use-cases for 5G.
Connected cars aren't new, and indeed several automakers offer 4G LTE radios integrated into their vehicles. They're usually relied upon for WiFi hotspot functionality for passengers, though, or at most downloading OTA updates. Tesla, for instance, is well known for upgrading its electric cars with new features with wireless updates.
However, they generally fall short of intercommunication between the car and others, or indeed getting involved in core safety features. Partly that's down to the fledgling nature of the "smart city" – though pilot schemes like Audi's connected traffic lights are breaking through into the mainstream, albeit only in small areas and on a handful of cars – but it's also due to the inherent limits of LTE. It's not so much a case of speed, but rather latency.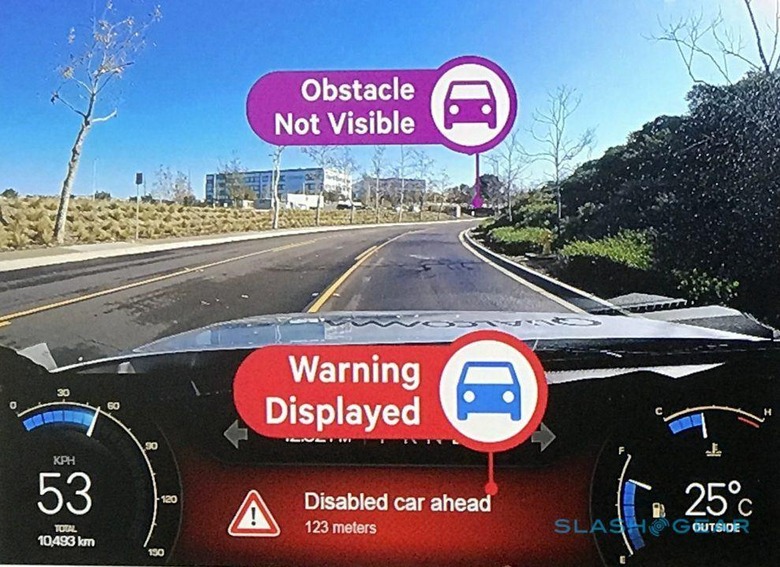 Lag between the vehicle and something else, whether that's another car it's passing or a connected stop light, could mean the difference between a timely message served up to the driver and a warning that comes too late. Gigabit LTE will open a door to V2X, and indeed will be instrumental in the upcoming C-V2X Release 14, but 5G will be the star come C-V2X Release 15 and beyond.
"You're not just installing a telematics system," Qualcomm's Nakul Duggal, VP of product in the chip company's automotive division, explained to SlashGear ahead of today's announcement. "It's also a safety system."
Initially, LG will use LTE-based systems in the trials. They'll consist of the Snapdragon X16 modem, which is capable of Gigabit LTE, and a WiFi 802.11ac radio. It'll also have 802.11p/DSRC and C-V2X, based upon the 3GPP R14 specifications. Down the line, there'll be upgrades to 5G as the technology approaches standardization.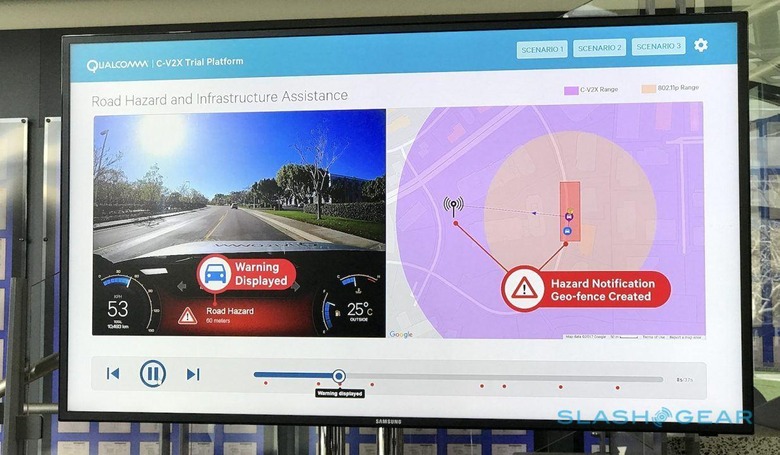 The possibilities, Qualcomm demonstrated to us at its San Diego HQ, are considerable. For instance, traditional Advanced Driver Assistance Systems (ADAS) like crash-mitigation could be expanded far beyond the current limits of radar and camera-based technologies. By communicating with vehicles or infrastructure further along the route, the car – and its driver – could enjoy a far-increased "electronic horizon".
So, if there's an unexpected obstacle in the road, a car encountering it could warn the vehicles following, long before they come into visual (or traditional sensor) range. In another concept Qualcomm showed us, rather than communicating directly from vehicle to vehicle, a log of the report could be stored in a nearby piece of connected street furniture – such as a lamp, or traffic sign – which would then relay it to any other vehicle coming into range.
Meanwhile, C-V2X could also augment what we see around us while driving. By sharing the sensors of a vehicle in front, you could get a better understanding of whether it's safe to overtake or if there's something coming in the opposite direction, perhaps. In a similar way, the "shockwave" effect of cars in convoy suddenly slowing on the freeway, over-braking and causing unnecessary jams, could be mitigated.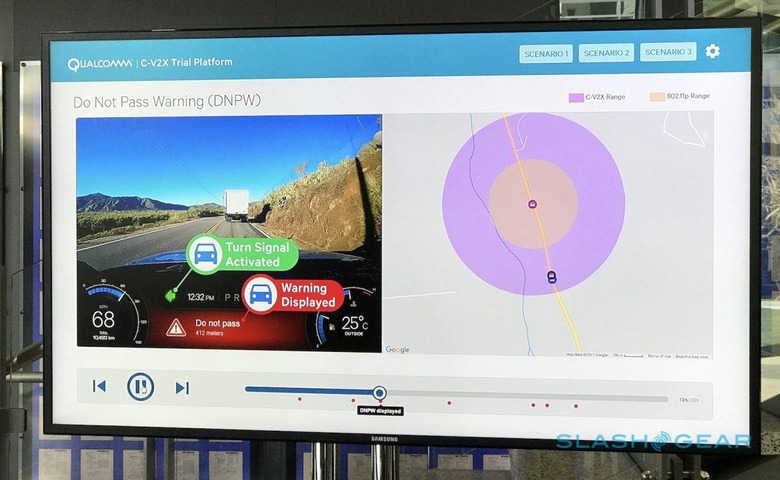 While Qualcomm and LG will focus on radios initially, the chip company is also looking ahead to how its Snapdragon processors could find their way deeper into automotive systems. For instance, the same computational vision technologies that make the latest Snapdragon chips so adept at photo and video processing, and which will pay dividends in virtual reality headsets, could also be used to pre-analyze data from various car sensors. That way, only the most relevant information would need to be transmitted into the cloud for further processing.
Radios and processors alone won't be sufficient for getting cars and cities intercommunicating, and indeed there's a need for super-precise positioning and HD mapping with live updates and sub-meter level degrees of accuracy. Nonetheless, this is an important first step toward C-V2X R15 getting finalized. LG and Qualcomm say the trials are expected to begin in the first half of next year.