Quake On Bug Labs BUG Modular Computer: Video Demo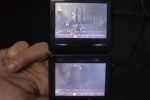 Call it a rite of passage, call it a gadget's first milestone, there's something special about the first time you get Quake running on a new consumer electronics device.  Next in line to get some first-person shooter action is the Bug Labs BUG, the modular "Lego for geeks", with full support for joystick controls, audio and a decent frame-rate – and, if you've got two BUGview screens, you can even have a dual-view setup.
Check out the video demos after the cut
It's the work of BUG Community member cmw, who repackaged the Quake binary to work with just the BUGbase and the BUGview LCD display.  The joystick and buttons on the side of the BUGbase control movement and firing, while audio is played back through the BUGbase's onboard piezo speaker.  You're also able to run multiplayer games, either over WiFi networks or via a BUGbee 802.15.4 short-range wireless connection.  Check out the instructions here.
Since you can never have too much BUG-related fun, cmw also hacked together the necessary drivers to allow a Rock Band guitar controller to work with the modular gadget.  Check out the second video, below, for the bizarre sight of playing Quake on a guitar.
Quake on the BUG:
Rock Band BUG controller: