Quad-Rotor Draganflyer Helicopter Is Your Birds' Eye View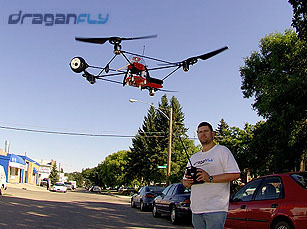 So you've tried the Micro Mosquito RC helicopter and you're bored of it.  You want something more impressive, something with more rotors, something that has a built-in video camera so you can spy from the sky.  Well calm down, sweet-cheeks, because Draganflyer (sic) have got just the tool for you.  The Draganflyer SAVS Stabilized Aerial Video System Gyro Stabilized RC Helicopter (which from now on I'll be called 'Draganflyer', if it's okay with you) is a quad-rotor compact flight platform with injection-molded nylon blades, 6-channel FM RC control and a high-resolution 480 line video camera mounted on a vibration-free mount.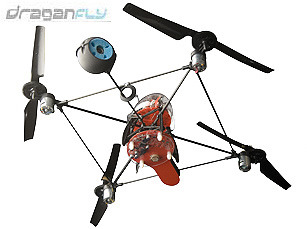 Camera and transmitter have independent, regulated power supplies for interference free flying and filming, there's a signal processor on-board to filter and clarify the signal pre-transmission, and the ground unit has dual receivers with range-boosting patch antennas.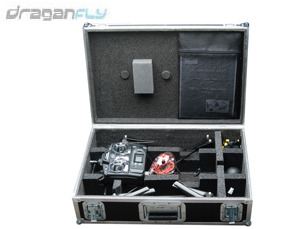 While apparently easy to fly out-of-the-box, and needing no specific RC helicopter training thanks to the three stabilising gyros, the Draganflyer also has a "video flight mode" which lessens the responsiveness of the 'copter and makes over-controlling less likely.  Should you, like me, still be wary, the kit – which includes two military-grade hard shell cases for transport and recharging – comes complete with a flight simulator programme which runs on your PC and lets you try out the controls without crashing into any small children.
The down-side is the price, of course; the full kit costs $2,399.95, although that includes a spare "crash kit" bundle of replacement parts in case you're a tad ham-fisted.  Make sure to check out the videos of the Draganflyer in action, by following the link below.
Draganflyer [via CRAVE]