Qpad MK-85 and MK-50 gaming keyboards revealed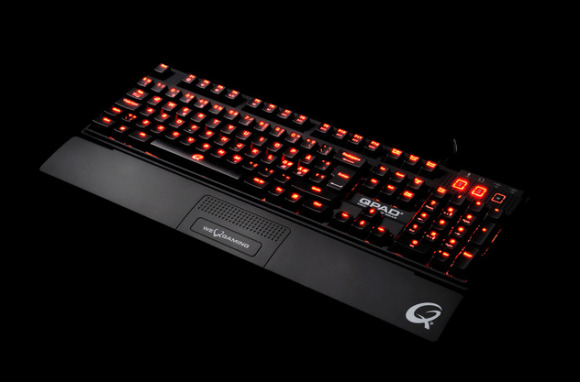 This holiday season you'll be making whichever gamers are closest to you the happiest they've been in days, supposing they're willing to get up and leave their desk and open a gift, that is – with the Qpad MK-85 and MK-50 gaming-oriented keyboards. These keyboards are bright as can be with backlit keys across the whole set of keys and both models boast a first for the hardware: Qpad claims that this is the first simultaneous keyboard tap capable USB keyboard set in the world. Sound like fun? Both of these keyboard models will be perfectly slick for all of your multi-batbelt needs as you careen through the streets of Arkham City (a game that'd just go lovely with these keyboards, just released on PC this week), and in the darkness you shall go with no sight troubles in the least.
You'll be working with Cherry MX Red key switches on both models, this giving you no audible or tactile feedback for taps, and the hardware is made from top to bottom for long periods of use with no hurt on your hands. You know how it is if you're a heavy-duty gamer, all getting the carpal tunnel after playing an hour of WoW even when you're just killing pigs in the forest. No more, says Qpad, no more at all! Both models have the ability to get you through level after level of any game you so desire, the difference between the two being the bonuses you receive on the larger of the two.
Of course the price reflects as well, the MK-85 sitting at €149.90 ($200.50) while the MK-50 will be ringing in at  €79.90 ($106.87). The lesser of the two will be shipping inside November, while the December release of the 85 model will show you what it means to have a premium set of keys. With the MK-85 you'll have headphone and other audio connectors, programmable buttons, built-in USB hub, and of course a full set of red-orange LED backlit keys. Look like the winner for you?
[via Engadget]