QderoPateo Articulated Naturality Web Elevates Augmented Reality to a New Level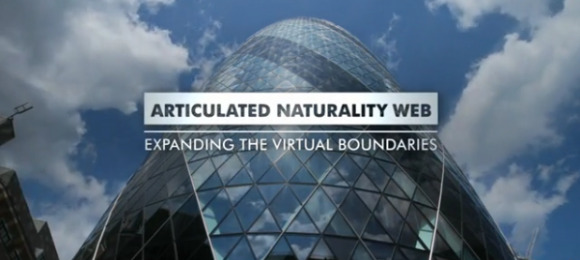 Some of the best applications out there for our favorite smartphones are based on the idea of Augmented Reality (AR). Utilizing the technology to get real-time information, just by looking at the world through your smartphone, is a cool idea, with plenty of people utilizing the technology to make new things even more interesting. But some companies can't leave well enough alone, and want to make things even better. For example, QderoPateo Communications (QPC) has been hard at work on their Articulated Naturality experience, and now it looks like they've gone full-tilt, bringing Articulated Naturality Web to the forefront, and showing off everything it can do.
At this year's World Economic Forum's Summer Davos Conference, QPC outlined their idea for the brand new Articulated Naturality Web, which is an effort from the company to make Augmented Reality something that many people had only dreamed of. The company is describing the technology as a "complete renaissance in the way we approach technology," which means it has to be bold. One cool idea of the future tech, is to be able to point your smartphone at the sky, and immediately get up-to-date weather conditions, right then and there.
Using QPC's Articulated Naturality Web would also let you check on the availability of a hotel room, just by pointing your phone at the hotel in question. You could also peruse the items within a museum, even before you go into it, if that would be something you'd enjoy. Truth be told, it seems that QPC is shooting for the stars with this, but that doesn't mean it's not possible. Check out the video below, and let us know in the comments what you think.
Press Release
QPC Establishes the World Articulated Naturality Web Forum at the World Economic Forum's 4th Annual Meeting, 'Summer Davos'

TIANJIN, China, Sept. 14 /PRNewswire/ — QderoPateo Communications, a world leader in development and delivery of Articulated Naturality Web Technology, has partnered with the Chinese government in Tianjin, China, to form the World ANW Forum as a sub-forum in Tianjin's World Economic Forum, "Summer Davos Conference."

The annual meeting, which draws more than 1,500 businesses and government leaders from 85 countries around the world, is being held September 13 through 15, 2010. The establishment of the World ANW Forum provides a setting for QPC and its partners who are also experts in the field to work together on the advancement of Articulated Naturality Web and establishing Tianjin as the global headquarters for QPC.

Articulated Naturality Web, coined by Steve Chao, Chief Executive Officer of QPC, fuses augmented reality (AR) and the Internet together. ANW technology services include video scene feature identification, image processing, multi-sensor coordination, real-time positioning, wireless access, media information, digital publication, entertainment and other fields of augmented reality. The combination of these components coupled with the Internet and mobile Internet technology will form an emerging industry. The organizers of the World ANW Forum have decided the annual meeting was necessary to support the standardization and commercialization of the ANW according to the international practice's mission to drive the commercialization, internationalization, and futurization of the ANW throughout the world.

QPC and the Chinese government in Tianjin see the platform as a valuable tool for global firms, financial agencies and media to keep track of the development and status quo of the ANW. It will also provide a communication platform between the industry and the government and between firms and agencies inside and outside the industry chain.

"Establishing the World ANW Sub-Forum in Tianjin at the World Economic Forum, 'Summer Davos Conference' establishes both QPC and China's commitment to the world of visually connected information," said Matt Gaines, Chief Marketing Officer of QPC. "Vision Harbour, our home in Tianjin, is the center of innovation," Gaines added.

About QderoPateo Communications:

QderoPateo Communications (QPC), a leader in visually connected information networks, devices and technologies, is expanding the frontiers of Augmented Reality. Founded in 2009, with headquarter in Tianjin China, branch offices in London, Beijing, New York, Shanghai, and Shenzhen China, the Company has made major strides in achieving meaningful penetration of the Chinese smartphone market, which will be its foundation to expand to other markets. QPC has seized a leadership position in advancing AR to drive AR to new levels of sophistication and enhanced user experience, a development QPC has labeled "Articulated Naturality Web" (ANW). It has done this by assembling vital technological and marketing assets with a highly skilled team.

www.qpc.com.

SOURCE QderoPateo Communications