Pyle Audio PLTTB8UI Record Player Review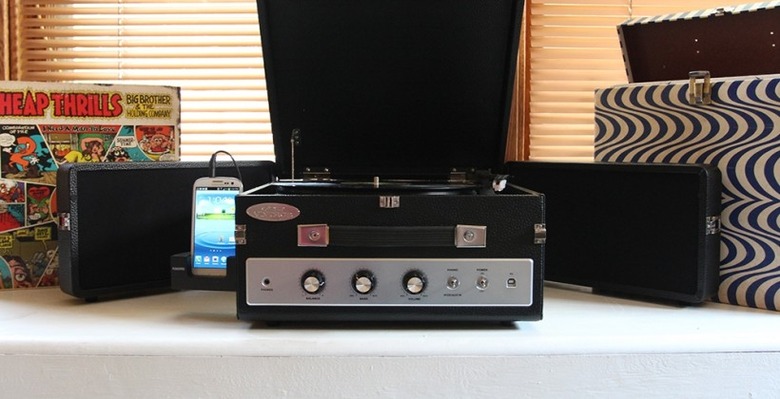 I'm going to go right ahead and assume that most of the people checking out this review are here because they're confused about why SlashGear would review a vinyl record player. I think that's fair to wonder. There are two reasons, the first of which is the fact that this record player not only has audio input via a convenient little smartphone dock. The second is this: I've still got a massive stack of records that I want to play, and I'm certain that there's a massive population of readers out there that have their own, too – you don't just throw those things away!
The primary function of this beast is indeed playing vinyl records. You can break out your old collection of 33 1/3 platters or your 45s and you'll have a fabulous time spinning all night long. You've got a detachable 45 converter, hardcore screw speed adjuster, and a switch for the different locked-in speeds you need. The arm on this player also can be lifted and lowered by a mechanical arm, there's a lock for the player arm, and once your album is done playing, the arm does automatically return to its dock.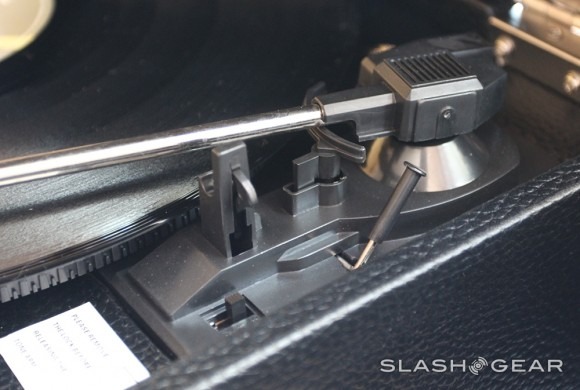 The 45 RPM adapter sits in the box solid if you don't need to use it and is just as easy to utilize when you do need it as any built-in adapter I've ever used. And it's got a sticker on it too, just in case you have no idea what it is.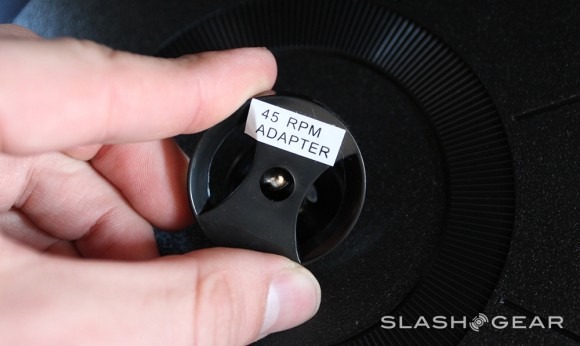 The lid of the box has a latch that locks in place if you want to keep it open, and if you prefer to play a record with the top closed, you can do that too – it wont affect the sound quality at all.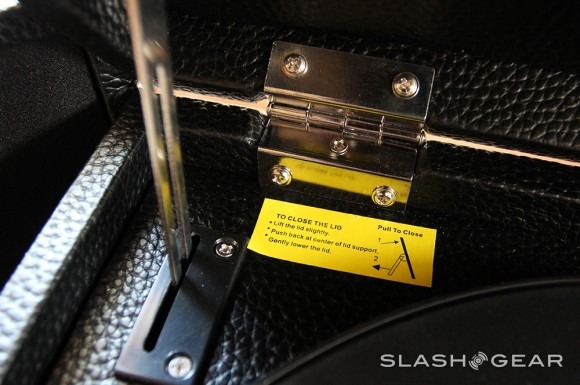 On the left of the machine you've got a hideaway dock which has room to feature your smartphone or MP3 player – or media player, if you prefer. This dock has enough room for a standard smartphone, not quite enough room for a Galaxy Note. You can put an iPhone in there, an HTC smartphone, a Motorola device, or even a BlackBerry if you're feeling strange. The only thing you need to connect to the device to get music out of it is a standard headphone jack.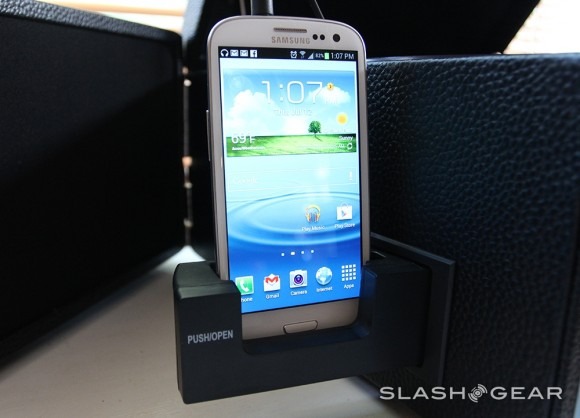 From there you've only to head to the front of this beast to flip the Phono switch to "iPod/Aux in" as they've labeled it, and you'll be good to go. Volume, Bass, and Balance (between the two built-in speakers) all work perfectly well as a good headphone-jack-utilizing device should.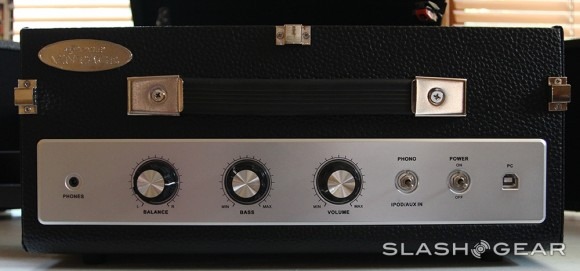 Another item you might have noticed up front is the USB port (cable included with the set). With the correct drivers installed on your computer, you're able to use this device to import sound. The wheels should be cranking in your cranium right about now, all you vinyl owners out there, because yes, yes indeed, you can use this player to import all your old albums into your computer so that you can push them (with your computer) to your other devices. It's as simple as it gets without using one of those fancy vinyl-to-cd devices that audiophiles certainly aren't the most fond of.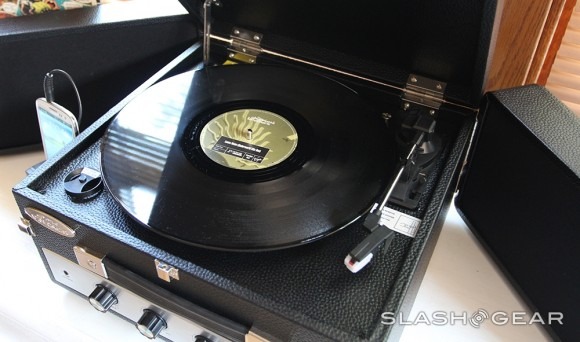 On the back of this beast you'll find another AUX-in port for those of you that have speaker wires and don't want to have to use the iPod dock to connect your larger devices. The back of the player also has a door behind which you can hide your power cord, the power cord required to make the whole player work. This isn't quite a wireless record player – but it's size and the fact that the switches up front are rather pointy should have made that clear well before now.
Wrap-Up
The sound quality on this machine is generous, but not perfect. You're not going to purchase this beast for your friend who needs to hear every nuance and expect them to be happy with the speakers that exist on this machine. Then again, the average vinyl record lover isn't in it for the high detail, they're in it for the warm feeling of the media, which this device certainly does project.
The whole unit is covered with a faux snake sort of rubbery covering, there are bumpers on the bottom and the back so that if you do indeed need to transport it around, you'll be covered for setting it down on the ground. The whole unit is solid, it certainly does what it sets out to do, and it's worth what it costs for sure. Go out and grab one for $196.57 from Pyle Audio's online store or your favorite online retailer right now! And hope to heck your parents didn't toss out your KISS collection in the meantime.