Pure debuts the Elan II portable DAB/FM radio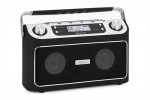 We haven't talked about the old school looking Pure DAB radios since way back in 2006. Today the company has announced a new, old looking DAB radio that also features integrated FM tuner called the Elan II.
The radio ReVu for pausing and rewinding of DAB radio. The thing looks like some sort of radio from the 1970's, but is packed with modern tech and can be fitted with an optional ChargePAK battery. Standard power comes from C-cell batteries. The radio features DAB+ and FM with RDS tuner.
The ReVu feature allows the pause and rewinding of live radio for up to 15 minutes. The radio is also upgradable via USB and has adjustable bass and treble settings. Frequency range for the device is DAB band III 174-240Mhz and FM from 87.5 to 108MHz. The power output is 2.5W RMS per channel and the radio has two full range 3-inch drivers. The thing sells for £99.99, but it's only good in the UK thanks to no DAB in America.