Today the folks at PUBG Corporation made the cross-platform experience a reality. Per their note this morning, update 4.3 introduces cross platform play to users on both Xbox One and PlayStation 4 (PS4). Because of this, users around the world will be able to toss their hat into the same ring at the same time, allowing console users to destroy PC players and say, look, I didn't even use a keyboard.
This Update 4.3 should be released to Xbox One and PlayStation 4 users today for cross-play in full effect. This is PUBG Season 4, Update 3, right at the tail end of Season 4 for all users. Below you'll see a full PUBG Patch Report, straight from the PUBG Corporation.
This update also brings about some performance and QoL improvements, a new Survival Mastery progression system, bug fixes, and a new double-barreled shotgun! The shotgun is the only major in-game item sort of addition to the game – the biggest change (aside from cross-platform play) is the Survival Mastery action.
Above you'll see a Survival Master introduction video – it's going to be wild. Inside Survival Master mode, users will have a set of potential Low/High traits for 6 stats.
• Average Engagement Length
• Average Engagement Distance
• Items Looted Per Game
• Distance Traveled Per Game
• Hot Drop Rate
• Damage Taken Per Game
Those stats will have the following potential traits, high or low, in order: Decisive or Patient, Skirmisher or Sniper, Selective or Resourceful, Cautious or Adventurous, Conservative or Hot Dropper, and Defensive or Offensive.
UPDATE: This update also contains an improved Zombie Mode. Don't let those undead get you down – the entire system's been given a kick in the pants.
UPDATE 2: Survivor Pass 4: AFTERMATH will run until October 15, 2019 PDT – in other words, midnight that… morning. "Take these final weeks to finish any missions you have yet to complete," said a PUBG Corporation representative. "After the close of the Pass, there will be a Claimant Period for you to collect remaining rewards. You can still unlock premium rewards you've earned so far by purchasing Survivor Pass 4: AFTERMATH."
UPDATE 3: This new system also introduces an element called PUBG ID – kind of like a badge of statistics you'll be able to show your teammates your stats.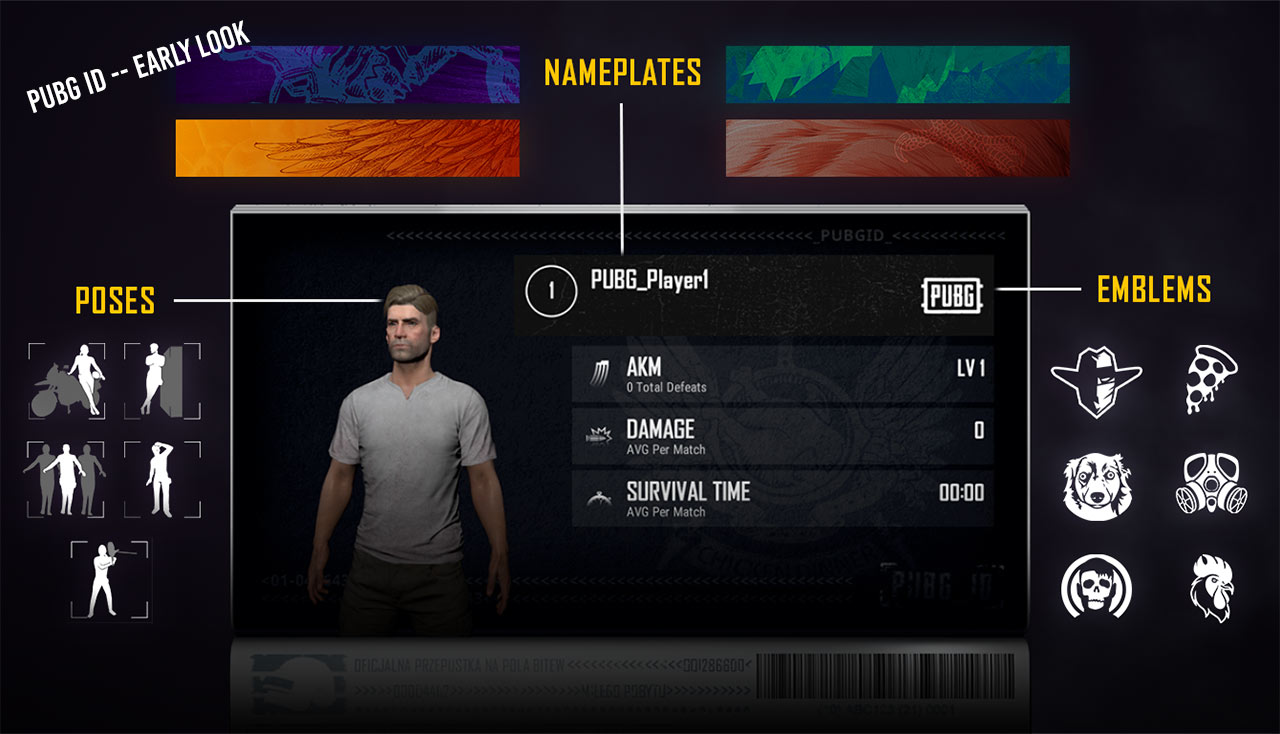 Above you'll see a basic view of the first version of PUBG ID. "At launch, you'll be able to view the IDs of your teammates and the enemies you killed on the last match screen," said a PUBG representative. "In the future, we'll be working to add more sharing functionality and customization to the PUBG ID."