Psystar Blu-ray Mac-clone with GeForce 9800GT cocks snook at Apple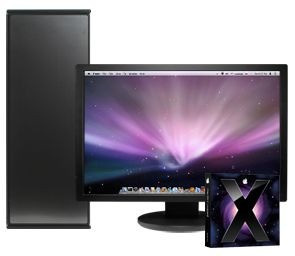 Apple and Psystar may be talking in more reserved tones about their ongoing legal battle, but that doesn't cut the smack-talk out of press releases.  After Steve Jobs described Blu-ray as "a bag of hurt" for consumers at the recent MacBook and MacBook Pro launch, Psystar president Rudy Pedraza has criticized Apple for taking a back-seat on the next-gen optical technology.  To hammer the point home, you can now specify one of Psystar's OS X-running clone machines with a Blu-ray burner.
"Blu-ray has already won the format war. Not only is there fully functional and mature support for Blu-ray in other operating systems but you can now rent Blu-ray discs from almost any rental chain. Blu-ray has become pervasive technology that is being widely adopted by consumers everywhere.  Blu-ray is not just for movies. The ability to burn 25-gigabyte discs is a feature that can help users in media editing or enterprise environments keep archives of large file sets. Our systems, regardless of configured operating system, can now provide this functionality" Rudy Pedraza, president, Psystar
A 6x Blu-ray burner is now a $310 option on Psystar's OpenPro desktop Mac-clone.  It's unclear, however, whether the systems will play movies or just access the drive for data burning purposes, since Apple OS X currently lacks the OS-level DRM to play back content in the format.
Psystar are also offering the NVIDIA GeForce 9800GT 512MB video card, in single ($200) or dual ($400) configurations, with the rather snide aside that while the 9800GT has become "ubiquitous in today's PC hardware market" Apple still do not offer it.  Press release sniping aside, we do find ourselves agreeing a little with Pedraza: Jobs' excuses for Blu-ray's absence felt like cop-outs, and not including the functionality on the new MacBooks was a disappointment.
A Psystar OpenPro desktop with Blu-ray and the NVIDIA GeForce 9800GT costs from $1,664.99.
[via MacUser]