PSN is down, but it's supposed to be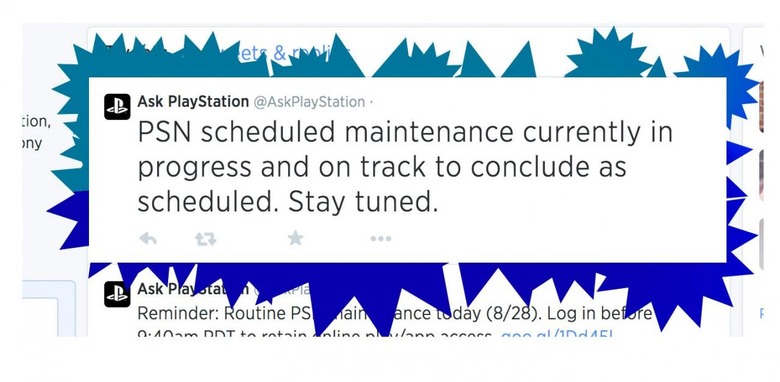 This afternoon Sony's PlayStation Network (PSN) is not quite so awake and active as it normally would be on a Thursday. Most problems reported this morning and afternoon center on Online Gaming, while quite a few Log-In errors have also been reported. The PlayStation Store seems to be affected as well, while not as many problems with the store have been tapped.
According to DownDetector, well over 1,000 reports have been filed over the past hour with them for the PlayStation Network alone. That's far above average, the average being somewhere around 10 problems reported per hour on a normal day.
BUT – and this is a big BUT – Sony told the world that this was going to happen.
As of yesterday, Sony made note that PSN Maintenance would be scheduled for 8/28 (today) between 9:40 AM and 4:50 PM Pacific Time. That's now. If you logged in before 9:40 AM and stayed logged-in, you should still have access now. If you did not, you shouldn't.
In other words – don't fret. Sony is doing maintenance on the PlayStation Network just like they said they would. They'll be done in a jiffy.