PsiXpda UMPC 3G-capable ultraportable arrives in UK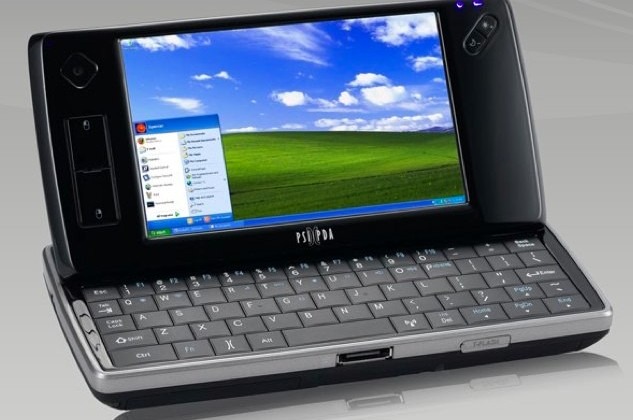 We've grown familiar with getting drawn in by an alluring piece of ultramobile computing hardware and then realising it's unlikely to make it outside of Taipei, so it's almost a surprise to be writing about a new British UMPC company.  PsiXpda's eponymous UMPC packs a sliding, tilting 4.8-inch 800 x 480 resistive touchscreen display, full QWERTY keyboard, Atom Z510 1.1GHz processor and 1GB of RAM, and runs Windows XP.
There's also standard WiFi b/g, Bluetooth 2.0+EDR and two USB 2.0 ports (one a mini USB), along with optional 3G – since PsiXpda will ship the UMPC around most of the globe, you can take your pick from WCDMA, EVDO or TD-SCDMA variants, which also support voice calls – while storage is an 16GB SSD.  They're claiming two to four hours of runtime from the 1,850mAh battery, depending on wireless connectivity.  Size is 174 x 84 x 25 mm and weight is 430g, and there's a touchpad built into the screen bezel (along with a webcam).
Eagle-eyed UMPC spotters will recognize the PsiXpda as the DigiCube MIDPhone-50, also available in China now as the Eking S515, and indeed it's a rebadged version of that device.  Considering you'd regularly have to pay a visit to an importer (or buy directly from the manufacturer themselves, if they offer such an option) in order to buy something like this, however, we're a little more confident about placing an order with a UK-based firm.  PsiXpda are also being upfront about the hacking potential of the UMPC, and are promising to support non-XP installs with drivers and the like as much as possible.
Of course, a niche product ends up with a niche price tag, and the PsiXpda UMPC comes in at £500 ($830).  That's at the high end for netbook-style hardware, certainly, but we reckon they'll find at least a few buyers (not to mention the vertical markets like healthcare).  SlashGear actually sat down with a prototype PsiXpda a few weeks ago, and the UMPC certainly has promise.  The whole thing is reasonably light, and the screen hinge felt solid despite the prototype status.  As you might expect, the QWERTY keyboard lacks travel, but it's still large enough for comfortable pecking.
We're expecting a review unit imminently, and will be putting the PsiXpda through its paces accordingly.  The team behind the UMPC are describing it as the spiritual successor of the Psion; we'll let you know whether that's the case in the full SlashGear review.